Harbor View Park Edible Hillside Begins
by Pamela Shaw
The first planting day at Harbor View Park was successful, satisfying and fun, thanks to our nineteen volunteers, and perfect weather! We worked on two sites: one to the right of the stairs at the top of the park, and the second to the left of the path down to Commercial Street after you come out from under the bridge.
When we started, the first site was overgrown with grass, shrubs and Japanese knotweed, an invasive plant that grows 10 feet high. So, we put down compost and cardboard to suppress the return of the grass and knotweed. Then we punched holes in the cardboard, planted new plants, and covered everything with woody mulch.
We put in very young peach trees, cherry trees, juneberry, and Cornelian cherry. Also, we planted perennial companions that will benefit the new trees and pollinating insects.
A similar mix went into the plot down the hill. These we scattered in with existing plantings. The final touch was a Schisandra vine, also known by the Chinese as "Five Flavor Fruit." Its current-like berries have all five basic flavors: sweet, sour, pungent, bitter and salty!
Many Thanks!
Aaron Parker, owner of Edgewood Nursery in Falmouth designed the plots. He guided the work and gave instruction on the plants and how to plant them. Aaron runs workshops on edible plants through Cultivating Community and the Permaculture group at the Resilience Hub in Portland.
Many thanks to Ethan Hipple, Parks Director for Portland, and Jeff Tarling, the City Arborist, for their ongoing support for this project. In fact, the City purchased the trees.
Damon Yakovleff at the Cumberland County Soil and Water Conservation District provided funding for companion plantings as part of the District's Cumberland County Urban Conservation Agriculture Network program. And Damon joined our crew of diggers, too!
Laura Mailander and Anna Sommo from Cultivating Community brought wheelbarrows, tools, food and hours of work!
We were all sustained by the generous donation of breakfast buns from Aurora Bakery and pizzas courtesy of Flatbread Pizza.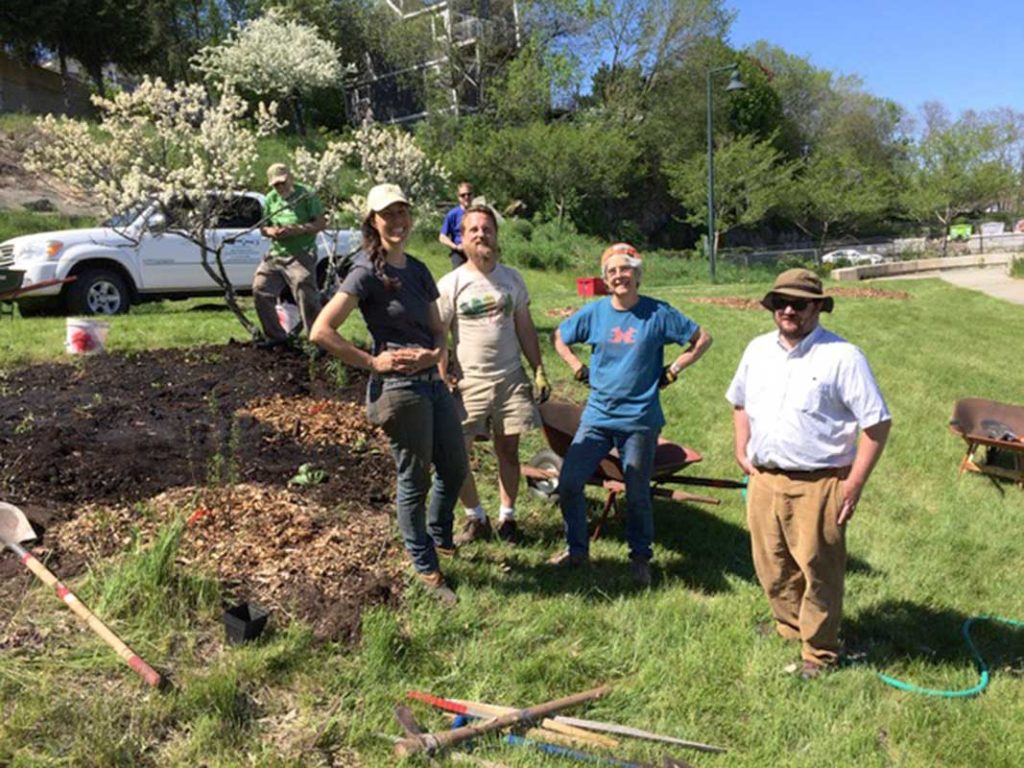 We will have another planting day next Fall to work on two more plots. In the meantime, we will be working on a long-term plan for the whole park. Likely this will include blueberries, a wildflower meadow and other features. All to make Harbor View a beautiful, fruitful community landscape!
If you'd like to work on this project with us, learn more, or donate to our efforts, go to the webpage at http://wenamaine.org/harborview. Or email secretary@wenamaine.org.
Pamela Shaw
Pamela is a West End resident.