Gerau Luzito
MY STORY: English language learners from Portland Adult Education share their story in their own words.
My name is Gerau Luzito. Luzito signifies respect. My name came from my family. My mother's name is Celestine. She lives in D.R. Congo. She is a teacher in my country. My father's name is Joseph Luzito. I have two brothers, Blaise and Nsimba. They live in D.R. Congo. Blaise is a driver, and Nsimba is a photographer. I have a wife named Sofia. They live in Angola. I have three children and I have a cat in my house.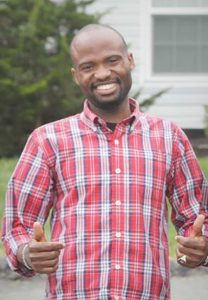 My school in Congo Kinshasa was big and sometimes I got lost. I walked to school with my sister from 1987 to 1992. My school was from 7:30 AM to 12 PM. I liked reading, writing, sports and math. I have friends in D.R. Congo and in France. Many are artists, musicians or mechanics.
Sometimes I like to visit my brother in Freeport or go to the park with my sister. Sometimes I like to go to church on Sunday or to visit my friend in Boston. Sometimes I like to buy a newspaper at Hannaford.
I don't like tigers and lions because they are dangerous. I like goats and roosters. My favorite foods are cassava and fufu, rice, duck, to drink tea, milk, soup, water and juice.
I celebrate Thanksgiving with my family. We go to church to celebrate. I celebrate my birthday with my friends and my family. We have a party. My wife celebrates her birthday on November 11th. I don't like to celebrate Christmas.
I worked before in Television National of the Congo. Also I worked as a video editor in an advertising agency in Angola for one year and seven months. I worked as a reporter in D.R. Congo ten years ago. I love my profession because I like to use the camera a lot. I worked as editor in the movies in my country for a long time. My job is photographer, editor cameraman, journalist.
I want to go to college in America because I need after two years to speak English very well but I have too many difficulties with language. I want my family to come to America to live together. I want to buy my house in South Portland because I like to live there.
My goal is to study English because I love my job as a journalist but have a lot of difficulty with language. I need to study English because it's very important for me. I would like to go to university in America maybe after three years. I need to continue my job in America. I love my job so much!
Editor's note: Gerau Luzito works at CTN5 in the production of CongoPromoTV5, a show by and for Maine's Congolese community. In addition to camerawork, Gerau also translates English and Lingala.