The Maine Crafts Association will present the third annual Portland Fine Craft Show on August 26th, from 9 a.m. to 4 p.m. on Congress Street between High and State streets. The show is free and open to the public.
GPS users can find the show using the address 600 Congress Street, Portland, Maine.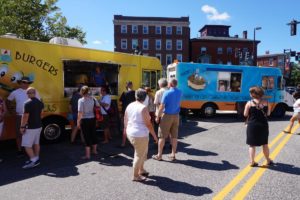 The show features over 100 juried contemporary craft exhibitors from the greater New England area exhibiting fine craft in the following media categories: baskets, ceramics, fiber, furniture, glass, jewelry, leather, metal, mixed media, paper, stone and wood. Also, the show will feature outreach booths exhibiting the work of international artists who are new to Maine. And there will be food trucks in Longfellow Square.
For more information call (207) 205-0791 or visit www.MaineCrafts.org.
CONGRESS SQUARE PARK LIVE MUSIC
Congress Square Park sits at the corner of High and Congress Streets and will host live music with Hurry Down Sunshine during the Portland Fine Craft Show! Stan Davis and Brian Kavanah of Hurry Down have played at the park the last two summers and love the community feeling! They present a wide range of acoustic guitar music from old folk songs, Dylan, slide blues, classic rock, and jazz tunes. Also they have a repertoire of originals that mix Brian's resonant voice with Stan's bass and lead guitar. For more information please visit hurrydownsunshine.com.
PORTLAND FINE CRAFT SHOW 2017 JURORS
Dereck Glaser; Executive Director New England School of Metalwork, Artist/Owner DG Forge | dereckglaser.com
Elizabeth Hunter: Artist/Owner Chameleon Fiberworks, MCA Board of Directors – Member | chameleonfiberworks.com
Cara Romano: Executive Director Heart of Ellsworth, Owner KoT Contemporary Functional Craft Gallery, Artist/Owner Cara Romano: Studio Jewelry | kotcontemporarycraft.com
PORTLAND FINE CRAFT SHOW 2017 SPONSORS
West End News
Artscope
Cyber Copy
Daunis Fine Jewelry
Domain
El Corezon
Kurier
Maine Arts Commission
Maine College of Art
Portland Pottery