How to embrace warmth with a little insight from those who know the cold.
by Nancy Dorrans
Last December, Portland experienced a long and record-shattering mild spell, which peaked during Christmas week.
According to weather.com we were not alone, "Almost 12,000 daily warm records were tied or broken during the month. Hundreds of cities from the Plains to the East Coast shattered their warmest December on record."
It is unlikely we can count on another record breaking mild Christmas week like last year. And so I ponder, what will you do to stay warm during the holiday season and beyond? Will you travel south to the sunshine state or a tropical beach somewhere? Will you don your layers and head out on the trail, be it skiing, riding or hiking. Or do you hunker down under your fleece blanket with a good book? Although it seems counter intuitive, traveling north to stay warm is what I recommend.
Iceland Knows Geothermal
Geothermal Iceland knows how to stay warm! I have just returned from a weeklong travel agent educational tour of Iceland's South Coast. It is a land of glaciers, geysers, thermal pools, volcanoes, black sand beaches, ice caves and the northern lights.
I must say the Icelanders are quite ingenious when it comes to staying warm. They embrace the warmth of their natural surroundings by harnessing the natural geothermal steam and hot water. It heats their homes and water, and it generates electricity. It warms their floors inside their homes and even warms some of the sidewalks and streets.
The city of Reykjavik now boasts the most sophisticated and largest geothermal district heating system in the world. Geothermal energy powers the entire city, thereby reducing dependency on fossil fuels and making Reykjavik one of the cleanest cities in the world.
Upon arrival, myself and a dozen other travel agents were swept to the Blue Lagoon and treated to a luxurious hot springs soak. While there are numerous natural pools and lagoons throughout Iceland, the Blue Lagoon just outside of Reykjavik is man-made and fed by the water output of the nearby geothermal power plant Svartsengi.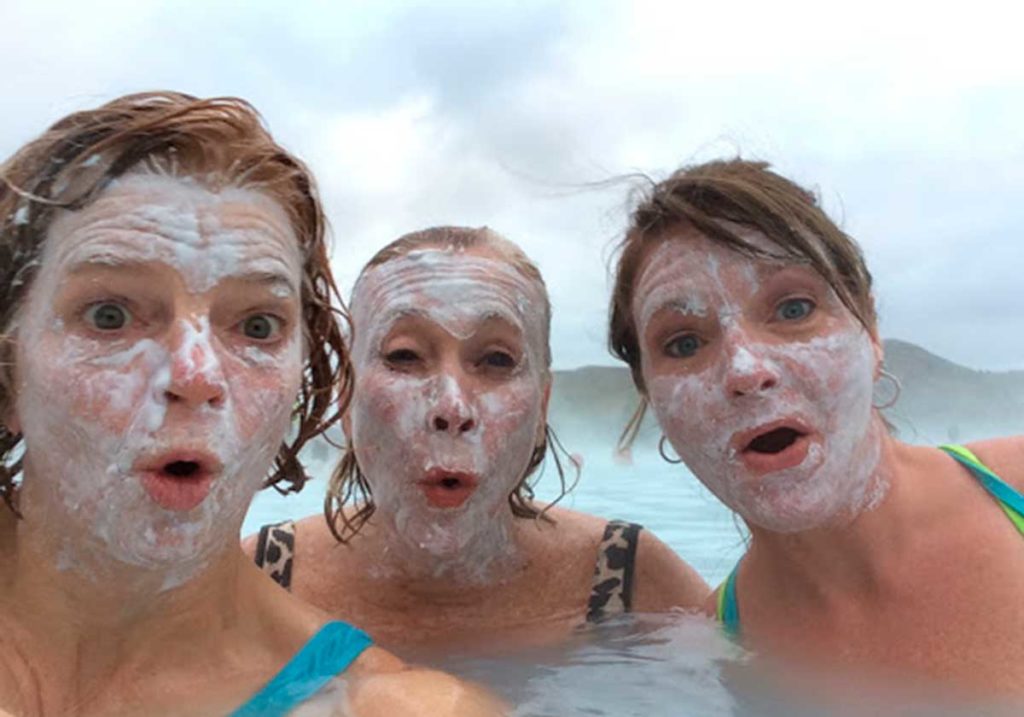 I must return again someday as the Northern lights evaded me. But I was assured they are as real as the thirteen horrifying Christmas Trolls of Iceland that "leave the nice children gifts and the naughty children rotting potatoes."
Winter Carnival
Like Icelanders, our neighbors to the north in Quebec City also know how to keep themselves warm. In fact, they hsot the world's largest winter carnival, "Carnaval de Québec," in North America's oldest and most European city. If you've never been, now is the chance. Come with me on the third annual Adventure Marketplace motor-coach tour from Portland on the weekend of January 27th through 29th.
Meet Bonhomme, the King of the Carnaval. Drink the Caribou and experience a city that embraces their winter warmly with open arms. There are a host of outdoor activities for all ages, including snow slides, dog sledding, ice castle tours, snow sculptures, sleigh rides, skating and much more.
We will wander through quaint boutiques, enjoy live music, and fine restaurants, where Québec City chefs combine French-Canadian heritage with fine local products to create unforgettable meals that will warm you from the inside out!
Ultimately, there are many ways to stay warm this coming season. If you need more ideas of where to go and what to do, send me a note at nancy@adventure-marketplace.com.
It is what I do, and I'm happy to help you stay warm this season!
Warmest holiday wishes,
Nancy
Nancy Dorrans
Globetrotting independent travel agent and West Ender, Nancy Dorrans runs Adventure Marketplace, a agency that specializes in small group tours and independent itineraries.