Perspectives from the Sky – April 2016
Eclipses and Retrogrades: Sitting Between Life's Chapters
by Leo Knighton Tallarico
We made it through two powerful eclipses in March: a Solar Eclipse New Moon in Pisces on March 8th, and a Lunar Eclipse Full Moon in Libra on March 23rd.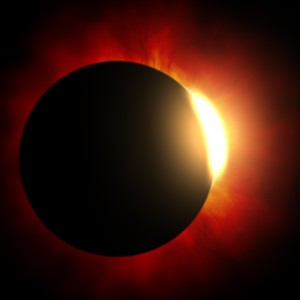 Powerful world events occurred at these eclipses. At the last one a suicide bombing erupted in Brussels Begium.
The Eclipse Season will last through much of April even though there will be no more actual eclipses this month.
Eclipses are like wake up calls, bursting the protection of our usual bubbles of everyday habits.
The status quo is upset and that opens the creative doorways to change.
Now we are all sitting between two chapters in our lives, and at the same time sitting in between two ages.
The world around us is rapidly changing, though it is difficult to ascertain exactly where and how it might be turning.
For many their personal lives are also in flux, and that which is unsatisfying for them is "sticking out like a sore thumb."
With all the changes in the macrocosm of the Universe through its planetary movements, there is also the changes in the greater world, and then the microcosm of our individual lives is affected also.
We are leaving an old paradigm of dog-eat-dog, all is random and disconnected. We are entering an Age of Aquarius, an "all in it together" in a meaningful way paradigm.
For you cynics out there, I know you are rolling your eyes to what I am stating. And when you look at the state of the world, the presidential candidates, the violence, etc., you seem to be right on.
But I know we are at a crossroads from age to age with an opportunity to transform our ways so we evolve our consciousness and lives, heal our human family and Earth.
Any smart person can see that if we do not evolve and quickly, the religious nuts will be right about end of the world scenarios.
Will it take a world in despair to change us? Can we get there more gracefully? In my wildest imagination I have seen aliens down to Earth scaring us enough to get us to realize we are all one family here on the Earth.
But make no mistake we are on the cusp of a New Age. The only question is how much is fated and how much demands our collective choices.
The next important planetary movement will be on April 7th at the New Moon in Aries.
So much was shaken up at the eclipses, which we continue to process up to April 7th.
After that it is "ready or now here we come". It is time to move forward and stop wringing our hands or having regrets or crying over spilt milk.
If you have been wanting to start something important or truly feel you have entered a new chapter of your life, then after April 7th, at the New Moon in Aries, is the time.
That does not mean all of sudden there will be all this new change. What it does mean is that closed doors are now open for you to move through.
That New Moon in Aries is on April 7th at 7:24 AM EDT.
On April 17th Mars goes Retrograde.
Mars is the planet of action, willfulness, wants and desires, assertiveness, self protection, and war.
While it is Retrograde April 17th through June 29th, we learn more about what we truly want and desire. We also learn more about our temper, how we stand up for ourselves, how we assert our voice and our needs to others.
Since Mars Retrograde will be in Sagittarius we will get more in touch with what inspires us and what adventures we may want to take later.
In the greater world conflicts and wars will be in the spotlight even more than usual.
While Mars is Retrograde it is wise not to start or take on any big new projects.
Best to truly get in touch with your "male" or yang side. Male gets a bad name in liberal circles because of the state of the world. But expressed in a healthy way it is natural — yin and yang are opposites naturally. They are also meant to be joined like in the yin/yang symbol.
Standing up for your self and being in your power is natural and right if you do not abuse the power.
Pluto goes Retrograde on the 18th adding much intensity, and chances for explosive world events in the days surrounding Mars and Pluto going retrograde are amplified.
In personal lives be careful not to let your buttons get pushed and to explode as a result.
The Sun moves into fixed Earth sign Taurus on the 19th of April. It is time to consider issues of security, money and real estate for the next month. It is also a good time to indulge in the pleasure of your senses and to come down into common practical ways of assessing situations. The Sun stays in Taurus until May 20th.
On April 22nd is a Full Moon in Scorpio at 1:24 AM. It is time to trust your instinctual nature more, to dig deeper into people and issues to find the core truths. Tugs of war with others may happen now, so be careful to not get too wrapped up in power struggles.
On April 28th Mercury once again goes Retrograde. You know the drill: don't fully trust your logical left brain, open up your imaginative creative right brain instead. Be more reflective. Do not make any major decisions or start up anything really important.
Perception changes even if subtly, but usually you know you have been in Retrograde because you are relieved when it ends. This time it ends on May 22.
See you in May,
Leo
Leo Knighton Tallarico is an astrological and spiritual guide and counselor. His specialty is counseling for those in the process of change, transformation, transition, and crisis. He also specializes in couples' counseling for any and all kinds of relationship. He has been a full-time professional for 30 years.
Leo co-directs the Spiritual Renaissance Center in South Portland with his lifemate Deborah Knighton Tallarico. Visit spiritualrenaissance.com.
Leo also writes a weekly astrological forecast. Check it out online at: spiritualtherapy.wordpress.com.
For comments or to set up a consultation, <ahref="mailto:soulus@aol.com">Send Leo an email.