La Vida Local:  Irregular Notes on West End Life
Are Portlanders Being Had?
by Rosanne Graef
When it comes to commercial and residential development – especially on the peninsula – it seems that Portland is being engulfed by a procedural failure. These failures lead to suspicion, finger-pointing, ridicule and paralysis. As such, they have produced a cynical, embittered and often angry citizenry.
Although the latest examples include Camelot Farms, Americold and the western waterfront, the Elks Club and The Portland Company, the themes of discontent and frustration extend back through Midtown, Congress Square Park and other proposals. Further, each proposal has either expired on their own accord or been resolved in the courts, at the ballot box, or – less acrimoniously and perhaps less expensively – in Planning Board or City Council meetings.
What precipitates these unpleasant and expensive face-offs? Otherwise congenial and thoughtful people are positioned in opposing corners. The press and commentators take free-range to level meaningless insults. They use terms like "selfish," "short-sighted," "NIMBY-ist," or "obstructionist" to describe the residents of our city. What has led to this rancor?
The Problem with Development Procedures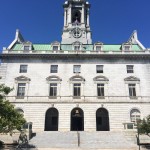 From my perspective, the public is brought into the discussion way too late. Consider, by the time neighborhood meetings are held, or Planning Board workshops scheduled, City staff seem to be pretty solidly on board with whatever projects are being proposed, however vague, ill-conceived, inappropriate or contrary to local ordinances they may be. In addition, peripheral players with something to gain have already been rallied as proxies and surrogates for the actual developers. They've launched costly PR and advertising campaigns, and hosted schmooze-and-booze events to support the projects.
This scenario forces concerned residents to put up a fight. They spend considerable amounts of their own time and money researching the development and rallying support.
Meanwhile, the more clever developers of these projects are spending taxpayers' funds in this battle. They do so by enlisting City department staff (such as Economic Development) to wage waiver and ordinance-changing requests on their behalf. It's no wonder many Portlanders are pissed. They're footing the bill to pay to fight someone else's battle against themselves!
After years of task forces, study groups, reports from outside consultants, assessments by visiting delegations, deliberations and work by City Council committees, boards and support staff, the resulting resolves and plans can be scrapped in the blink of an eye. Actually, all it takes is a pie-in-the-sky smooth talker to show up and promise to make PWM into a "21st Century world class city." Do those words even have any shared, practical meaning? Or are they just buzz-words du jour that produce a homogenization that renders Portland a boring, repetitive Anytown, USA? Shopping, eating, drinking –  everywhere the same.
Respect the People
People will argue that we need growth. But what about Portland's responsibilities to the people who are already here? The Schwartz Building is still going nowhere, while taxpayers have paid out almost $180,000 in interest on a HUD loan for Midtown. And we have nothing to show for it. Meanwhile, residential derelict buildings (which could be replaced to provide much-needed housing) remain as safety hazards and blights on neighborhoods.
The people who have made their lives here deserve respect. Indeed, they have built the city and the community bit by bit over the long haul, without making extravagant plans that enrich themselves at the expense of others. The lack of respect destroys the spirit of Portland that so many of us love above all other aspects of our city. Seems like our municipal procedures can be manipulated to push where the glitz is, but the average Portlander is definitely on his or her own.