MY STORY
English language learners from Portland Adult Education share their story in their own words.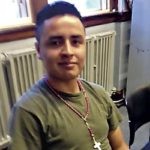 My name is Andres. I live in Portland, Maine. I work at El Rayo Taqueria in Scarborough. My job is prep food.
My family lives in El Salvador. I have a big family. I came to America in 2009. I first went to Connecticut. I saw beautiful houses, roads, and very many nice cars! I think America is the best. I like all about America.
My friend's name is Antonio. He lives in Portland. He is very funny and he is a good person. He has two children. He likes to cook.
My favorite movie is The Jungle Book because I like animals and I like the jungle. The story is a bad tiger who wants to hurt a child and a snake, but a wolf and a bear take care of the child and defend him.
I think it's polite to respect all people, and it is not good mistreating an animal.
I don't like to swim.  My favorite sport is soccer. I like to play games.
I like to play the piano. My favorite music is electronic. My favorite fruit is mango, and my favorite vegetables are avocado and tomato. I like Mexican food.
My favorite month is December. I like Christmas lights.  I like decorating the Christmas tree. December 24 is a party day in my country.