A Brief History of the Fight for Clear Skies in South Portland
By Espahbad Dodd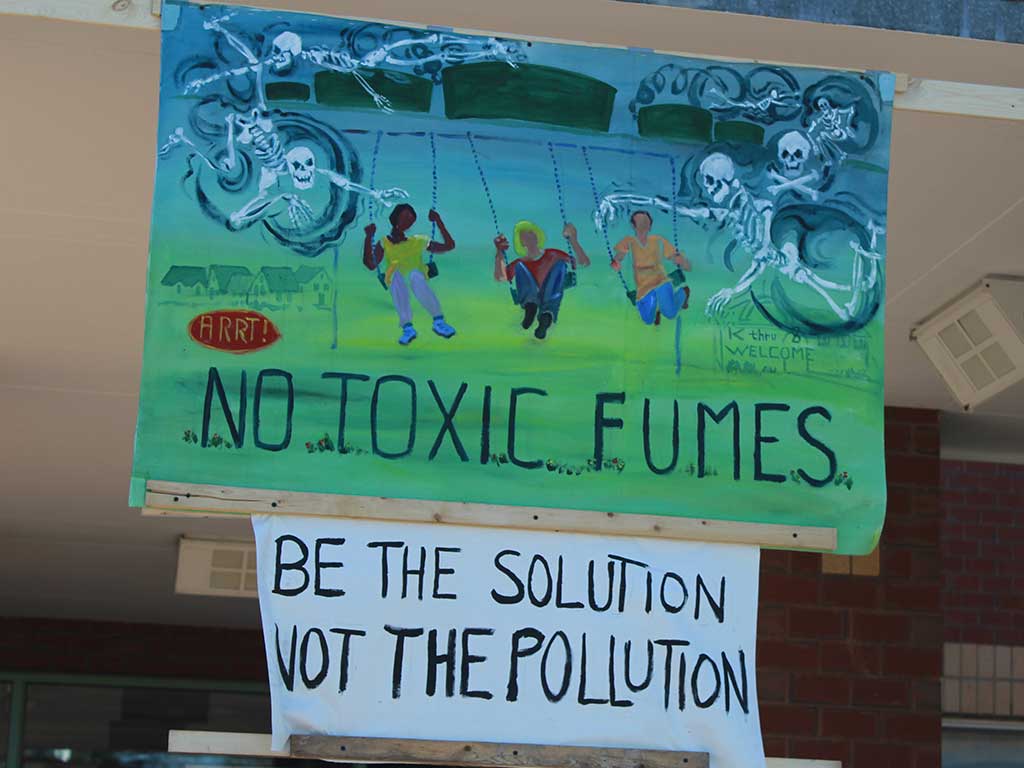 Speaking with people around town, I'm struck by how little folks know about the David versus Goliath battle for clear skies that took place just across the Fore River in South Portland. It started in 2013 and continues until today and is a case of the underdog winning against incredible odds… at least for now.
This is fundamentally a story about small "d" democracy and activism. It's a story about a community and those who live there. And it's a story about fighting the humongous power and influence of a gigantic industry with little more than spirit and a slingshot.
In this case, by putting the well-being of children and the elderly together with every resource they could muster, the underdogs miraculously came out on top. It's a short history, an alive, ever-evolving story, of the City of South Portland which has long been treated by the petroleum industry as an industrial "sacrifice zone."
Initially, people living in South Portland and their supporters sought to prevent the reversal of the Portland-Montreal Pipeline to bring tar sands oil from Canada. More recently, it has become a battle for clean air. How did it start? Who was behind it? Where does it currently stand? And where could it be headed?
Fight for Clear Skies Begins with the Portland-Montreal Pipeline
The origins may be traced back to a massive oil spill in the Kalamazoo River in 2013, as well as the tragedy that befell Lac Megantic, Canada, when a "bomb train" derailed. The Lac Megantic disaster demolished much of the town and filled the skies with cancerous pollution. Both disasters were wake-up calls that motivated climate activists to oppose fossil fuel production more vigorously.
So, when the petroleum industry proposed reversing the aging 75-year-old Portland-Montreal Pipeline – which had been used to carry oil to Canada – the fight was on. Reversing the pipeline would bring tar sands oil directly to South Portland for export overseas. This dirty oil would pass through Canada, Vermont, New Hampshire, and Maine before arriving in South Portland. The pipeline crosses numerous water sources, including Sebago Lake which provides drinking water to 20% of Maine's population. What could go wrong with that?
To make matters worse, the industry planned to build two 70-foot smokestacks on the shores of Casco Bay. The smokestacks would emit toxic carcinogenic fumes into neighborhoods, threaten health, and imperil crucial marine and tourism industries.
South Portland Community Rallies
The resulting groundswell of community outrage was led by the Natural Resources Council of Maine, Environment Maine, Sierra Club, and the fledging 350 Maine. They held rallies and lead marches to raise public awareness. Gradually, the resistance grew as more people realized the risks. Upwards of 2,000 people marched to and rallied on the Portland State Pier.
This led to the ensuing David versus Goliath battle, as young and old South Portlanders pitted themselves against the American Petroleum Industry en masse. But the odds against the people were simply enormous.
Organizers put out the call for a dedicated group in South Portland to get behind the action. South Portland resident Rachael Burger heard the call to action and decided to whip up community support against the pipeline. They formed Concerned Citizens of South Portland (later to morph into Protect South Portland). With supporters going door-to-door, larger and larger numbers of people signed petitions and showed up to testify at public meetings.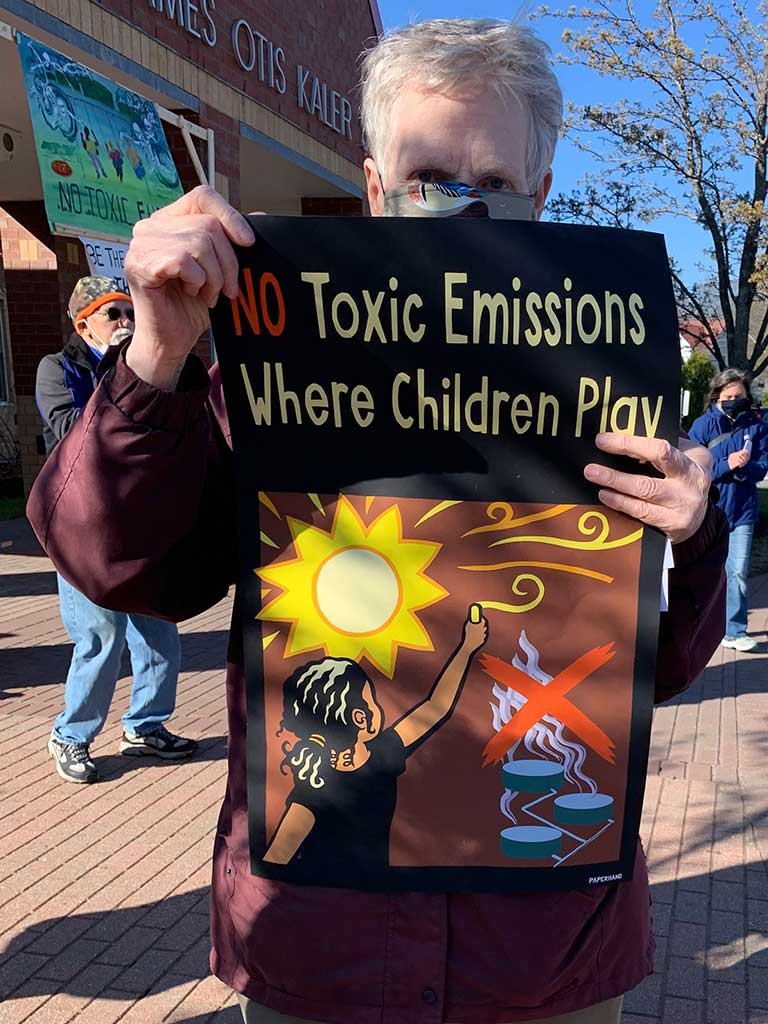 According to Rachael, "It took time to garner support. We started with only ten people and, over the course of a year, held hundreds of meetings in our living rooms. Initially, we had no idea of what we were doing, but with guidance from professionals at Toxic Action Maine (now Community Action Works), we learned to be more effective in our door-to-door efforts. Seventy-percent of those we spoke with were supportive."
Another South Portland resident, Roberta Zuckerman, emphasizes that Rachael is "truly the mother/grandmother of Protect South Portland. She's the rock that keeps us rooted to our purpose."
Oil Industry Pushes Back
The oil industry pulled out all the stops to undermine the citizen mobilization for clear skies. They hired people to ring doorbells and represent their interests. They pressured the Fire Fighters Union into supporting them. With industry advocates wearing red t-shirts and sitting on one side of the high school gym at meetings, the people of South Portland wore blue and sat on the other side, vastly outnumbering the reds.
The LePage administration's Department of Environmental Protection (DEP) sided with the oil companies. Residents eventually learned that the South Portland Code Enforcement Officer had ruled in 2009 that the 70-foot smokestacks were "not structures but equipment." This formed the basis for granting Portland Pipeline Company a permit.
Pollution from those smokestacks would have contaminated air in the entire Greater Portland region for decades to come, destroying the waterfront and raising the stakes for residents.
Clear Skies Win for South Portland
It was a tremendous effort by the people to draw up and collect the signatures needed for a comprehensive Waterfront Protection Ordinance. The City Council voted against the initiative. At the last minute, citizens collected 4,000 signatures (three times what was needed) to place the issue on the ballot for a city-wide vote. A day before that vote, citizens linked arms and lined the Casco Bay Bridge in a milelong human chain. With a 45% voter turnout, the ordinance failed by a mere 197 votes.
Realizing how big an issue this really was and seeing the extensive amount of citizen engagement, the mayor and city council enacted a six-month moratorium on further action. During this time, a draft ordinance committee was formed to put together the South Portland Clear Skies Ordinance (CSO). This ordinance was immediately passed by the city council to become law on July 21st, 2014.
The South Portland Clear Skies Ordinance is a declaration of home rule and a confirmation of the community's right to self-determination in protecting its citizens and the planet from the dirtiest oil on the planet. It stopped corporate oil in its tracks.
Now, with clearly defined battle lines, the issue of the ordinance and right to home rule has gone to court where it remains to this day. A ruling against the people could still come down. But due to the decline of the oil industry and ever-changing market conditions reversing the pipeline is unlikely to occur.
In any event, Protect South Portland now has other concerns.
From Pipelines to Tank Farms, Struggle for Clear Skies Continues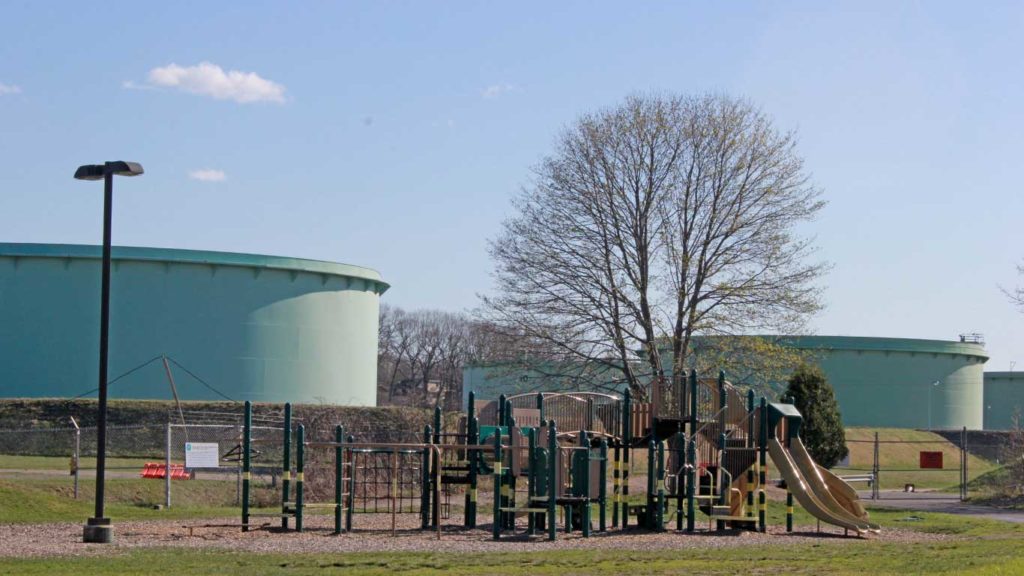 According to Rachel Burger, "We were very aware that we had stopped some terrible pollution from happening, but we didn't fully realize that there were 120 oil tanks in SoPo." 
The South Portland tank farms are located amidst peaceful residential neighborhoods just across the Fore River from Portland. Indeed, the deep waters of Casco Bay make it an attractive site for exporting oil. But the people are no longer going along with the oil industry's plans. Their health concerns and worries about the environment must be addressed.
So, with fears of a pipeline reversal abated, the fight for clean air went into full swing. However, in ­March 2019, residents had a rude awakening. The federal Environmental Protection Agency (EPA) reported that some petroleum tanks of Global Partners had vastly exceeded their permitted emission limits. Soon to follow was the news that Sprague had also violated its permit. So much for the industry's "good neighbors" campaign.
This news came as a shock to Protect South Portland and others who had been focused exclusively on the pipeline. They wanted to know the real health risks of long-term exposure to the toxins in the emissions.
The DEP, unfortunately, was consistently evasive in answering residents' questions. They alleged that it would take time to gather the needed information. They claimed to have neither the personnel nor financial resources to conduct a proper study. Simple, straightforward questions couldn't be answered. As a result, tank companies were left up to their own devices. For monitoring emissions, they used a mathematical formula created by the American Petroleum Institute. Was this a case of the fox guarding the hen house?
Research & Communication
The fight for clear skies pitted the people against all tank farm operators in South Portland rather than a single company. Residents were once again thrown back on their own resourcefulness as they investigated the science of VOCs (Volatile Organic Compounds). The rank, rotten-egg, burnt-oil smells were a nuisance, but the toxic gases emitted could not be seen and people were getting sick. Residents needed to prove that their health concerns were legitimate. To do that required certain knowledge based on solid research and facts. It was destined to be a nuanced, complex fight.
A successful campaign would require elevated public awareness and education which, in turn, would mean more meetings and rallies to get media coverage. All while also lobbying for state legislation to require oil companies to eliminate the dangerous vapors.
Outside experts were brought in to help residents understand, in lay terms, complex reports about chemical releases and exposure rates. The City Council formed the Clean Air Advisory Committee to study the question.
Long-term exposure to the toxins in question are known to cause respiratory illness, neurological problems, liver and kidney problems, and cancer. Air pollution has also been linked to making people more vulnerable to Covid-19. But who's to say what an acceptable amount of risk is?
Current Monitoring Efforts
In the midst of scientific uncertainly, it was prudent to be cautious. Those living near tanks needed to know the extent to which tank farm emissions were compromising their health. Emission monitoring was vitally important.
Responding to citizen pressure, the Maine DEP finally set up five ambient monitoring stations. However, the siting of the monitors was too far from the sources of emissions to be of much real value. Nonetheless, the results revealed elevated levels of naphthalene and benzene, both considered hazardous air pollutants by the EPA. Benzene, a known carcinogen, should have a zero-tolerance standard according to most experts.
The Clean Air Advisory Committee is recommending fence line monitoring such as that proposed by EPA Region 1 scientist Patrick Byrd in 2016 but never funded. Meanwhile, citizen scientists could implement a low-cost method to monitor some emissions for a cost of $1500 a month.
Since the technology needed to radically reduce and/or control toxic tank emissions already exists, there is little justification for not taking immediate action. Install the required equipment, known as Vapor Recovery Units. Other states mandate this. And oil companies must, of course, foot the bill for such equipment. Consider it a cost of doing business in Maine.
Broadening Efforts
Protect South Portland recently broadened its outreach and scope by forming a coalition with eleven other health and environmentally oriented groups, including Physicians for Social Responsibility, Defend Our Health, American Lung Association, Maine Association of Naturopathic Doctors, Conservation Law Foundation, Sierra Club, Natural Resources Council of Maine, 350Maine, Community Action Works, Portland Climate Action Team, and Elders for Future Generations.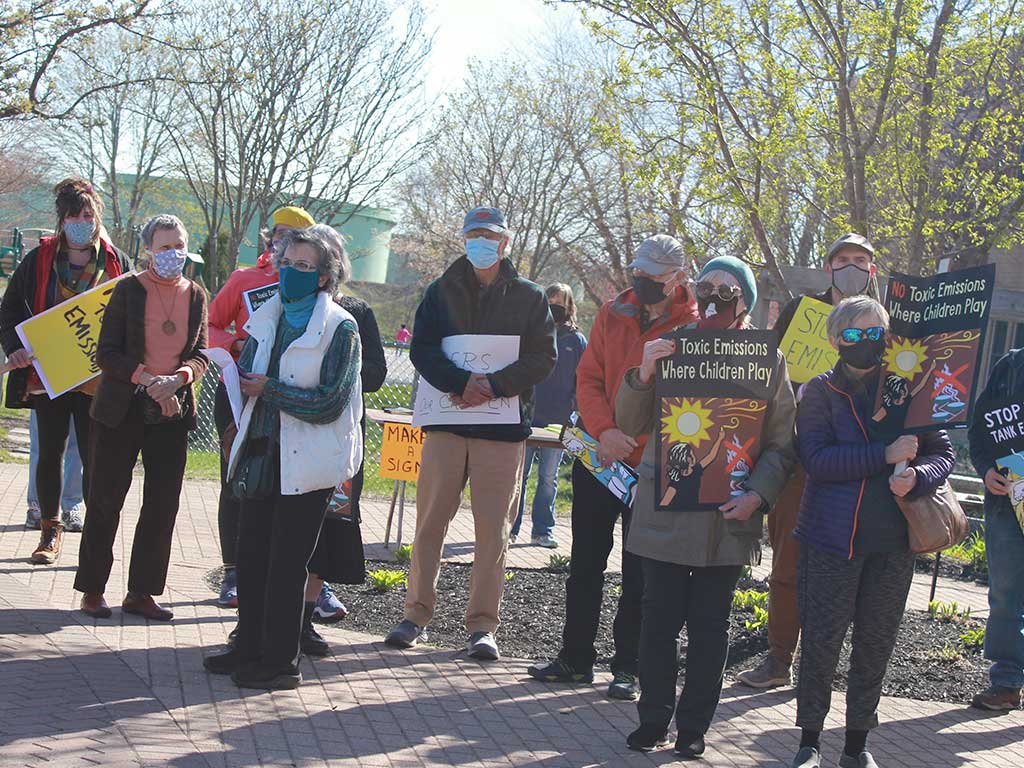 Bills and resolutions currently before the State Legislature could, finally, bring the power and resources of the State's DEP to bear on the problem. It's time to require tank farm operators to eliminate the dangerous toxins.
But what happens if legislative action falls short of citizen hopes and expectations? Where would the people of South Portland and their supporters go from there? This is yet to be known but, after evaluating their options, we can be sure that the battle will continue.
The people see no other alternative if they wish to have healthy, happy lives. They could, of course, continue pressuring the governor and state legislature to pass more favorable legislation. They could also find the funding needed to do their own fence line monitoring to gather the data needed to substantiate their claims of health risks. And there could be more street action to raise ruckus and increase public outrage while producing negative press for tank companies. People from all over New England might even be motivated, and some people could get arrested for civil disobedience.
We just don't know now how things will play out. However it ends, we hope it is favorable to the health and well-being of the people of South Portland.
Closing Words
"It's important in a democracy for people to feel they have a voice, and that regular people can participate in our world and communities. SoPo people now realize that they have a way to become involved and to come together as a community. Lots of things are now being addressed and getting done."

(Roberta Zuckerman, Protect South Portland
Espahbad Dodd
Espahbad Dodd lives on State Street in the West End. He is a member of the Portland Climate Action Team and the primary editor of that team's monthly Bright Ideas column in The West End News. Readers may reach him at espahbad@gmail.com. He welcomes feedback.
---
Disclosure: Publisher-Editor Tony Zeli is a board member of Green Initiatives Education Fund, an organization that advocated against the reversal of the Portland to Montreal Pipeline.