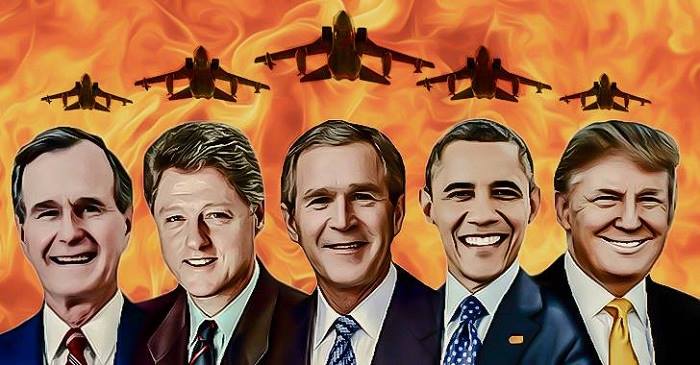 By Adam Marletta
The latest round of Congressional budget negotiations — which seem to have become a routine feature of the U.S. capitalist government — ended with both Republicans and Democrats supporting a budget deal that keeps the government open, yet offers nothing in the way of amnesty for the "Dreamers" — young adult immigrants who were brought here as children.
Congressional Democrats have made the preservation of the Dream Act, an Obama-era program that offers a "path to citizenship" for such undocumented immigrants, a major sticking point in the recent government-funding debates. Or at least, Democratic leaders Nancy Pelosi and Chuck Schumer have made grandiloquent yet empty gestures toward its preservation. When push comes to shove, however, the Democrats do what they do best: Rollover and play dead.
So much, it seems, for the anti-Trump, "Resistance."
Democrats did not even bother to include the fate of the 800,000 "Dreamers" during Thursday night's latest budget standoff. These "undocumented" immigrants have already had their lives and families torn apart by Donald Trump's racist and newly emboldened Immigration and Customs Enforcement (ICE) agents. Now their collective fate is even more precarious.
So what provisions are included in Congress' latest continuing resolution (CR)? Why, an increase in military-spending, of course!
The CR raises the "cap" on military spending to $716 billion, an increase of 13 percent from 2017. This in a nation that already vastly outspends the rest of the world on military spending. According to a report on extreme poverty in the United States by UN special rapporteur, Philip Alston, the U.S. "spends more on national defense than China, Saudi Arabia, Russia, the United Kingdom, India, France and Japan combined."
The anti-war advocacy group, Win Without War, issued a press release ahead of the budget vote, calling the dramatic increase in military spending a "symptom of misplaced national priorities."
"When our nation can't manage to turn the lights on for the people of Puerto Rico, when we can't help those suffering from opioid addiction get treatment, and when we can't ensure education and healthcare to all our citizens," writes executive director, Stephen Miles, "how is it possible we can justify spending billions more on weapons that don't work to fight enemies that don't exist?"
Indeed, one cannot help but recall Dr. Martin Luther King, Jr.'s prophetic words in his oft-overlooked, "Beyond Vietnam" speech, delivered in 1967 at Riverside Church. "A nation that continues year after year to spend more money on military defense than on programs of social uplift," King warned, "is approaching spiritual death."
Fifty-one years later, shameless corporate advertisers are using King's radical and increasingly poignant words to sell trucks.
Contrary to what the talking heads on "liberal" NPR claim, the largest portion of the federal budget is devoted to the misleadingly-titled "Defense" spending — not "entitlement" programs like Social Security, Medicare, and Medicaid.
Fifty-four percent of our federal tax dollars go to the Pentagon — something to keep in mind as tax-season approaches. And much of this money is wasted on outdated, Cold War-era weapons and fighter jets the military has no use for — a fact that goes curiously unnoticed by the "fiscally responsible" Republicans who constantly harp about the need for the government to "get its fiscal house in order."
(And while we are on the subject, can we talk about the rank hypocrisy of conservatives who rail against "Big Government," yet worship the military? Last time I checked, the Department of Defense — DOD — which oversees the coordinating and supervising of all branches of the United States Armed Forces, is part of the executive branch of the federal government.)
But military-spending is so sacrosanct among both capitalist parties it rarely receives any debate. Instead, we are told immigrants, refugees, public school teachers and their "Cadillac-style" retirement benefits, and the earned-income programs won through hard-fought class struggle are to blame for the country's deficit. The fact that we are currently bombing seven countries is never brought up.
This is the perverse genius of the so-called "austerity" policies the global elites have pushed in Europe and the U.S. since the Great Recession: Socialize the costs and privatize the profits. And during Barack Obama's presidency those profits (along with generous corporate handouts) continued to soar for weapons manufacturers like Lockheed-Martin, Raytheon, and General Dynamics, which owns Bath Iron Works, one of the largest employers in Maine.
Now Trump, in his open emulation of strongman dictators like Egypt's Abdel Fattah al-Sisi and Philippines President Rodrigo Duterte, has announced plans for a grand military parade in Washington D.C. that smacks of authoritarianism.
Trump's parade is part of a larger strategy of renewed U.S. imperial rivalry with China, North Korea, and Russia. Two recently released national security strategy documents confirm what some on the left have long feared: The U.S., concerned about its slipping military influence throughout the globe, is gearing up for war with its would-be super-power rivals.
Tom Bramble, writing for Australia's Red Flag newspaper, explains that the documents "reflect the U.S. ruling class's understanding that its domination of the world, virtually unchallenged since the fall of the Soviet Union, is now at risk, and its determination to counter that slippage by directing the resources of the U.S. economy into a program of crash rearmament."
Bramble adds: "…Great power rivalry is back; terrorism has now been relegated to second place in the hierarchy of U.S. national security concerns."
In other words, now would be a really great time to reconstitute the left's beleaguered anti-war movement. Indeed, that movement has been largely dormant since the Bush years — despite that fact that Obama expanded the scope and spheres of the "war on terror" exponentially.
As Maine anti-war activist, blogger, and professional organizer, Bruce Gagnon told me in a 2015 interview, "Liberal Democrats are reluctant to challenge the president when he's 'their guy.'"
"It's a real hypocrisy," Gagnon added. "And it's a real problem for maintaining an active anti-war movement."
Perhaps now with an unambiguous warmonger, racist, misogynist, nativist, wanna-be-dictator in the White House, conditions will be ripe for a renewed anti-war movement. (After all, something positive has to come out of this administration, right…?)
Our job as socialists is to tap into the widespread working-class opposition to Trump and his cabinet of swamp monsters, while also making the broad connections between the global refugee crisis and U.S. imperialism. We must argue for the need to invest less money in bombing people, and more on rebuilding our crumbling infrastructure, generating good-paying jobs, investing in renewable energy programs, public schools, and health care for all.
"Monopolies, oligarchy, the striving for domination and not for freedom, the exploitation of an increasing number of small or weak nations by a handful of the richest or most powerful nations," Vladimir Lenin wrote in his 1917 essay, Imperialism: The Highest Stage of Capitalism, "… all these have given birth to those distinctive characteristics of imperialism which compel us to define it as parasitic or decaying capitalism."