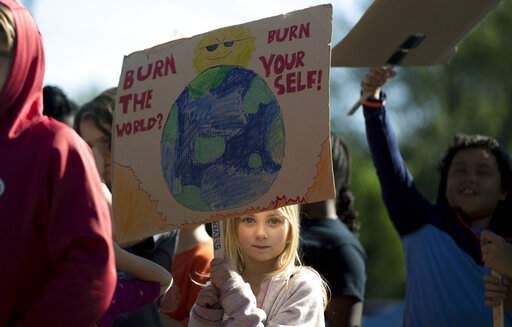 by Adam Marletta
Nearly 2,000 protesters converged on City Hall on Sept. 20 to demand action to combat climate change. The rally was part of the global "Climate Strike" day of action and coincided with massive protests and walk-outs throughout the world.
Speakers and protesters called on local and congressional officials to enact the Green New Deal, the proposed economy-transitioning resolution popularized by Rep. Alexandria Ocasio-Cortez and Sen. Bernie Sanders.
The energy, passion, and creative protest signs on display were truly inspirational. It is essential that we keep the momentum going given that climate scientists say we have 11 years to drastically reduce CO2 emissions to avoid irreversible climate chaos.
Here are three key takeaways from the Sept. 20 rally:
The Debate is Over
Worldwide some 4 million people participated in climate strikes from New York City and Sydney, Australia to Kabul, Afghanistan. The numbers are, indeed, staggering. This is proof positive that working-class people throughout the globe understand the climate crisis to be an existential threat.
Moreover, it should finally signal the end of the right's phony debate concerning the existence of anthropogenic (or human-induced) climate change. For decades now the fossil fuel companies, aided by their lackeys in the Republican Party, have engaged in a propaganda campaign to deny or discredit the overwhelming scientific consensus on climate change.
Exxon Mobil has known about the likely consequences of global warming since at least 1977, according to internal documents. Yet the oil company has spent millions of dollars funding climate change-denying "scientists" and right-wing pundits. Exxon Mobil generated an estimated $20.8 billion in 2018 alone.
Donald Trump, likewise, continues to deny the reality of climate change, dismissing it as a "Chinese hoax." In 2017, Trump announced the United States' imminent withdrawal from the landmark Paris Climate Agreement — although, technically the U.S. is bound to the accord until November 4, 2020.
But most Americans now see through the bourgeois spin.
A recent Washington Post-Kaiser Family Foundation poll finds 79 percent of Americans understand that "human activity is causing the climate to change." A similar poll by George Mason University and Yale University finds 69 percent saying "global warming is happening," with a corresponding 55 percent attributing it to "human activities."
And Americans' own recent experiences with hurricanes and severe weather events have forced them to confront the reality of climate change.
In other words, climate change denial is rapidly becoming an untenable — if not an outright irrational — position in the minds of a majority of Americans.
The Kids are Alright
Young people led the way at the climate strike. Hundreds of middle school, high school, and college students walked out of class in a coordinated display of action. The rally was organized by youth-driven environmental groups like 350 Maine and the Sunrise Movement.
And teachers, workers, and adults of all ages — many of whom had walked out of work — joined the students in an amazing display of solidarity.
The rally continued the climate justice movement's trend of highlighting the voices of Indigenous youth and young people of color, as they are the communities who are likely to suffer (and, indeed, are already suffering) the worst impacts of climate change.
So much, it seems, for the constant hand-wringing about how "kids these days" are lazy, apathetic, and apolitical.
Individual Actions Alone Won't Cut It
As the environmental movement continues to radicalize, more and more activists are beginning to recognize the futility of attempting to remedy climate change through individual actions or lifestyle choices. Driving an electric car, installing solar panels on your roof, biking to work, consuming less — all of these are noble, worthwhile goals.
But most climate scientists concede that such small-scale actions — while no doubt well-intentioned — will do little to ensure the planet does not warm by two degrees Celsius or more. This is because a disproportionate share of CO2 emissions comes from the oil companies, the fossil fuel industry, the U.S. military, and the often overlooked animal agriculture industry. In fact, just 100 corporations — most of them fossil fuel companies — are responsible for 71 percent of global CO2 emissions since 1988, alone.
In other words, capitalism — not individual consumer choices — is the chief driver of the climate crisis. Capitalism, by its very nature, turns everything — including human lives and the ecosystem that sustains all life on the planet — into a commodity. As many of the activists' signs put it, we need "system change, not climate change."
As Naomi Klein writes in her 2014 book, This Changes Everything: Capitalism vs. the Climate:
[O]ur economic system and our planetary system are now at war…. What the climate needs to avoid collapse is a contraction in humanity's use of resources; what our economic model demands to avoid collapse is unfettered expansion. Only one of these sets of rules can be changed, and it's not the laws of nature.
Obviously one protest alone — even a global one — is not going to overthrow the ruling class. And there are certainly aspects of the rally we can criticize.
But this is a start. Let's keep it up. Indeed, let's march, chant, blockade, stop traffic, and otherwise disrupt the system like our lives depend on it — because, well … they do.