Legislative Update
From Senator Ben Chipman
Bill to increase availability of Naloxone now law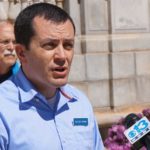 L.D. 565, the bill I sponsored to expand the availability of Naloxone in order to reduce overdose deaths and save lives, is now law. Although the governor vetoed the bill, his veto was unanimously overridden in the Senate and overridden in the House with a strong bipartisan majority. I'm glad the vast majority of my colleagues understand that access to naloxone should not be a divisive issue.
Naloxone is an anti-overdose drug that can reverse or reduce harmful effects of an overdose. In 2016, the Legislature passed a bill that would to temporarily allow pharmacists to prescribe naloxone over-the-counter to individuals suffering from addiction and concerned friends and family. LD 565 makes this change permanent.
More and more Mainers are dying every day from the opioid epidemic. As a Legislature, we need to do more. Families and individuals all across the state are counting on us to act. It is imperative that we make this life-saving drug more accessible to individuals struggling with addiction and their loved ones.
In 2017, there were 418 drug-overdose deaths in Maine, an 11 percent increase from the previous year. Of these drug-overdose deaths, one in four occurred in Cumberland County. This bill is only one part of the effort to stem the opioid epidemic, but it is an important part.
Calling on Congress to strengthen laws against mass violence and domestic terrorism
The Maine Legislature recently voted unanimously to pass a Joint Resolution I introduced strongly condemning mass violence and formally requesting that Congress strengthen the laws against domestic terrorism and mass violence.
Our country is under attack and our response needs to be more than thoughts and prayers. We need Congress to take action now.
I began working on this resolution following the horrific events that took place in Charlottesville, Virginia last year when a demonstration of white nationalists led to the tragic death of counter-protester Heather Heyer and left 19 others injured after a white nationalist drove a car into the crowd.
This resolution condemns this hateful act and urges Congress to do more in response to domestic terrorism, mass violence and racially-biased incidents in the United States.
A fair tax code for all Maine families
We still have a lot to do before we adjourn for the year, such as deciding how we are going to conform to the new federal tax code. Changes made at the federal level late last year in favor of wealthy individuals and large corporations will result in a $250 million tax increase on Mainers if we do nothing. That is $350 in additional taxes on the average Maine family and this is simply not fair. Lawmakers on both sides of the aisle agree that we need to fix this issue but the difference is in where our priorities lie.
The governor recently introduced his tax proposal, which goes beyond conformity and makes a series of complicated changes to Maine's tax code to benefit out-of-state corporations and the very wealthy – groups that already made out very well under the new federal tax plan.
I'm not interested in amending Maine's tax code on behalf of large businesses, out-of-state corporations and a handful of wealthy individuals. It's not in the best interest of our state or our people. Mainers deserve a fair tax code that works for hardworking individuals, families and small business. In the final weeks of session, I am hopeful we can work with our colleagues to come up with a fair and reasonable tax code that works for all Mainers, not just the ones at the top.
Taking a stand against "conversion therapy"
The practice of "conversion therapy" on young people is horrific and should not be allowed in Maine. Telling a child with questions about their gender identity or their sexual orientation that those feelings are wrong and should be squashed, and worse, taking physical action like electroshock therapy to try to get rid of those thoughts or feelings, is unacceptable.
L.D. 912, "An Act To Clarify the Scope of Practice of Certain Licensed Professionals Regarding Conversion Therapy," would ban these terrible practices on young Mainers, while protecting free speech and religious liberty.
I strongly support this bill. Although we fell one vote short of passing L.D. 912 in the Senate I am optimistic that a compromise can be reached to allow us to pass an amended version of this bill in the near future.
Senator Ben Chipman
Please feel free to contact me if you have any questions or concerns. I am here to serve you and can be reached at (207) 318-4961 or e-mail Ben.Chipman@legislature.maine.gov.