West End People
Wells Lyons Starts Resistance Enterprises
by Tony Zeli
After Trump was elected, former City Council candidate Wells Lyons wanted to vent his frustration. Letters to the editor and marches would not be enough.
"I wanted an every day experience of resistance," Wells said in an interview this summer.
Two years ago, Wells Lyons was campaigning to represent the West End in City Council. It was an unsuccessful bid, but he stayed active. He volunteered legal aid to immigrants and worked alongside family at Rogue Industries, a local maker of leather wallets.
Shortly after the Presidential election, Wells decided to put his ecommerce experience from Rogue to work on a new project. He started Resistance Enterprises, a t-shirt company branding messages of resistance.
Resistance gives 5% of profits to nonprofits such as Give Well, a charity that provides data analysis for effective altruism, and Polaris, an organization that fights human trafficking. Wells said local nonprofits will be supported in the future, too.
Also, he sends regular emails to customers with opportunities to get involved and take a stand.
Alexander Hamilton – Immigrant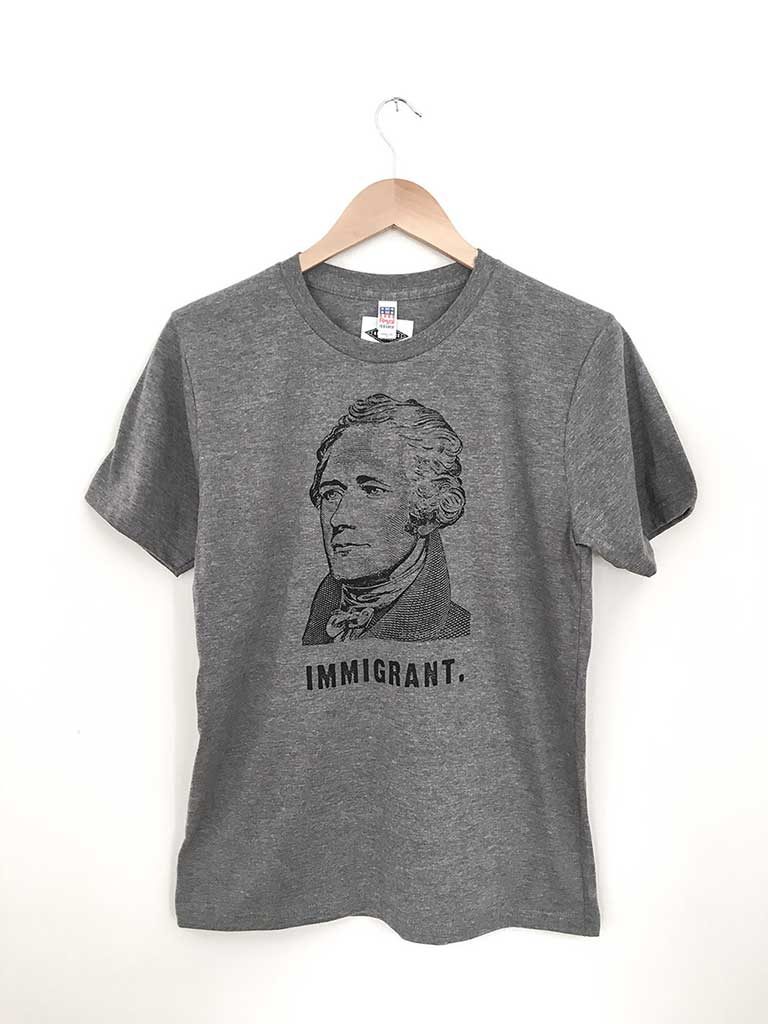 The designs are really what it is all about. Wells' favorite, and one of Resistance's bestsellers, is a design featuring Alexander Hamilton's face over the word "Immigrant."
Obviously Wells is a fan of the Hamilton musical, "I think it is the most played album in my phone right now," he admitted.
Wells saw the t-shirt as a shout-out to the well-loved musical, but also a juxtaposition that challenges preconceptions.
"Hamilton's experience as an immigrant and outsider in the 1700s is completely relevant today."
Further, Wells wanted to celebrate new Americans, who staff much of the new manufacturing economy. Wells teamed up with a New York manufacturer with mills in New York and North Carolina that work fairly with immigrants.
"Our shirts are made in the USA by good people from all over the world," said Wells.
Smokey Bear & Free Speech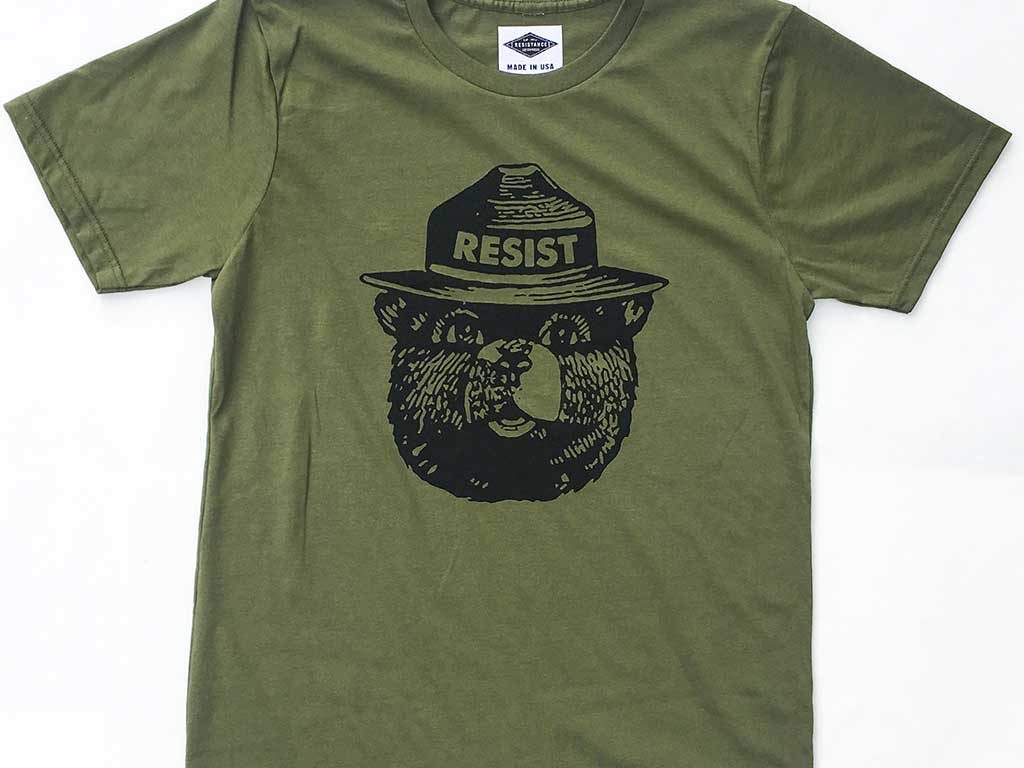 Another of Wells' favorite designs, Smokey the Bear with a message on his hat, "Resist." It was inspired by National Parks' employees who started a Twitter account to resist Trump on climate change.
Smaller makers like Resistance have received cease and desist letters from the licensing company that owns the Smokey the Bear image. Most government designs are in the public domain, but not Smokey.
Wells explained, "Weirdly enough, Congress passed a law in the 1950s taking Smokey the Bear out of the public domain."
Many small businesses have to accept the cease and desist letters. However, not Wells, who is a lawyer and ready to resist. Wells is working to "free" Smokey the Bear, so the iconic image can be used as parody.
Post-Trump Future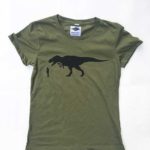 So, if the company is all about resisting Trump, what happens when he is no longer President? It's bound to happen someday, right?
Even in a post-Trump future, Resistance will be promoting immigrant rights, women rights and other important issues.
"We want to make products that people can feel good about. That aren't just against something, but for something else, too," said Wells.
To that end, if there is a design you'd like to see, send Wells an email and let him know.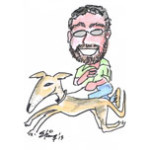 Resistance Enterprises currently sells over 30 designs online only. Every t-shirt is made out of organic cotton and recycled polyester and sells for $24. Take a look at https://www.etsy.com/shop/ResistanceEnterprise.
Tony Zeli
Tony is editor and publisher of the West End News.