PechaKucha Portland Announces
The First PechaKucha Night of a New Decade – VISION 20X20!
By Kymberly Dakin
Ok, so what the heck is PechaKucha night?  There's no reason why you would know.  Despite the fact it has been thrilling audiences for over 12 years, this stunning inspirational effort remains one of Portland's Best Kept Secrets…! Maybe that's starting to change.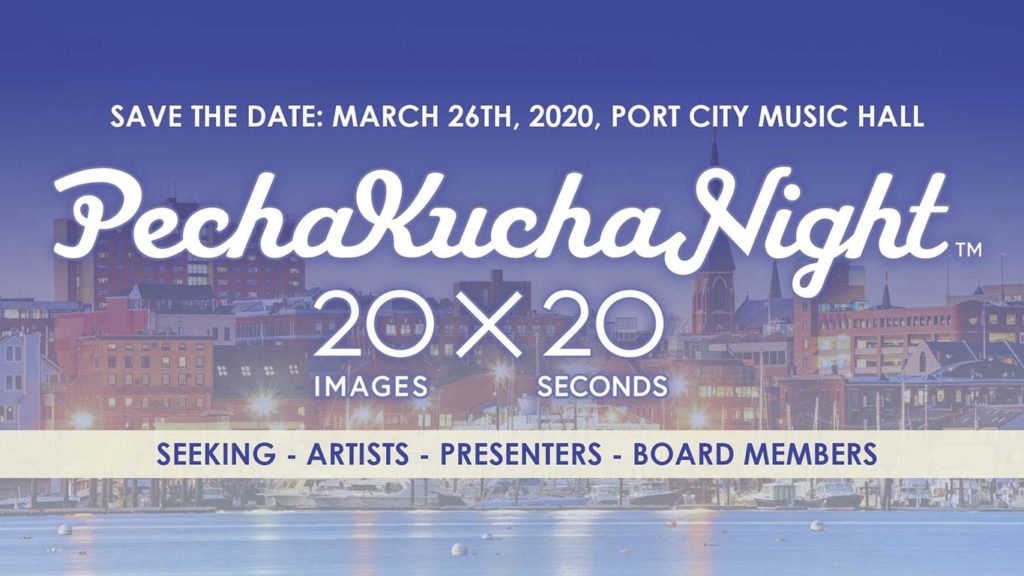 Here's PechaKucha in a nutshell (more about the weird name later): It's a gathering of 8 to 10 speakers, often but not always on a theme, relaying true stories about their projects; often but not always arts-based. We've had stories about cultural efforts, social justice, etc.
Not a PowerPoint
You may be thinking, "Ok, so what? Who needs to hear a bunch of lectures?" And THAT's the beauty of PechaKucha. Think TED talk meets Twitter. Each speaker has 20 slides and only 20 seconds per slide to relay their story. Each teller has exactly 6 minutes 40 seconds – no more, no less, to bring their journey to life.
After five years on the PK Board, I finally worked up the nerve to do a presentation. I'm an experienced public speaker, but this format was challenging! I learned to become a relentless editor, cutting away the inessential (no matter how much I liked it!) so that its essence, and my personal journey, could truly shine. In our millisecond attention span culture, this is an essential skill. And I learned that – No, talking faster won't work!
It really is about getting down to the essence of the story and relaying the truth of what it means. That's why a PechaKucha is not a PowerPoint.
Now to that crazy name …
Astrid Klein and Mark Dytham were architects in Tokyo, getting sick and tired of presentations by prospective architects that droned on via PowerPoint for three or more hours, so they devised a way to tell stories that force the speaker to cut to the chase – and PechaKucha (Japanese for chitchat) was born.
PK has taken the planet by storm. It's now in over 1,000 cities across the globe. Since 2007, PK Portland hosts four events each year for enthusiastic crowds, and has inspired additional Maine cities to the family – comprising PechaKucha Maine.
VISION 20X20
On March 26th, PK Portland will launch its first show of the decade. The theme is purposely broad: VISION 20×20. (Get it? The year 2020 = 20 slides x 20 seconds per slide.)
And keep in mind that PechaKucha is NOT a sales pitch, though here's our sales pitch to you:
---
What is YOUR unique and personal vision for yourself, our community, our world?
Have you been quietly building a means to express more beauty and compassion?
Is your work and/or your art helping others to live a better life?
We'd love to hear your story – And this is your chance!

We invite you to share your inspiration, creativity and discoveries — through the words and images that come from your heartfelt experience.
PechaKucha Portland is seeking personal stories that can help enrich our engaged and creative community.
Our First PechaKucha night of the year wants to feature YOUR Vision 20X20.
---
Join us at Port City Music Hall
At its essence, PK is visual storytelling that celebrates humanity and highlights the best of what we can be.  I know that right now, I could use a big dose of that. You too? 
Then come to the next PechaKucha Portland night on Thursday, March 26th at Port City Music Hall. Doors open at 6:30 p.m. Show starts at 7:20 p.m. Suggested donations: Adults $7, Students $5, but all are welcome regardless of ability to pay.  
Oh and… we could use some enthusiastic volunteers! See more at pechakuchaportland.org.