by Ed King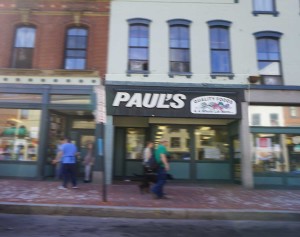 I knew Paul Trusiani, who died on September 4th, only because of his little grocery store, Paul's Food Center, in Congress Square. I met Paul in 2000 when I designed a poster map of the city on which the store was an advertiser. Paul was enthusiastic about the project and distributed free copies of the poster to all of his customers.
When I started a little neighborhood newspaper the next year, Paul not only kept copies of the newspaper in the store for distribution, he supplied an old display rack set up in front of the store – and on publishing day copies of the paper flew off it. It turned out to be our most popular distribution point in the city.
I wasn't surprised to hear stories of Paul's generosity and kindness after he passed away; stories of his giving food to anyone who needed it, and being generous in his lending and forgiving in repayment. That fit the profile of the man I saw devoting his 'golden years' to keeping his neighborhood store humming and serving the neighborhood. I think many people in his position would have cashed in and spent their last years lounging on a Florida beach.
Paul did take a Florida winter break in recent years, but otherwise could usually be found at the store, managing his employees, overseeing the restocking of shelves, resolving customer issues, even unloading delivery trucks and loading groceries into a van for deliveries to the islands or to the little store he operated at 100 State Street.
Paul's presence at the store and his hands-on approach to ownership made the store more than any chain grocery could ever be: the heart of a neighborhood, a place that supplied more than just groceries, but a sense that it's patrons were more than just customers. The store was a part of their daily lives and their living community. Paul must have felt an obligation to the people in the neighborhood who needed a clean, convenient, reasonably-priced grocery store.
Paul's store also conveyed a sense of ownership and shared daily living to those who went there. That was what Paul's life was about: working, caring, helping and sharing. He went about his business with humility and good humor and true care for his neighbors. He was happy to be in a position to play such a vital part in the lives of so many, and his neighbors were lucky to have him there.