The Portland Palate
Review and Photos by James Fereira
I begin my July review on local takeout with a correction and apology about last month's bio. I referenced living alone but should have said that I am the only human living here. In fact, I have a cat, and his name is Catsby. He is my roommate and constant source of joy, entertainment, and the occasional annoyance.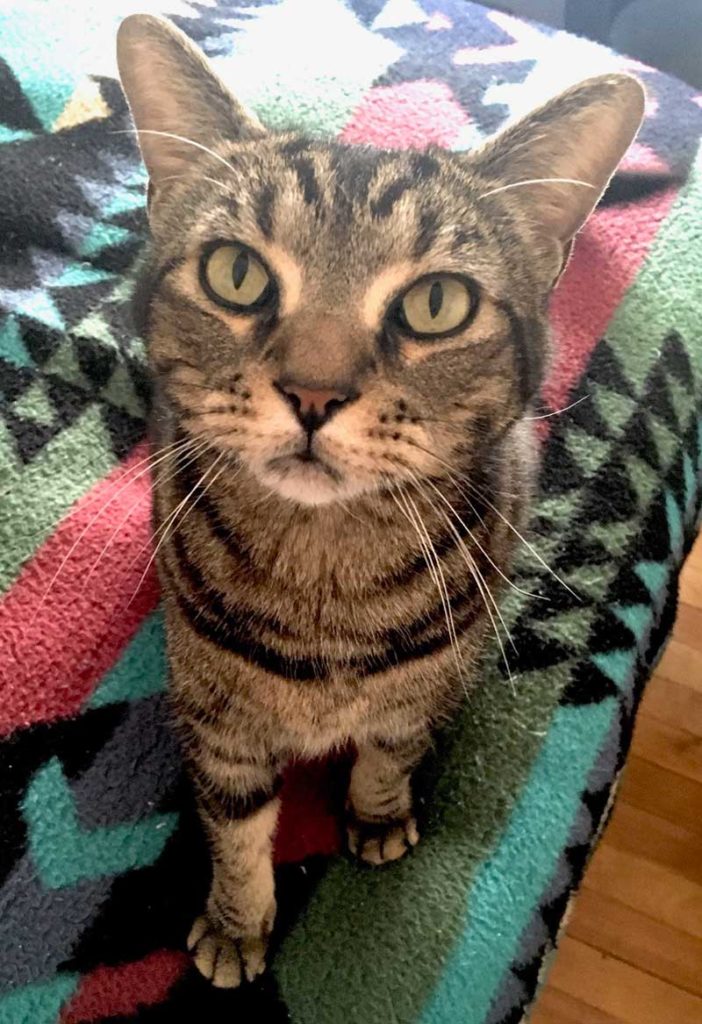 Catsby, originally named Gatsby, just turned five and came from the HART cat shelter in Cumberland in February 2017. He was on a truckload of felines shipped here from a high-kill shelter in Louisiana, where he likely would have died had he stayed. His previous owner had him neutered and declawed, then ditched him at the shelter when she took up with a man … and there wasn't room for two. Luckily for me, she chose the man, with whom Catsby did not get along.
Kitty is an Alpha male who sometimes hisses when he doesn't get his way. With some success, I've been teaching him to give kisses, not hisses. I've learned to laugh it off and to appreciate his quirky personality, which includes having only an "inside purr," yowling at night while he drags his stick (aka prey) through the apartment, and his effective habit of biting my exposed skin to get attention, usually for food.
After two years, he is off Prozac. We've grown to accommodate and understand each other, and his aggressive behaviors have calmed.
He is quite handsome. If you want to meet Catsby, you can do so on his Instagram page, Catsby207. Please say hello. He loves attention (on his terms) and will appreciate that you visited.
Local Takeout During a Pandemic
We enter our fifth month of the COVID pandemic. I find myself better adjusted to the task of writing a food column amid uncommon circumstances. I've embarked on take-out, curbside pickup, and dining al fresco activities as of late. All utilizing best PPE practices, of course. Here are some of the highlights.
SAENG THAI HOUSE
Friend Alex and I preordered at Saeng Thai House on a hot, late May afternoon. Our food came on time and was placed on a makeshift table outside their front door.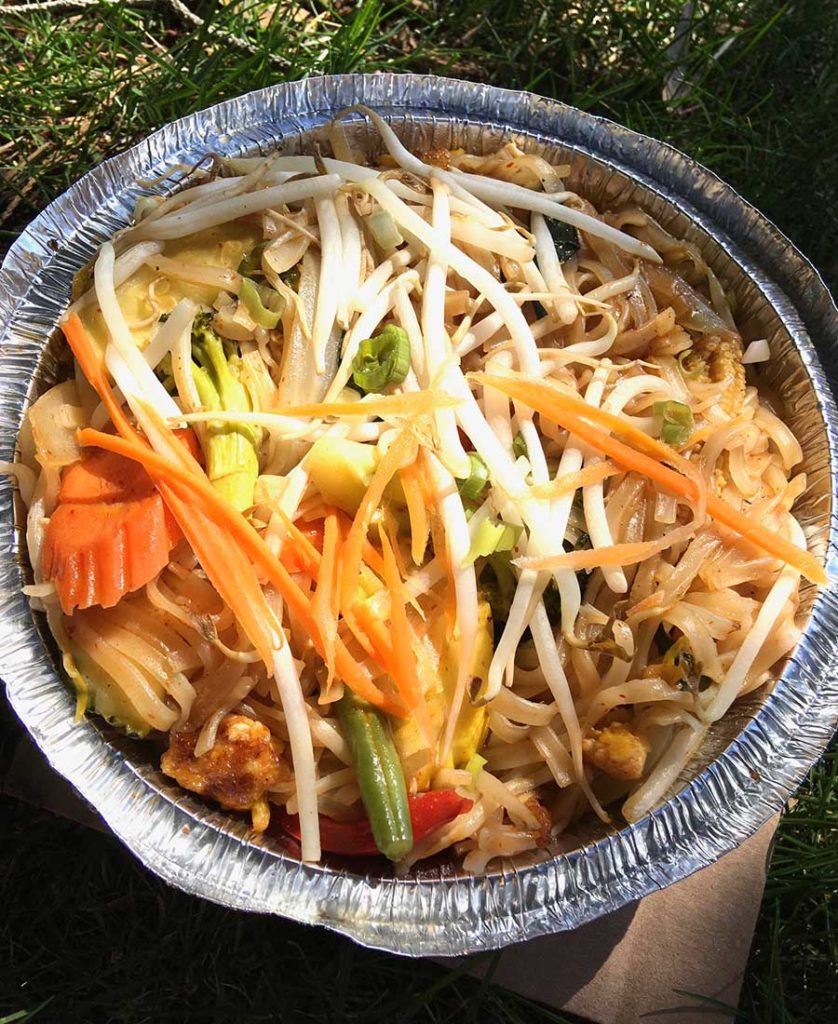 We rambled up Bramhall Hill to the Western Promenade to eat. As fate would have it, we were hardly alone in forging that plan. The park was crowded.
Taking turns sitting uncomfortably on a tentacled tree branch and bed of pine needles, we nevertheless enjoyed our meal from Saeng Thai: a Chicken Satay appetizer with peanut sauce, Thai iced tea, Pork Pad Thai, and Basil Pad Thai with veggies for $35.67. This included tax and tip and we paid with debit card by phone.
Our meal – toothsome, and the noodles on-point with a requested one-star 'heat' – was walked-off after lunch through the West End as we marveled at impressive gardens in full spring bloom.
GILBERT'S CHOWDER HOUSE
Friend Fran and I happened upon an opened Gilbert's on the Memorial Day weekend that we strolled into the "Ghost Port" for our first time in many weeks. We downed yummy fish chowders at Bell Buoy Park, and I doggy-bagged my fried scallop appetizer, being able to stretch two meals out of it – one made impromptu with pasta and sundries from my kitchenette. Cost= $25.50 including tax and gratuity.
We appreciated the friendly service from Jen and the staff on duty, two weeks after they reopened for local takeout. Gilbert's accepts cash or debit/credit for payment.
ROSEMONT MARKET WEST END
Another twist on local takeout is the new curbside pickup options at local markets. Curbside pick-up was a new experience for me, but this was a seamless endeavor.
Having gone to www.PortlandFoodMap.com to find resources, Rosemont seemed a no-brainer due to its nearby-on-foot location, and because I find their products to  be superior. Debit card online preorder of $37.47 got me a neatly organized bag of precooked meatloaf, 1.5 lbs. of green beans, 6 sesame bagels, 16 ounces of fresh strawberries, and a bulb of garlic. The friendly clerk had my order ready at the promised time at the front door.
This made several meals, including one with friend Nick featuring meatloaf, green beans, and his bang-up homemade buttery mashed potatoes with gravy. We agreed that the savory loaf was exceptionally good and worth going back for.
The next day, an English muffin meatloaf sandwich with melted cheddar, sliced cucumber, fresh shallots, tomato, and special sauce with a side of chips was satisfying! I'm still thinking about that meatloaf. Next time, however, I'll order fewer green beans: 1.5 pounds goes a long way…. Not sure what I was envisioning. That volume practically feeds an army.
COAL'S PIZZA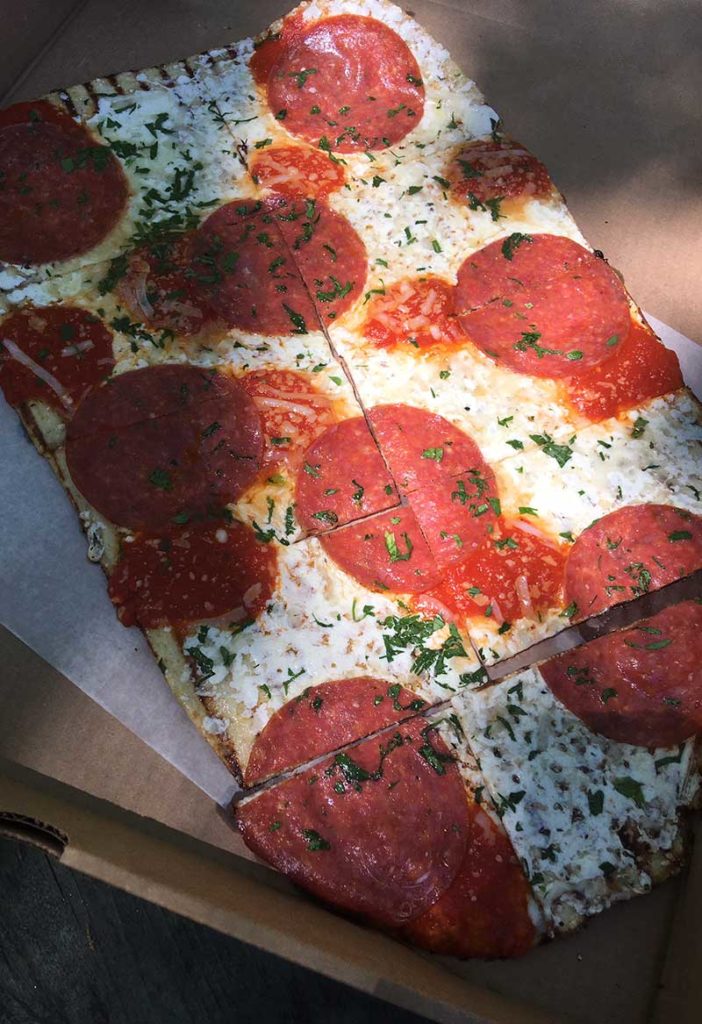 For out final local takeout establishment, it was over to Coal's Pizza for me and Fran on a warm Friday afternoon for cashless preordered curbside pickup. You may recall that Coal's was #1 on my "Best of Pizza on the peninsula," which I wrote last summer. I've been back once since, pre-COVID, plus this time, and I'm still a huge fan.
We walked to Deering Oaks Park, nabbing the only shaded picnic table available, under a large oak tree, and ate there. We split a Dean Martin (pepperoni) pizza (…Fran's first at Coal's) and a smoked chili vinaigrette-dressed arugula salad with cherry tomatoes, pineapple, red onion, and cashews. Cost came to under $26.00.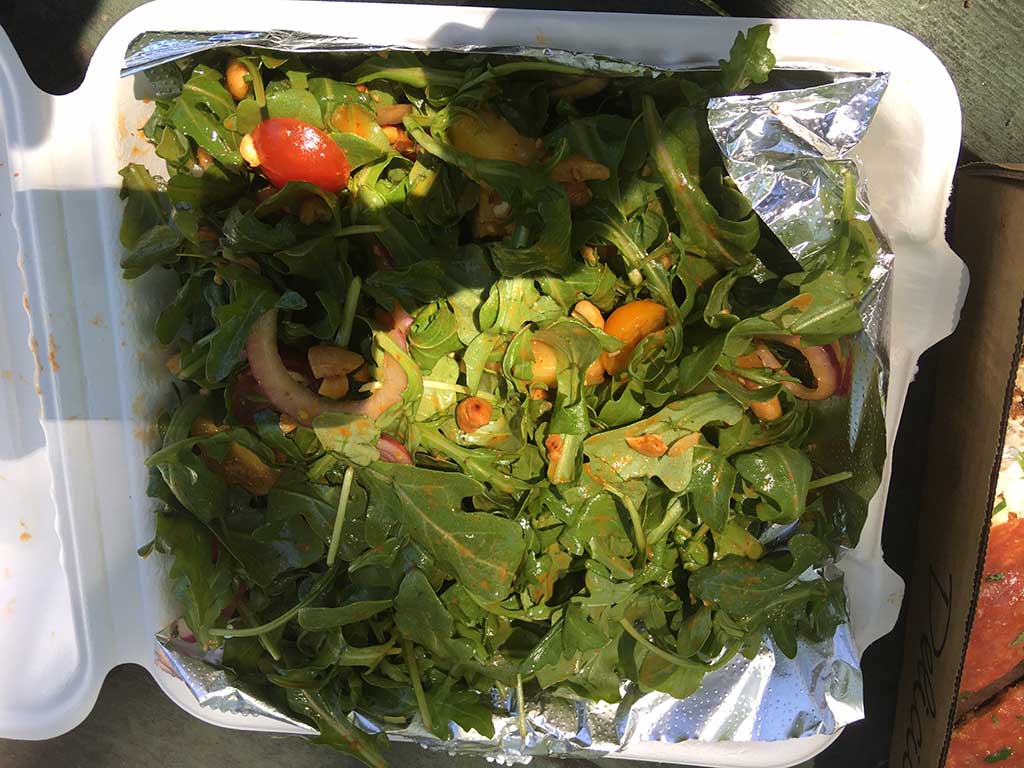 A Lesson on Three C's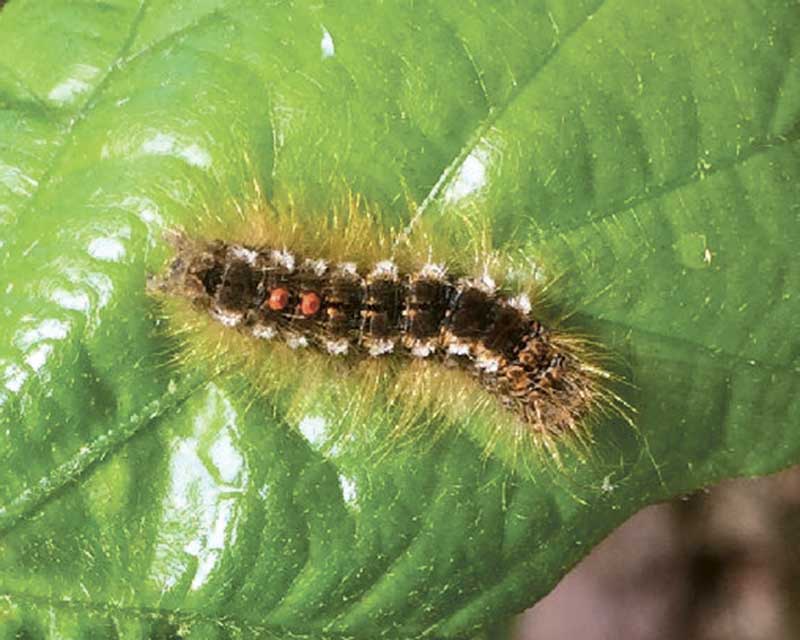 I now refer to this event as "The Day of the Attack of the Browntail Moth Caterpillars." Unbeknownst to us, the park was teeming with them, and we thought nothing of flicking them off the table and our clothing. We're pretty sure none got in our food.
Fran and I shared this folie à deux affliction over the next ten days. Sadly, it was not a delusion. We both developed an itchy, fulsome skin rash. We commiserated about the discomfort, using Calamine, witch hazel, hydrocortisone cream, Benadryl, and oatmeal and Epsom salt soaks to treat the poison ivy-type urticaria. It was not fun.
Turns out I learned something new in my advanced age: if you see a browntail moth caterpillar… run for the hills and don't ever touch one! These woolly critters carry toxin on their hairs which lodge in your skin and annex your bloodstream. The hairs are airborne and can enter your lungs, causing respiratory distress. Remarkably, neither Fran nor I had to resort to using our rescue inhalers.
Though I've walked through Deering Oaks often, prior to this, I had not stopped to sit or eat in the park for about a decade. Now I know why. I won't be doing that again anytime soon.
Go gently out there. Be wary of COVID, cats, and especially… caterpillars.
---
James Fereira has a background in community mental health work, music education, and commercial driving. In his spare time he enjoys creative writing and questioning authority. James can be reached at ThePortlandPalate@gmail.com.