Citing concerns from noise and dust, to clogged sewers and air pollution, some West End residents are asking for a citywide ban on leaf blowers.
At the September 10th meeting of the West End Neighborhood Association, residents complained to city staff about leaf blowers and sidewalk sweepers creating a nuisance in their neighborhood. Complaints mostly centered around noise levels. "It's enough to drive you crazy," said West Ender Jennifer DeFilipp about early morning leaf blowing. Other concerns included clogged sewers and messy streets caused by the debris that is blown off private property into the public way.
The Public Services Department Director Mike Bobinsky suggested that the City's current regulations on noise and decibel levels might help manage nuisance leaf blowers through a complaint-driven process.
West End resident Peter Hall said that if the City is unable or unwilling to regulate leaf blowers, then residents will do so themselves. "If we have to we'll get signatures and put a petition on the November ballot," Hall said.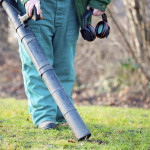 According to the Noise Pollution Clearinghouse, a national nonprofit, dozens of communities across the country (particularly in California and New York) have instituted regulations on leaf blowers. Regulations span from all out bans, such as in Santa Monica, California, to partial bans of gasoline powered leaf blowers or high-decibel blowers. In Cambridge, Massachusetts, a city ordinance limits the use of leaf blowers to the Spring and Fall seasons between the hours of 8 a.m. and 5 p.m.