The road we have long been traveling is deceptively easy, a smooth super-highway on which we progress with great speed, but at the end lies disaster. The other fork in the road – the one "less traveled by" – offers our last, our only chance to reach a destination that assures the preservation of our earth.

Rachel Carson, "Silent Spring"
ARE WE SLEEP WALKING TOWARDS THE EDGE OF A CLIFF?
What does the City's Declaration of Climate Emergency mean when we see little or nothing happening? If a monster meteor were hurtling toward earth, would we just throw up our hands in helpless submission or would we try to protect ourselves? The climate crisis is grim, but is it so big that it paralyzes us?
BRIGHT IDEA: RECOGNIZE THE TRUTH
We are fighting for our lives. The Intergovernmental Panel on Climate Change (IPCC) states that 'unprecedented changes in all aspects of society' are needed. If we fail to keep the average global temperature from rising 2° C or more, life as we know it will not continue.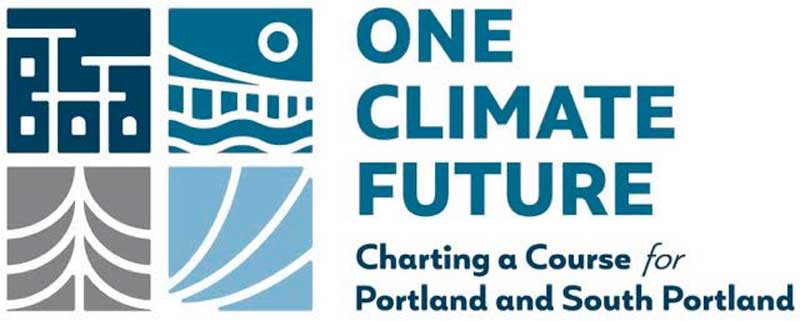 Portland and South Portland are attempting to respond to this challenge with the One Climate Future plan to be revealed later this year. With only 10 years remaining to make the kinds of changes necessary in the IPCC's timeframe, the job ahead is huge and will take smart, consistent, and sustained efforts by all of us to be achieved in time.
BRIGHT IDEA: IMAGINE A HOPEFUL OUTCOME
Watch "A Message from the Future"
(eight-minute animated video with Alexandria Ocasio Cortez)
The job ahead of us…
Get completely and quickly out of the fossil fuel business.
Create new sources of renewable energy generation.
Generate good paying jobs, especially in energy and manufacturing.
Construct and retrofit energy efficient homes and buildings.
Produce food ecologically and locally.
Organize around citizen assemblies and workers' coops.
These and more are all premises of the Green New Deal. We need to work with nature, employing soft but smart adaptation strategies and using the latest science.
Where are we headed as a species?
WHAT'S YOUR PLACE IN THESE TIMES?
---
Bright Ideas is brought to you by Portland Climate Action Team which meets the fourth Thursday of the month, 6-7:30 p.m. at the Rieche Community Center on Clark Street. All are welcome. FMI: portlandclimateaction@gmail.com.