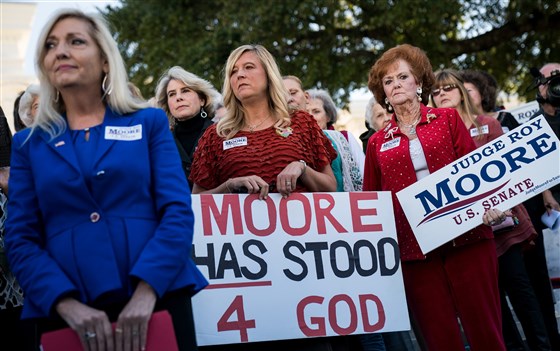 By Adam Marletta
Republican U.S. Senate candidate and alleged pedophile, Roy Moore, literally rode out of town on the horse he came in on after he lost the Alabama special election to Democrat Doug Jones, on Dec. 12. Jones' narrow victory was a surprise upset in an election that was more a referendum on Donald Trump and the Republican-led Congress than either Jones or Moore.
One week after the election, Moore has refused to officially concede the race, even though Jones' one-and-a-half percentage point margin of victory meets the state's threshold to rule out the possibility of an automatic recount. Curiously, Moore's supporters — many of whom also backed Trump last year — have not heeded their own oft-stated protocol regarding elections: "You lost. Get over it!"
I admit I fully expected Moore to triumph — despite (or, in the age of Trumpian misogyny, perhaps because of) numerous credible allegations he engaged in sexual misconduct with girls as young as 14-years-old when he was in his 30s. At least nine women have leveled accusations of sexual harassment, stalking, and assault against Moore.
But rather than dropping out of the race in disgrace, as Democratic senators Al Franken (MN) and John Conyers (MI) were compelled to earlier this month, Moore dismissively denied the allegations, and doubled-down on his sexist, racist, homophobic rhetoric.
At a Dec. 8 campaign event, Moore pined for the "good old days" of slavery — when "families were united…"
"[Americans] cared for one another," said Moore. "People were strong in the families. Our families were strong. Our country had a direction."
Little wonder that a majority of black voters propelled Jones to victory.
Moore's supporters dismissed the charges against their candidate outright. ("Fake news!") Many Moore voters falsely insist there is "no evidence" to support the women's allegations. Actually, as Slate's William Saletan documents in a Nov. 14 story, the mountain of evidence against Moore is staggering.
Others tried to change the topic to the Christian right's longstanding scapegoat: Abortion. Moore's supporters attempted to paint the (ostensibly) pro-life Jones as a "murderer of babies."
Leaving aside the debate over whether or not a fetus is, in fact, a human baby, it is striking that right-wing Christians' "pro-life" stance does not extend to the hundreds of actual babies (along with innocent men, women, and children) who are murdered daily in the United States' interminable imperial wars in Syria, Yemen, Iraq, Afghanistan, and Somalia. Indeed, during the lead-up to the 2003 invasion of Iraq, a Gallup poll found support for George W. Bush's war of choice was strongest among members of the religious right.
As the searing comedian, George Carlin once observed: "Conservatives want live babies so they can raise them to be dead soldiers."
The traditional values of Christianity (social justice, caring for the poor, the homeless, and the oppressed, renouncing consumerism) have been hijacked and perverted beyond all recognition by the religious right. They have re-envisioned Jesus as a warrior militarist and cast aside concerns for social justice in favor of a misogynistic obsession with controlling women's bodies and vehemently opposing gay marriage.
And these people are going to celebrate Christ's birth next week…? Piss off.
Anyone who would knowingly support a pedophile like Moore has no right to lecture others about God and morality — let alone same-sex marriage or abortion. Nietzsche was right: "Christianity is a metaphysics of the hangman."
"Apparently the Religious Right won't let anything, even sexual assault allegations, get in the way of their crusade for 'morality,'" Elizabeth Schulte writes in a recent op-ed for Socialist Worker, "which really means refusing women the right to control their own bodies, denying LGBT people the right to marry, and all the other cruel and immoral stances that scapegoat the most vulnerable in society."
As for Jones, Alabama voters should be under no illusions about the centrist Democrat they have elected. Indeed, the despicable Moore is so obviously unsuited for public office that the bar for Jones was already set pretty low. In any other election, Jones would have surely lost the deep-red state. While the fact that a serial child molester will not be joining the U.S. Senate should be cause for celebration, it is frankly unclear how much of a victory this is for the left.
Senator-elect Jones has already displayed his milquetoast, "bipartisan" colors with his recent claim that Trump should not resign in the face of mounting sexual harassment claims. Sounding all too similar to Barack Obama, Jones claims we need to "move on" and not get "distracted" by Trump's vile history of mistreating women.
We cannot rely on the Democratic Party to save us from Trump. Even if the Dems do make significant gains in the 2018 midterm elections, they are unlikely to mount any serious opposition to the radical Republicans. The Democrats are, in the words of former Nixon adviser, Kevin Phillips, "history's second most enthusiastic capitalist party." Observe, for instance, the fact that a majority of House Democrats recently voted against Rep. Al Green's (D-TX) motion to impeach Trump.
And these people call themselves "The Resistance"?
Fortunately, in the wake of Bernie Sanders' foiled presidential run last year, many leftists are beginning to realize that the Democratic Party is no friend to the working class. Had Sanders not been sabotaged by the DNC establishment and Hillary Clinton's campaign, he surely would have triumphed over Trump — a fact Trump's own pollster recently acknowledged.
For now, let us rejoice in Moore's defeat and this, albeit likely temporary, setback for Trump's agenda.
"As is well known, the [Christian] priests are the most evil enemies," Nietzsche wrote. "… Because they are the most impotent. It is because of their impotence that in them hatred grows to monstrous proportions, to the most spiritual and poisonous kind of hatred."