Portland Public Schools launched its second annual parent survey. Parents of children in the district are urged to participate in the survey, which is designed to give community members a greater voice in the school system.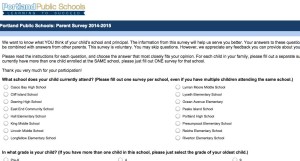 "By giving us your feedback on your experience in the school district, we can gain more insight into what we're doing right and also on what we need to do better," said Portland Superintendent Emmanuel Caulk.
The survey is posted online on the district's website.
The survey is available in all of the major languages spoken by district families. Paper copies will be available at each school during parent-teacher conferences. The district will be accepting survey responses through April 17, the end of most schools' conference season.
The survey asks about parents' views on topics such as whether schools provide a rigorous curriculum, whether their children feel engaged by school, whether teachers set high expectations and whether
parents would recommend their children's school to others. The survey also asks several questions about the principal's management of the school.
The survey is voluntary and it's anonymous. Parents are asked to submit one survey for each child attending district schools. All parent feedback will be reviewed.