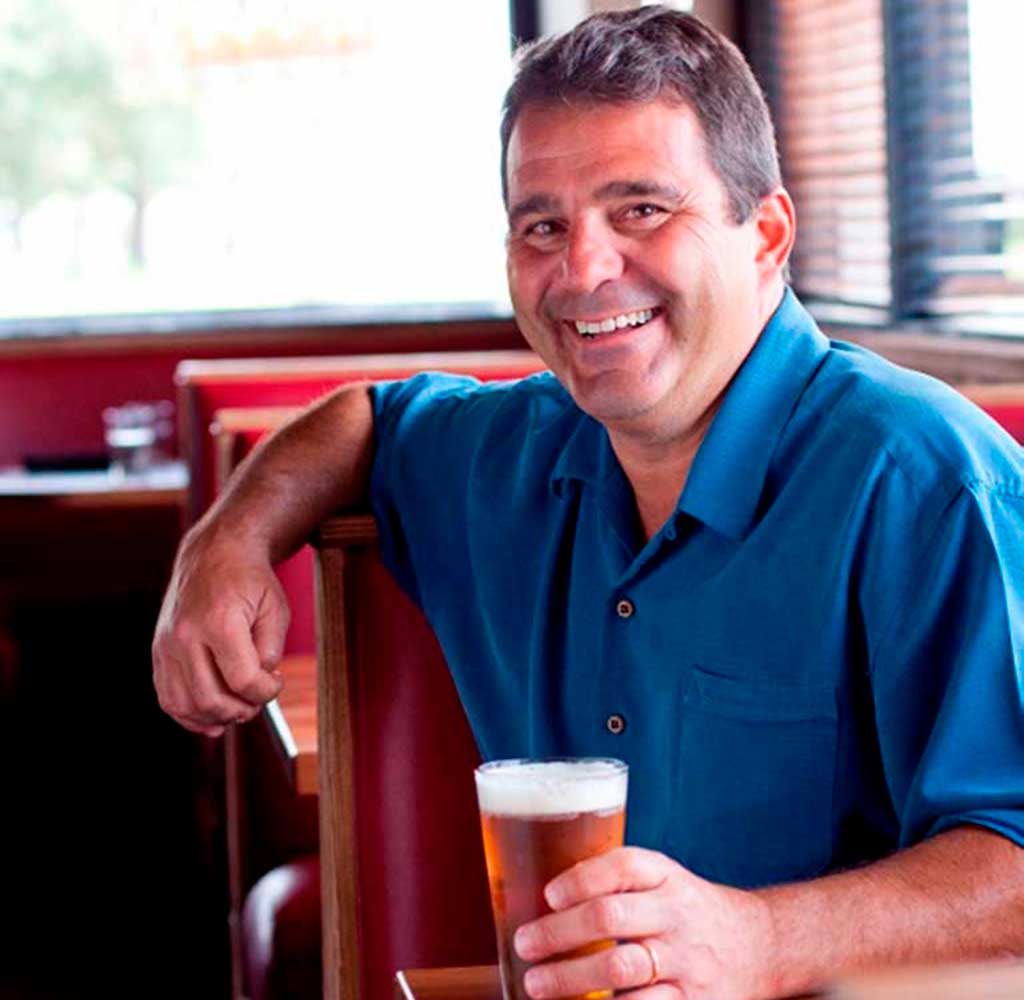 Fred Forsley & Shipyard Brewing Co
It's no joke that in some parts of Portland you can throw a rock in any direction and hit a brewery. But just a few decades ago that wasn't the case – and the beer taps in bars and restaurants throughout town featured a narrow selection of similarly tasting commercial lagers. Now, Portland boasts some of the finest, most creative craft brews available in the country.
Beginnings of a Craft Brewery Movement
In the early days, opening a craft brewery was a gamble, but a few early brewers and entrepreneurs took the risk, including Fred Forsley, founder and owner of Shipyard Brewing Company.
In 1991, Forsley, a Gray native who had dabbled in real estate before brewing beer, visited a brewpub while traveling with friends and felt inspired to open one of his own. Forsley then began brewing beer out of Federal Jack's, a restaurant he owns in Kennebunk, and the birthplace of Shipyard.
"The biggest thing was convincing people to try the beer, getting people away from the mainstream," said Forsley. "The perception of beer was very generic."
Forsley wasn't alone in tempting Mainers to stray from Budweiser and Coors. David Geary of Geary Brewing Company, Portland's – and New England's – oldest craft brewery, started pouring Geary's Pale Ale in the winter of 1986. Two years later Gritty's brewpub opened in the Old Port.
Shipyard officially incorporated in 1994, and is now the largest brewery in Maine, as well as one of the largest independently owned breweries in the country. Many brewers looking to gain experience working with larger brewing systems cut their teeth at Shipyard – making it an incubator for talented brewers.
A Link to the Past
Portland now boasts nearly 20 breweries – with Maine boasting around 100. Craft beer has become part of the culture of Maine, and Mainers are proud to produce some of the highest quality and innovative brews in the country.
Without a doubt, Forsley played a strong role in advancing this movement, and he notes a special link between Shipyard and renown Portland Poet Henry Wadsworth Longfellow.
"The same year Longfellow was born was the same year one of the Federal Jack's ships was built in Kennebunkport," said Forsley. "I always feel it's kind of a spiritual connection because Longfellow was such an impactful Portlander and touched on a lot of our history with some of his poems."
The Shipyard headquarters and tasting room, located on 86 Newbury Street in the Old Port, sits directly beside the birthplace of Longfellow, who was born in a long-demolished home that occupied the corner of Hancock Street and Fore Street.
Beyond the Brewing
Forsley, whose business ventures extend much beyond beer, views Shipyard as his proudest accomplishment – especially the impact the brewery has had on the immediate neighborhood.
The brewery and tasting room are located on a previously abandoned brownfield site; there was a pump station nearby with a smoke stack that released a steady stream of unpleasant odors into the downtown air. When Shipyard moved into this section of the Old Port, Forsley put together a plan to clean up the gritty industrial feel of the neighborhood.
"We worked with the City, and we worked with the local area," said Forlsey. "And we were able to put close to over $3 million in infrastructure around the site."
As a prominent developer and real estate player in Portland, Forsley has played a hand in constructing some of the modern buildings on the peninsula that house sleek offices and high-end condominiums.
Forsley shared his vision for the future of Portland, which includes promoting Maine entrepreneurs, continuing development, and increasing shipping activity.
"I don't think necessarily we can always attract companies to come here," said Forlsey, who believes Portland's economic dynamism hinges on local entrepreneurs starting companies in Maine, such as IDEXX and WEX.
Developing the Waterfront
In regard to Portland's marine industry, Forlsey stated, "Casco Bay is an amazing resource. It's 200 miles closer to Europe than New York City, and there's no reason that port [Portland's port] shouldn't be more active."
Forsley argues that increasing the commercial activity of the working waterfront can occur in tandem with development of commercial and residential spaces that also hug the waterfront. This might place Forsley at odds with many Portland residents who believe the waterfront should be preserved first for marine uses.
"You don't have to restrict one over the over, and recently the City took action to do that – I firmly disagree with that," said Forsley, referring to a moratorium on non-marine use expansion in the working waterfront.
Of course, not everyone agrees Portland needs more luxury condominiums or upscale office buildings either – which are viewed as major reasons for soaring rents and the vanishing of the "Old Portland."
Forlsey remains an influential figure in Portland. By emboldening the burgeoning Maine craft beer industry, Shipyard has had an overwhelmingly positive impact on the culture and economy of Portland and the rest of Maine as well.
Forsley has also been an active philanthropist, and some of these activities include supporting the M.S. Society, Portland Trails, and Maine Adaptive, as well as fundraising for the Gary House, which provides lodging for families of the seriously ill at Mercy Hospital.
 "I think – to a degree – it's a responsibility of a community and a company to get involved," said Forlsey.