POLICE BEAT

Woman Assaulted While Walking in West End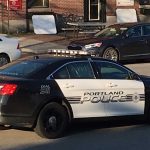 A man assaulted a 22-year-old Portland woman while she was walking on Brackett Street near Pine Street on Thursday night, January 12th, around 8 p.m. She fought off the attacker by screaming to people nearby, striking him and using pepper spray. The man eventually ran away. Witnesses came to the woman's aid. Actually, one man even chased the attacker to Winter Street before losing sight of him.
The woman noticed she was being followed for several blocks and became concerned when she saw that he was getting closer. She walked faster to try and put some space between them. Then, the perpetrator struck and grabbed her as she was crossing the street. Fortunately, she was not injured during the attack.
Witnesses describe the suspect as a white male, 20 to 30 years old, 5'-10" to 6'00" tall, pale skin, clean shaven, and chubby. He was wearing dark clothing, a blue jacket and a beanie hat. He was carrying a messenger style bag and an object that looked like an umbrella.
Police note that the woman's actions prevented a more serious attack from occurring. She was aware of her surroundings, took actions to separate herself from the attacker and was prepared to defend herself. Also, she immediately called out for help.
Rape Aggression Defense Classes
The Portland Police Department regularly offers Rape Aggression Defense (RAD) classes to members of the community. RAD training is a self-defense program geared toward realistic options for women in these types of attacks. For more information on this program, call (207) 874-8643 or email ppdrad@portlandmaine.gov.
Heroin Trafficking Raid on Grant Street
On January 10th at 1 p.m., Portland Police, Maine Drug Enforcement Agency and FBI raided an apartment at 11 Grant Street. The apartment was residence to 35-year-old Amy Santiago. The agents served Santiago with a warrant for her arrest charging Unlawful Trafficking in Scheduled Drugs.
The DEA had been investigating Santiago for the trafficking of heroin. The police had learned that people in the apartment may be in possession of firearms. As such, the Portland Police Department's Special Reaction Team was used to serve the search warrant and make the arrest. Also, according to one local officer, as many as six FBI agents were involved in the arrest.
There were several people in the apartment including two of Santiago's children at the time of the raid.
Police arrested Amy Santiago and transported her to the Cumberland County Jail where she is being held on $10,000 cash bail. The Department of Human Services took custody of her children. There were no other arrests in connection with this search warrant. Police report that there were no injuries.
Submit Your Tip
To provide information anonymously, contact Portland Police at 874-8575, text the keyword "GOTCHA" plus the tip message to 274637 (CRIMES), or go to www.portland-police.com and click "Submit an Anonymous Crime Tip."