By Layne V. Witherell
There have been three dramatic changes over the past year in the world of wine. The first, of course, is the disappearance of your favorite local restaurant. Bummer. Then the space reopens with a takeout sign and an exceptionally large help wanted sign. None of this is comforting or soothing.
The second major change is the way you shop at your local grocery store. You struggle to make sure your mask is on tight, your hand sanitizer is in place, and your shopping list is in front of your fogged up glasses. This leads to our photo of the essentials of your shop- toilet paper and your favorite bottle of wine, both collected quickly without hesitation. The photos in our article today both represent refined, delicious wines that are among my favs.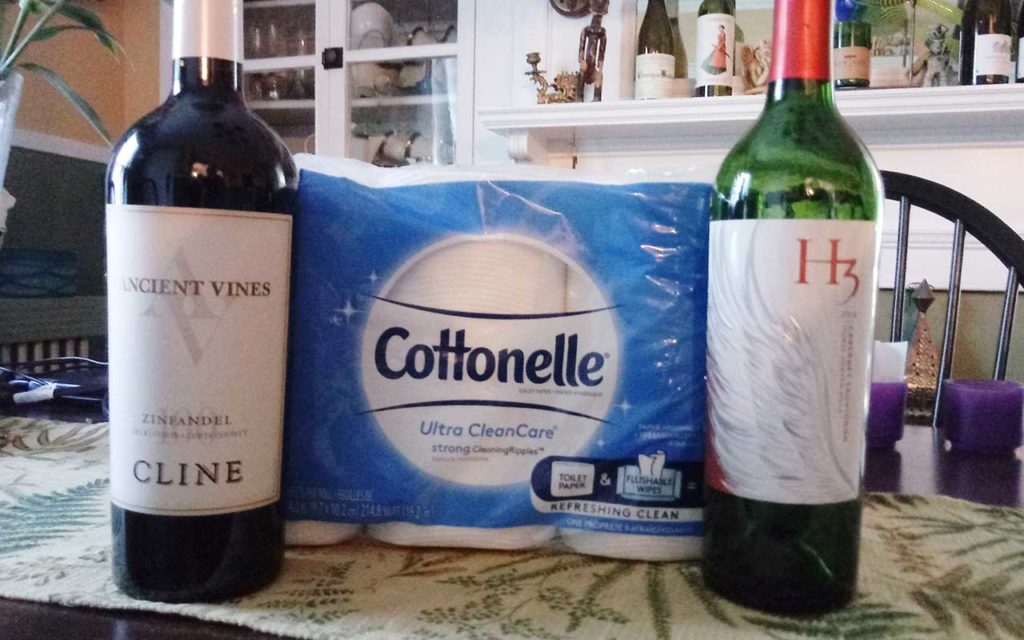 Recent releases of the numbers as they relate to your quick shop are startling!
"Wine power brands," in the words of the CEO of Constellation (the #2 wine company in the world), are through the roof. You did not even slow down in the aisles. Josh Cellars is up 36%, Bota Box sees a 42.5% increase, Meiomi, Apothic, 19 Crimes (remember Snoop?), all are ablaze in sales. The recognizable images are the new norm. Leave it to the slick marketing people to create a new category called "betterment brands." Hell, I thought that I was lucky the store had toilet paper, a bottle of my favorite zinfandel, and that I made it out of the store – much less stopping to look for a wine or even trying to locate the "betterment department."
The third and by far the most important trend from all of this is the "Wine Direct to your Door" movement. It is more of a stampede, an irresistible force that follows you any time you look up wine on any device or think of ordering food for your cloistered life. There are wine clubs, delivery services, and even this strange posting for "My Wine Society." They want Instagram wine influencers who love to post on social media "as much as we do." I chose not to take their little quiz for fear of falling down the clickbait wine channel rabbit hole. They are all crawling out of the woodwork.
Today we will look at some of these varied delivery services and put one of them to the test.
Wine Direct: Some Options
There are services locally that make claim to deliver to your door. Since this is a "wine gig" column and not a "wine rep" column you must consider all those choices yourself. I just report it. I do not peddle it.
DELIVERY SERVICES
Carhop.Me: Delivery service listed in stores.
Drizzly: Beverage delivery service you can search.
Amazon: Who knows what tomorrow brings? Whole Foods delivery (with Walmart peering over their shoulder).
Uber: The rideshare company is in talks with Drizzly, the alcohol beverage delivery service, to the tune of an $1.1 billion offer. This could be a game changer on what comes to your door with your food.
WINE CLUBS
There is something for every taste and pocketbook out there.
Somm Select: All those out of work, in debt, sommeliers are pooling their accumulated wisdom. This is esoterica central.
Splash Wines: They offer the McDaddy of deals with sales, sales, and more sales proving that there is a lot of cheap wine in the world waiting to be consumed.
Sotheby's: Your bespoke wine merchant. You can literally hear the crisp press of their starched shirts through your phone. Also, you can track the Hong Kong fine wine auction market or just cozy up to a $600 bottle of Grange from Australia. Sorry, limit three bottles only.
Wine Till It's Gone: This is the "it drives you crazy" app. Four bottles remain with two minutes to go. Quick, get out of the car and press the button before it is too late. Take a minute to do your homework on the deals. It is always better to know what you are going to buy before you press that button.
Wine.com: Pull up any wine on your computer and there they are. Your ubiquitous wine experts with their smiley faces. Wilfred Wong is their guru, and I fondly remember him slinging three plus laptops into the international tasting competitions we were judging and taking both his and the judges' notes – all the notes in a fury of keystrokes!
Naked Wines: The pitch is supporting "indie" winemakers and selling direct to you, with a help send a kid (fledgling winemaker) to camp aesthetic.
The Pitch for Wine Clubs
The pitch behind wine clubs, as well as winery wine clubs, is that you are eliminating two or three layers of markup and are buying direct from the source. It is always wise to see if that is true or if they are pocketing the remainder of that pile of money gleaned direct from the source. Are they passing along that accumulated 60-percent plus margin that is lying on the table?
Of course, the ultimate allure of the wine club is simply that it is available there and not here, rendering you "oh so cool."
ELDEN SELECTIONS
They are the Burgundy experts for direct from the source buying. It is one thing to say "gee, I like Elden Selections," and yet another to press the button and plunk down $702 for twelve bottles. Shipping is free and tax is included; that works out to $58.50 per bottle.
For your $58.50 you get to drink Burgundy, the tiny towns and vineyards that produce the greatest, most sought-after bottles of pinot noir and chardonnay on the planet!
THE WINES OF DOMAINE BORGEOT (an acclaimed producer not distributed in Maine)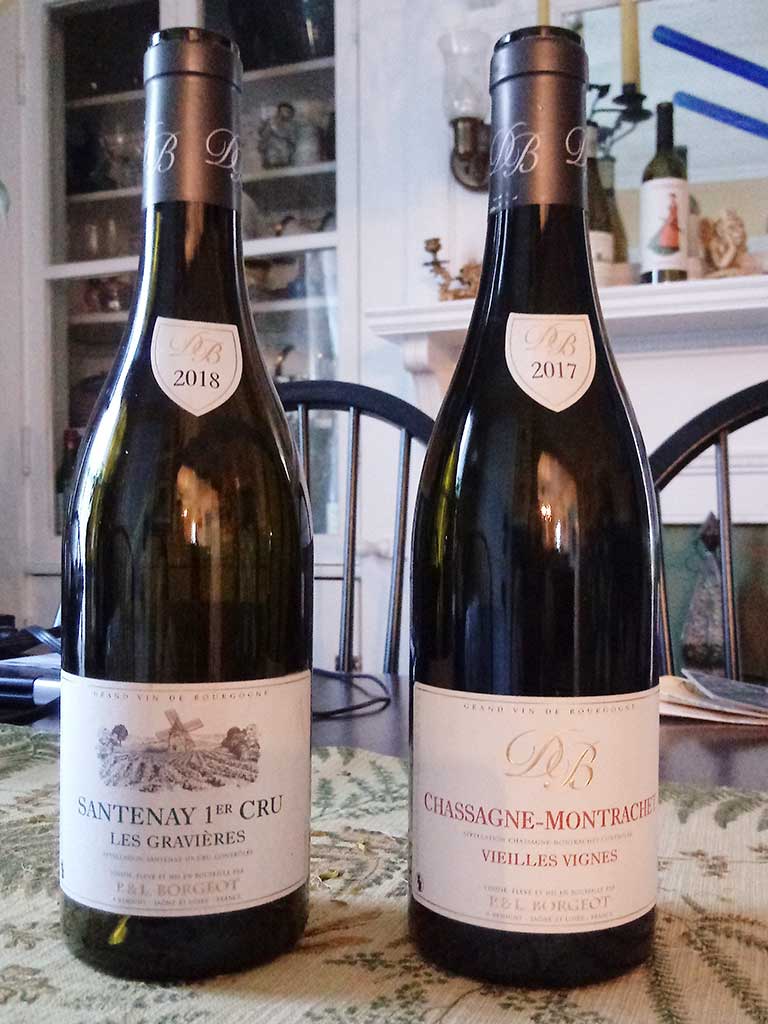 Included below are my notes, research, and analysis of my thoughts of retails that you would expect to pay per bottle if you bought them at your local wine merchant with importer, wholesaler, and retailer margins.
Santenay "Vielles Vignes" Pinot Noir, 2018. Currants, mushrooms. $45.00. Santenay "Gravieres" red, 2018, $45.00. Santenay "Gravieres" white, 2018, $45.00. Typic of place, with a rare white included.
Puligny Montrachet, "Vielles Vignes," 2018. Queen of chardonnay, $120.00. Impeccable character.
Bourgogne Blanc, 2018. A smaller flavor chardonnay, $25.00. Bourgogne Rouge, 2018, a smaller flavor pinot noir, $25.00.
Cremant de Bourgogne Sparkling, $25.00.
Bouzeron Blanc, 2018, the seldom seen aligoté grape, $30.00.
Chassagne Montrachet Rouge, two vineyards, classic village, and 1er cru pinot noir. Thrilling "potentially haunting essences of place," $75.00 each. Chassagne Montrachet Blanc, 2018, "Vielles Vignes" and "Morgeot vineyard," 2017, $120.00 each for two bottles. Benchmark chardonnay.
Be Cautious
So, there you have it. There are "filler" wines but included are six great unrivaled experiences. You must do some research beforehand and wager that this sight unseen case is good. Or you just might discover that you bought $750.00 worth of wine for $702.00.
I probably won't be joining the wine club, virtual events, or the persistent emailing list, but this little white-knuckle ride in wine "Direct to your Door" was a fun learning and drinking experience, as they require tons of research to find the best offering. Be cautious, be wary.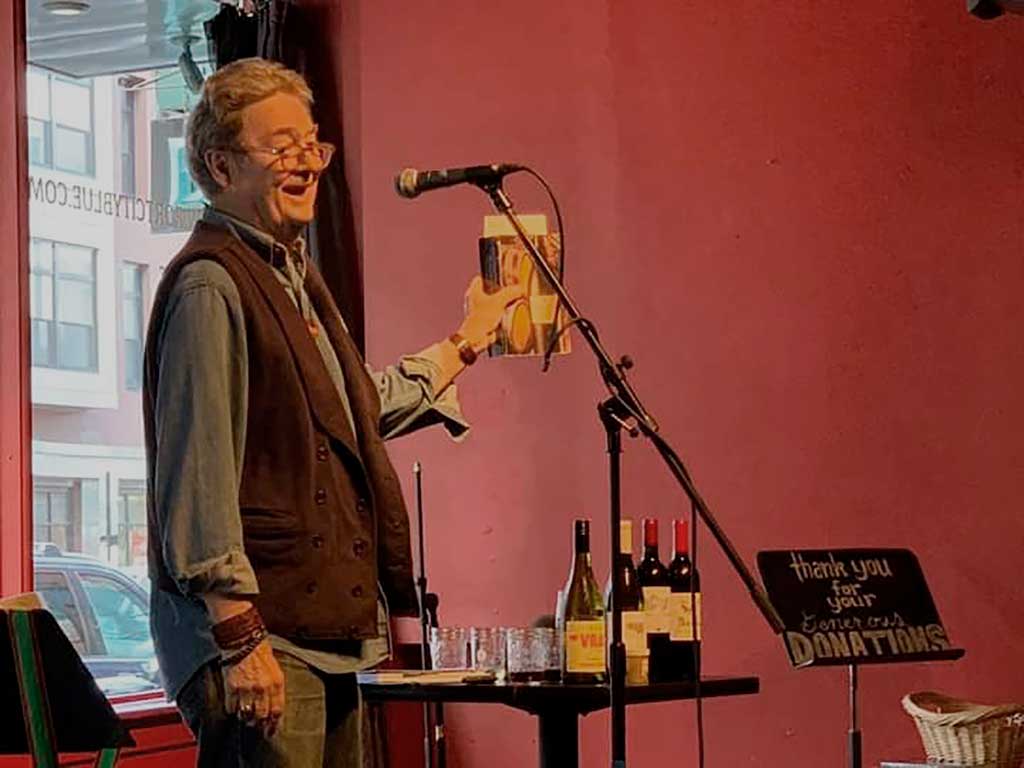 Layne V. Witherell has been a professional in the wine business for many decades as a teacher, importer, writer, competition judge, and winery CEO. He was awarded the Master Knight of the Vine for his pioneering work in the Oregon wine industry. Read more from Layne at http://winemaniacs.wordpress.com/blog.