West End Halloween Parade
Halloween Eve, Monday, October 31st
Begin gathering 5:30 at Reiche playground (166 Brackett St).
Parade assembles at 6:00.
March begins at 6:15pm sharp.
The West End Halloween Parade has been the ghoulishly spectacular neighborhood tradition for a generation. This year is special as it marks the return of the much beloved Shoestring Theater puppets.
Organizer Wynne Wirth wants the neighborhood to know that wild and crazy costumes are highly encouraged. The West End Halloween Parade is the neighborhood's chance to show its strangest character. Bring out the drums and ukuleles. Ride the unicycles and absurdly tall bikes. If it is quirky and fun, it is encouraged. All ages are welcome. And remember, dress warm!
Organizers ask neighbors to consider playing a larger part in the creation of this year's parade. As such, they have provided the following ways to contribute:
Artistic Volunteers.
Welcoming drummers, musicians, puppeteers, performance artists and community participants. Consider parading with a larger than life papier-mâché puppet, created by West End's own Shoestring Theater.
Intersection Volunteers.
Help keep the parade fun and safe for all. We need about 20 folks to guard intersections/barricades for temporary road closure of the route. These folks need to join in a 5 p.m. orientation before the parade.  Volunteer posts vary from one hour to two hours, and all are invited for post-parade refreshments and treats on the playground.
Donations.
Organizers are raising money to cover expenses for police escorts and other equipment needed. If additional money is raised it will be set aside in a fund for next year's parade. Contributions are tax deductible and should be made payable to Youth In Action, and sent to 196 Brackett St #1, Portland, ME, 04102.
Thanks to the many community members and organizations who make this event possible each year, including Youth in Action, Shoestring Theater, Learning Works and the City of Portland.
THE ROUTE.
The parade begins at Reiche School playground. It turns left up Brackett Street to Pine Street. Then left to Louis Street, left on Cushman Street, right on Clark Street, where it will pause at Clark and Spruce. The parade will then proceed down Clark Street to Salem Street, and returns up Brackett Street to finish at the Reiche playground.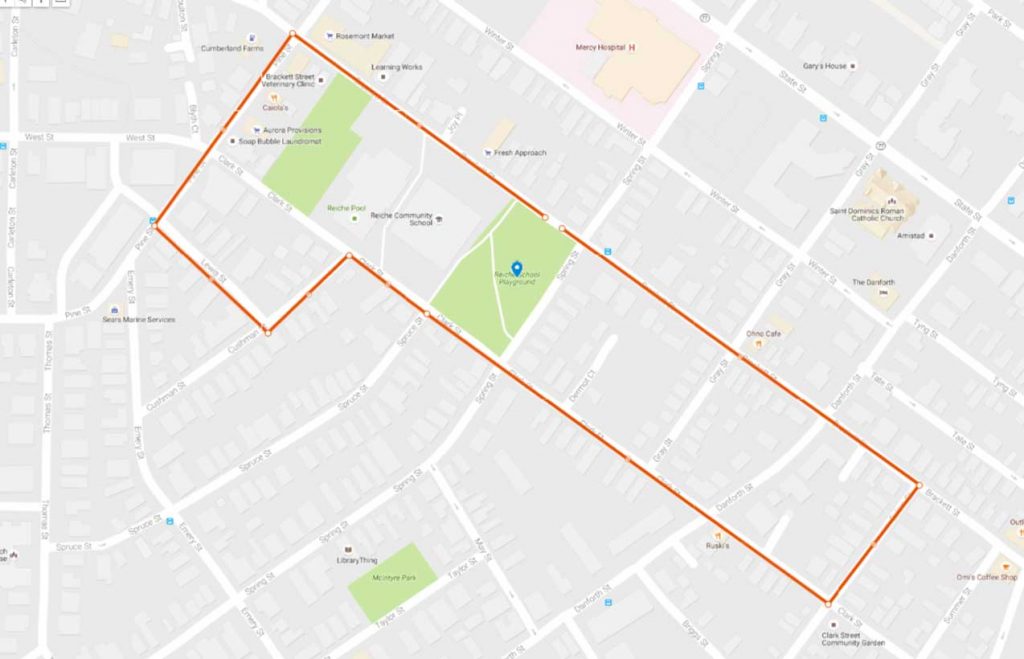 Please contact Wynne at wynneway@yahoo.com if you are willing and able to help out, and in which capacity you can volunteer. Visit their Facebook page for more info: facebook.com/WestEndHalloween.