By Nancy Dorrans
I had never been to Vietnam nor Cambodia, yet a handful of friends asked if I would consider organizing an Adventure Marketplace tour to that area of the world. Honestly it was not high on my list, but the more I investigated the options the more interested and excited I became about the possibilities. Thus began the process of navigating a small group to Vietnam and Cambodia last November.
You can never really begin too early to start promoting an adventure. I first started researching the options for this adventure in early December 2016. I contacted several tour operators that specialize in tours to South East Asia and eventually hired a UK company, Exodus Travels, because they were open to customizing our itinerary. They in turn hired a Southeast Asia ground operator, EXO Travel, to handle all the in-country logistics of our adventure.
Journeying from Hanoi to Saigon (now, Ho Chi Minh City), then Angkor Wat to Phnom Penh, we were immersed for sixteen days on a customized tailor-made Vietnam/Cambodia adventure. Split into two parts, this adventure was too big for just one article.
PART 1: FROM HANOI SOUTH TO HOI AN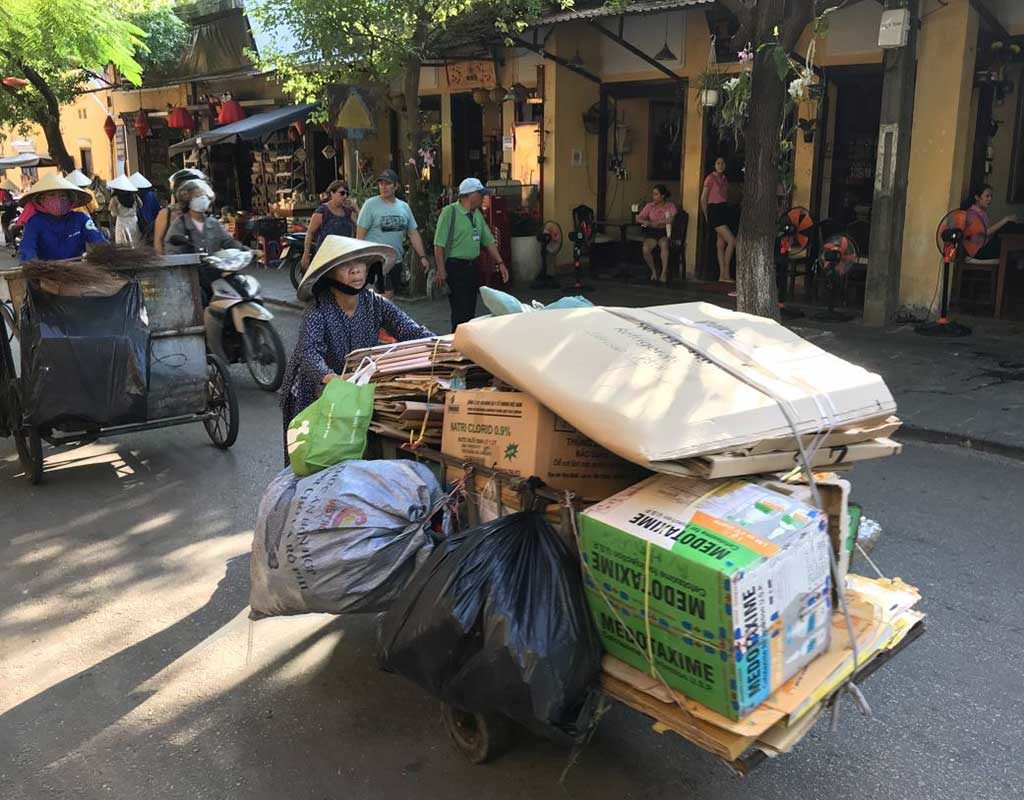 We arrived in Hanoi on November 10th and headed out to explore the local shops, take in a water puppet show, and wander through the night street food markets. History, emotion, jetlag and the heat were mixing with the flavors, people, sights and sounds of this Northern Vietnam city.
Thousands of scooters crowd the streets of Hanoi carrying almost anything. We saw families of up to five (referred to as a Vietnamese family sandwich), livestock, balloons, flowers, sacks of rice, lumber and more… Our guide told us you could move an entire house in Vietnam on a scooter if need be.
Mai Châu Village a Highlight of the Trip
Out of the fray of Hanoi, we headed west on day two to the mountain village of Mai Châu for a homestay in a small guest house. We were treated to a guided hike, local dining, and an evening dance with guest participation. Indeed, our visit to the village of Mai Châu was a highlight for me and many of the others in our group.
Day three began with a colorful short walk from Mai Châu village to another nearby village. We then returned to Hanoi to visit the Temple of Literature and Hoa Lo Prison, aka. the Hanoi Hilton.
Bustling Halong Bay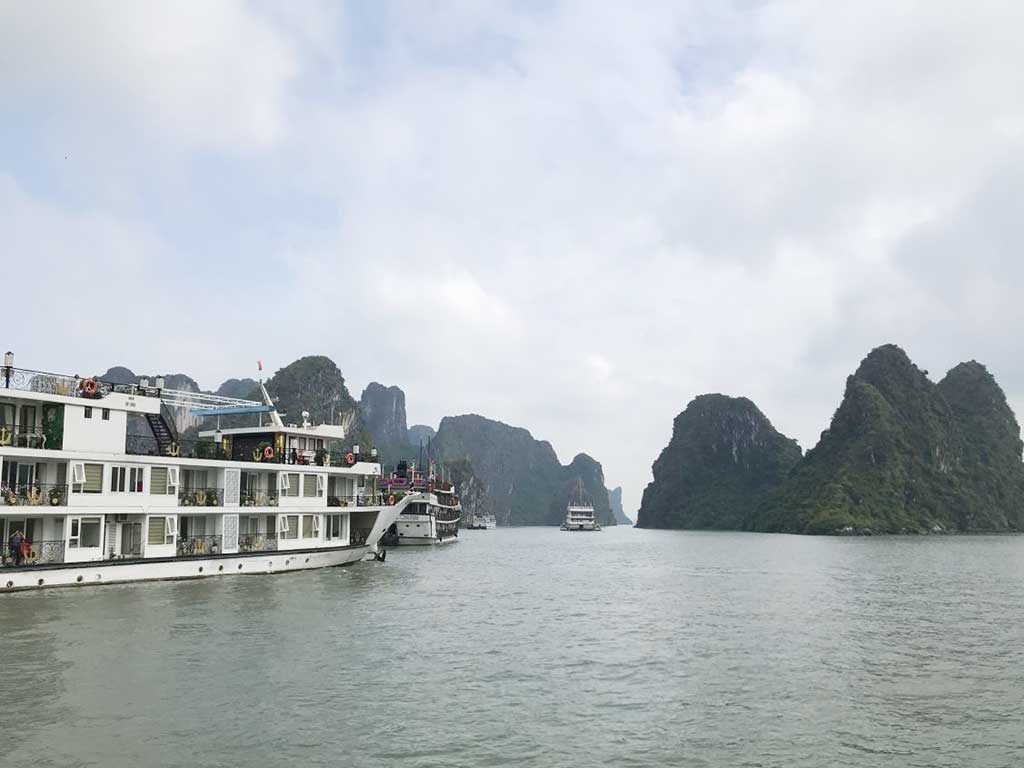 Later on day four we traveled from Hanoi to spend the night in Halong Bay onboard the Halong Phoenix Cruiser, a small twenty-passenger ship. The huge number of ships in the bay and crowds of people came as quite a shock to me as I imagined Halong Bay to be a natural get-away with waterfalls, caves, spectacular views, and wildlife. True, we did get to hike into the caves, however the crowds in the caves and along the path during our hike up Ti Top Island really took away from the beauty of the region.
Next time, I'll find the road less traveled or perhaps add another night or two on Halong Bay.
Next up, on day five we launched off our ship for a morning kayak excursion through a cave into a hidden cove. A few monkeys climbed down to snack on bananas left by the guides. The final surprise touch was a brunch cooking class on board the ship before heading back to Hanoi.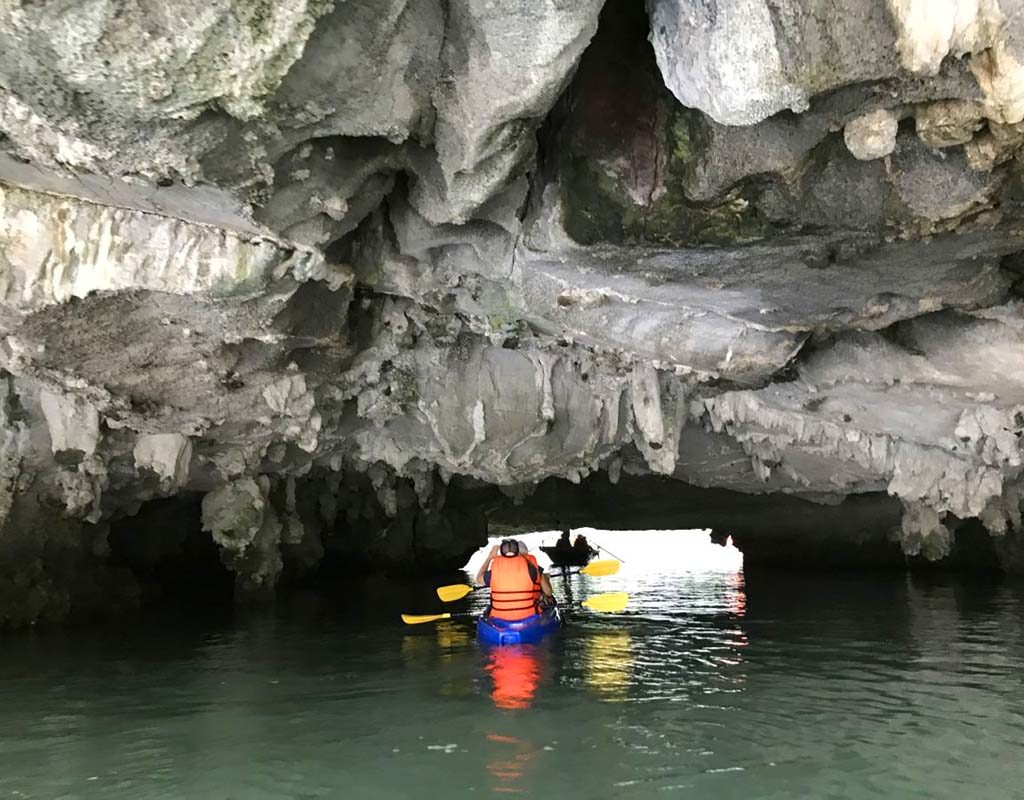 Later, bumping and rolling by overnight train, we arrived on day six in Hue (pronounced Whey) to continue our adventure.
Beauty and Tragedy in Hue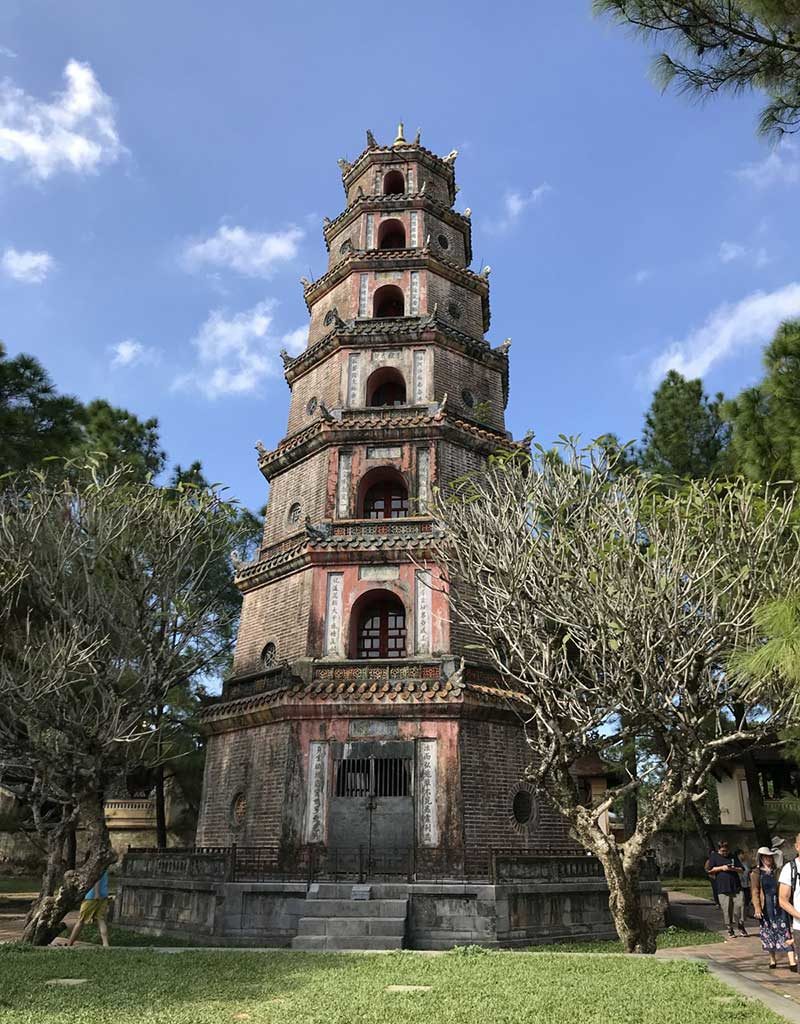 Arriving in Hue, we were met by our new guide, Nguyen Anh Co, who was with us for the next week. In fact, the city of Hue claims to be the cultural historic center of Vietnam, and that afternoon we visited the impressive Imperial Citadel and Thien Mu (Celestial Lady) pagoda standing tall overlooking the Perfume River.
Anh Co is a lively and informative guide with an impressive passion for his work. His family experiences during the Vietnam War were sobering. He was a teenager when the war ended. His father was South Vietnamese. Anh Co learned many lessons from his father including a strong work ethic. His father also strongly encouraged him to learn English. After the war, his father didn't want to live under the rule of the North Vietnamese government. And so he converted to Buddism, left his family, and moved to North America. Today, the family does not know where he is.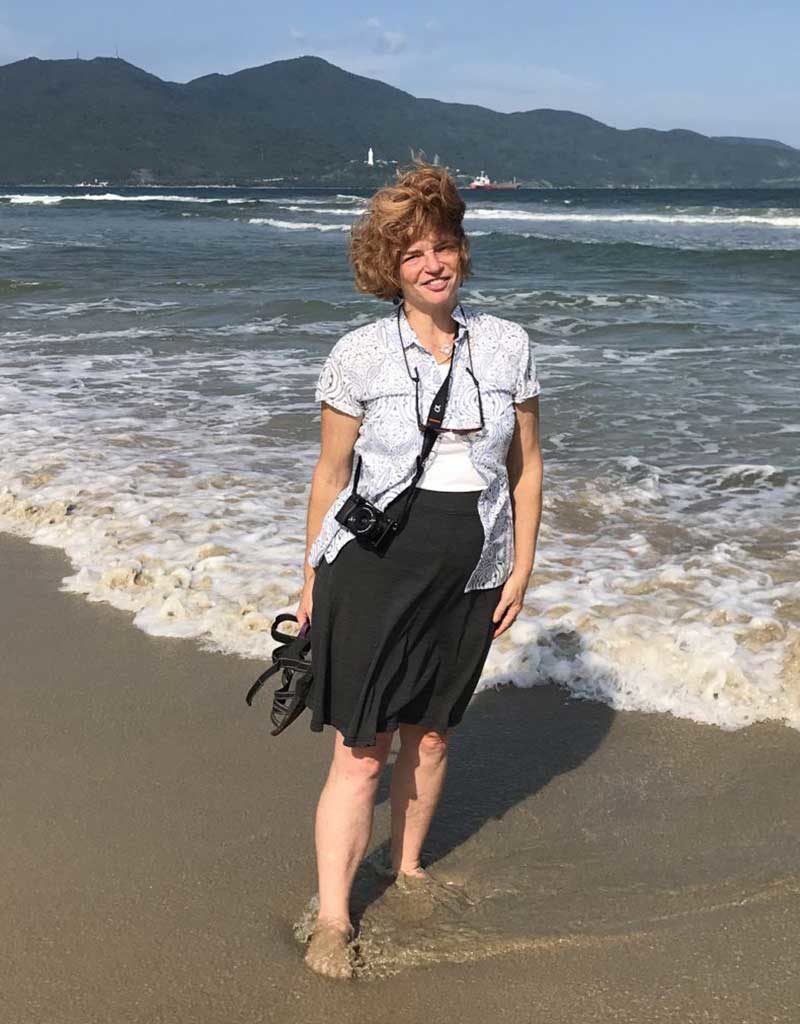 Anh Co's smile is contagious and his wealth of knowledge, language skills, and ability to answer our loads of questions while providing great local knowledge was very professional. He was particularly helpful when our final domestic flight from Siem Reap to Phnom Penh was cancelled and he communicated with the local EXO Travel office to reissue our tickets.
Later, on day seven we found ourselves travelling from Hue towards Hoi An. We stopped briefly at the stunning My Khe or China Beach as it was nicknamed by the American GI's.
Oh My Khe, we longed to linger here…
Click here for Part 2: From Hoi An to Ho Chi Min (Saigon) and on to Cambodia.
Nancy Dorrans is a West End resident and travel agent at Adventure Marketplace.