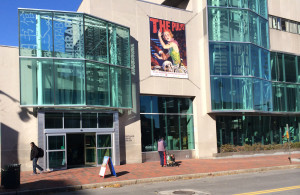 Videoport might be closing, but their collection of independent, hard-to-find movies, will be gifted to the Portland Public Library for all to enjoy.
Videoport announced that their store will cease operation in late August, after 28 years serving the Portland community.
"We are thankful for the loyal support we have received over the years from the people of Greater Portland," says owner Bill Duggan. "Over 7,600 of our members have been active movie renters in the last year, many on a weekly basis. These folks live and work on Portland's peninsula, islands, and neighborhoods, and it's been our pleasure to get to know them over the past 28 years."
The last day to rent movies will be Saturday, August 15th, with all movies due on or before August 22nd.
As part of the closing process, Duggan has worked with the library to donate the store's collection of more than 18,000 DVD titles. The gift would effectively double the Library's existing DVD collection, adding tremendous depth to the resources available to patrons.
"We are pleased PPL is going to to take on the Videoport collection and keep it available to all," said Duggan.
After this donation, the public library will be a go-to spot for movie buffs, and will house a rarely superb collection of DVDs for a library.
"Videoport has had a unique and important impact in the Portland community with its high-quality, wonderfully diverse collection, and we are sorry to see it close its doors," said library Executive Director Sarah Campbell. "We are so grateful that Videoport has chosen to make this gift to the Library, and plans are underway to incorporate their collection into the PPL holdings as quickly as possible. We know our patrons will benefit tremendously from this gift."
Next time a movie buff in Portland is looking for something strange that cannot be found elsewhere — maybe an obscure Bollywood film, or a rare thriller, or a little known classic from a famous director — they should try the library. They might be surprised by what they find.
Movie buffs can also keep up with new releases and hard-to-find classics at another local video store, Jet Video on Stevens Avenue, in the Deering Center neighborhood. Jet Video is a worker-owned cooperative. They offer DVD rentals, ice cream and even postal services.