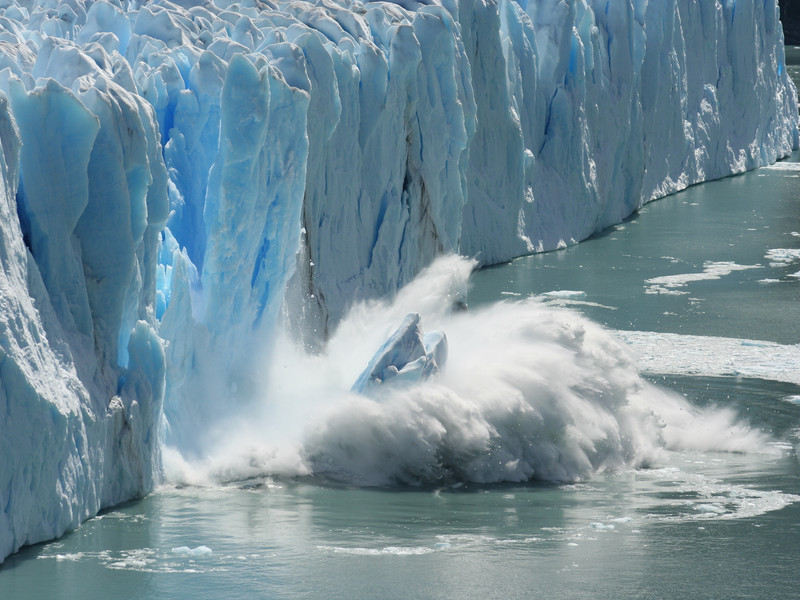 By Adam Marletta
In a recent conversation with Democracy Now!'s Amy Goodman, Professor Noam Chomsky outlined the two gravest threats to the survival of the human species: Nuclear war and climate change.
"Has there ever been an organization in human history that is dedicated, with such commitment, to the destruction of organized human life on Earth?" Chomsky asked of the Republican Party, which he called the most "dangerous organization in world history."
"Not that I'm aware of. Is the Republican organization — I hesitate to call it a party — committed to that? Overwhelmingly. There isn't even any question about it."
Case in point, President Donald Trump has followed through on his campaign promise to pull the United States out of the 2015 Paris climate change treaty. The unilateral decision, which Trump announced on June 1, was met with strong condemnation from world leaders, and 400 protesters marching in New York City.
The Paris accord is, admittedly, far from perfect. The emissions reductions nations committed to are mostly voluntary. Still, the deal was the best one to come out of the annual, largely fruitless, climate change conferences, since the Kyoto Protocol in 1997. And Trump's decision to withdraw from the deal makes the U.S., in the words of the Bangor Daily News editorial board, "a climate change pariah."
The U.S. is the world's leading contributor of CO2 emissions.
In his speech announcing America's departure from the Paris agreement, Trump rehashed the standard conservative argument that protecting the environment is at odds with accelerating economic growth, "creating jobs," and maintaining a strong economy.
Trump — an ignoramus who, by his own admission, does not read books, newspapers, scientific reports or his own White House intelligence briefings— joins most of his peers in the Republican "organization" in blatantly denying the science of anthropogenic, or human-induced, climate change. While the GOP has long harbored elements of anti-intellectualism, its wholehearted embrace of the trend in recent years is perhaps its most disturbing quality.
Yet, there is a sort of perverse logic to the right's insistence that we can either have a clean, healthy environment and a habitable planet, or a "robust" economy, but we cannot have both. It is the logic of capitalism.
The bourgeois capitalists — particularly those in the oil and gas industry — understand that any environmental regulations or mandated emissions reductions will hurt their bottom line. And they simply cannot allow that to happen. The logic of capitalism demands capitalists maximize short-term profits above all else — regardless of any unfortunate consequences or catastrophes that may occur down the road as a result.
As author, Paul D'Amato explains in his socialism-primer, The Meaning of Marxism, trying to get corporations — or their state-appendages in the government and the military — to "act as stewards of our environment," is like "trying to get wolves not to hunt."
Thus, where scientists and environmentalists view the rapidly melting Arctic as an ominous sign of a planet literally in its death throes, the corporate elite see another business opportunity. Indeed, the system of capitalism, and its tendency to turn everything, including the very ecosystem that supports life on the planet, into a commodity may well be the living manifestation of Freud's theory of man's subconscious "death drive."
And despite whatever emerging markets there may be for solar, wind, and tidal power and other forms of renewable energy resources, capital's reliance on cheap, dirty fossil fuels is unlikely to be abated any time soon – at least, not soon enough to save the planet. ExxonMobil, BP, and Royal Dutch Shell intend to forcefully extract every last drop of oil from the planet before their CEOs ever begin to consider a new business model.
As Alyssa Battistoni writes in a Dec. 11, 2015 piece for Jacobin:
Capital came into the world dripping from every pore not only with dirt and blood but also coal dust and oil; it very well may be inextricably bound to fossil fuels to power the contemporary pace and scale of global production. It's certainly never existed without them.
In other words, we cannot sit back and wait for the innovations of The Market to intervene and save us.
Nor, can we place our faith in individual consumer habits or lifestyle choices to make a significant difference in reducing carbon emissions. For decades liberals and environmental groups have advocated we drive less, bike or walk more, become vegetarians or vegans, and shop exclusively at local businesses.
These are all noble endeavors, no doubt, which nobody should be discouraged from undertaking. But climate change is a global problem of such vast proportions, individual lifestyle changes alone will, sadly, prove insufficient in remedying it.
Furthermore, the individualist solutions long proffered by the "Big Green" groups like the Sierra Club or the Natural Resources Defense Council incorrectly place the blame for climate change on the entire populations of industrialized nations — not taking into account the vast disparity in class within those countries.
For instance, a working-class person who owns one car and rents a home has a considerably smaller "carbon footprint" compared to a wealthy investment banker who owns multiple vehicles, two "McMansion"-sized homes, a boat, a plane, and spends his time crisscrossing the globe. In fact, just 90 corporations are responsible for generating two-thirds of greenhouse gas emissions since the Industrial Revolution, according to a Nov. 20, 2013 story in The Guardian.
Thus, climate change really is a crisis created by the bourgeoisie and dumped, like so much garbage, onto the doorsteps of the working class.
Fortunately, many of the "Big Green" groups have slowly moved away from individualist solutions in recent years as the environmental movement has become more radicalized. Groups like 350.org and Greenpeace have adopted more activist-oriented campaigns aimed squarely at ExxonMobil or the Keystone XL and Dakota Access pipelines.
The sub-title of Naomi Klein's landmark 2014 book, This Changes Everything, speaks to this emerging radicalization in the environmental movement: Capitalism vs. The Climate.
It is clear by now that we cannot rely on presidents, Congress or market-driven solutions to halt the worst impacts of climate change. Only the working class, by seizing the means of production and developing a rationally-planned, sustainable society based not on profit but on human need, can hope to avert climate catastrophe.
"[O]ur economic system and our planetary system are now at war," Klein writes. "Or, more accurately, our economy is at war with many forms of life on earth, including human life. What the climate needs to avoid collapse is a contraction in humanity's use of resources; what our economic model demands to avoid collapse is unfettered expansion. Only one of these sets of rules can be changed, and it's not the laws of nature."