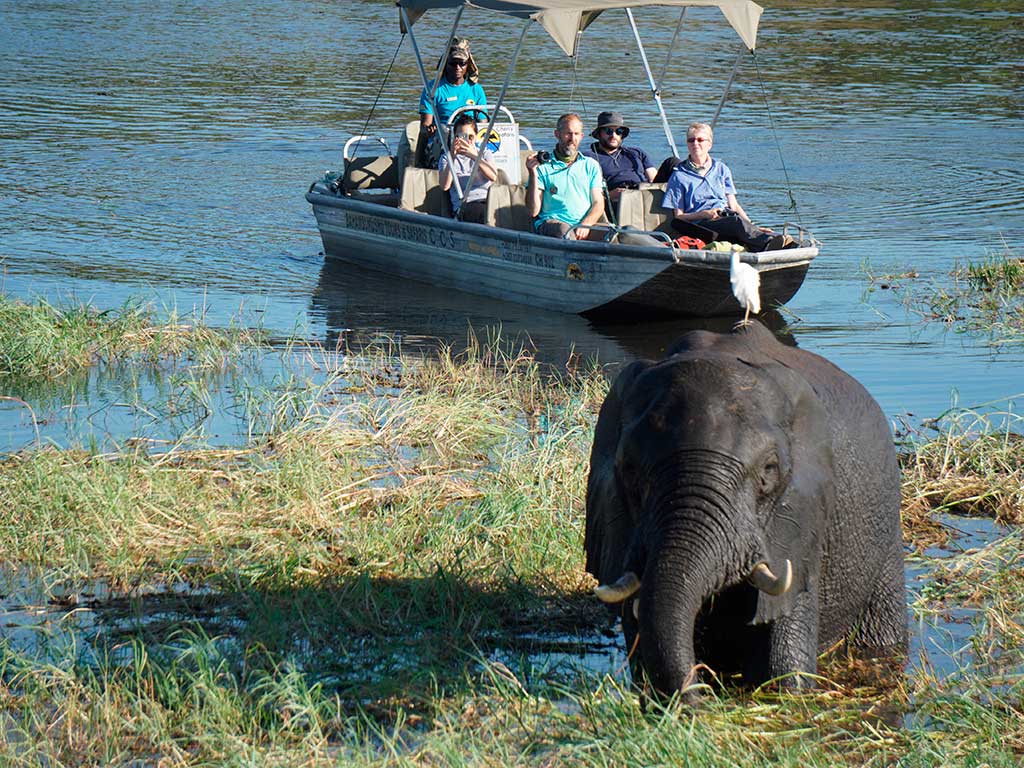 In the spring of 2017, a small Adventure Marketplace group began an almost three-week journey of Namibia and Botswana. There were seven of us: my aunt Henrietta and her best friend Mary Beth from Michigan that met in junior high (in their mid 60's); best friends Carolyn in Maine and Dee in Manhattan, college roommates in 1950 (ages 79 and 80); me and my friend Anne from Ohio, a friend since second grade (mid-50's); and Tony, the token male (60-ish). 
With visions of brilliant sunsets, canoes, and hippos in the Okavango Delta – plus being a huge fan of the #1 Ladies Detective Agency novels – I had always wanted to visit Botswana. Our tour operator and guide Rudolf Badenhorst of Madikela Tours encouraged us to add in Namibia. I met Rudolf the previous year during our South African Adventure and together we crafted this most amazing itinerary. It remains one of my all-time favorite adventures.
Namibia is a country of wonder and contrasts.
Our journey began with the stunning desert landscapes and great sand dunes at Sossusvlei, the pan at Deadvlei, and Sesriem Canyon. We arrived at dawn and as the sun rose and wind blew, we hiked up Dune 45. It is so named because it lies 45 km past Sesriem Canyon.
The brilliant orange color comes from the tiny flecks of iron that are mixed in with the sand. And that filled our shoes!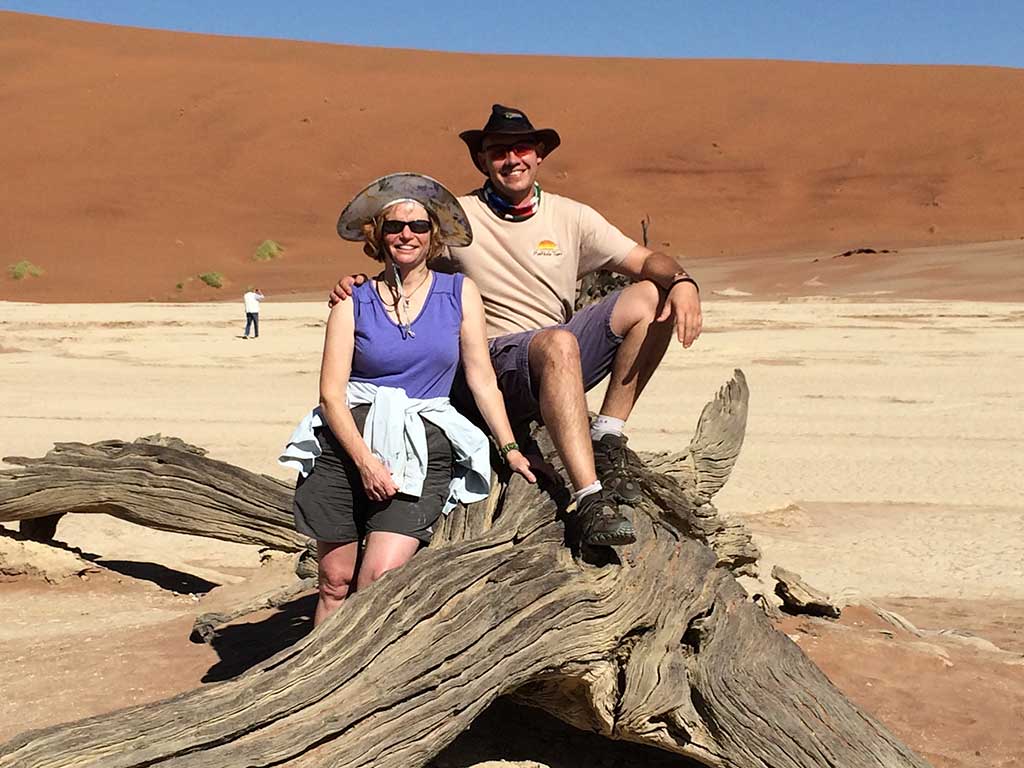 After the dune, we hiked around Deadvlei, which is Afrikaans for "dead marsh." The long-dead camel thorn trees that contrast the flat white clay floor of the pan are estimated to be nine hundred years old. They have never decomposed due to the dry climate. We continued with a short hike through the deep Sesriem Canyon which was carved out of the rock by the Tsaushab River.
Heading west through Kuiseb Pass – famous for its unique geology – we stopped at a rustic roadside market. Of course, I bought a plate of unique rocks. Dee kicked herself afterwards for not buying her own plate of rocks. And so, I secretly put most of mine in her carry-on. She laughingly thanked me later, when she found them in her backpack after arriving home in New York!
Namibian Coast
We drove on to the Namibian Coast and stayed two nights in the coastal town of Swakopmund. While Tony, Henrietta, and Mary Beth explored town one afternoon, the rest of us enjoyed a three-hour cruise on Walvis Bay. We met a pelican named Lady Gaga and enjoyed sparkling wine, fresh oysters, and other snacks while listening to a chorus of Cape Fur Seals on Pelican Point.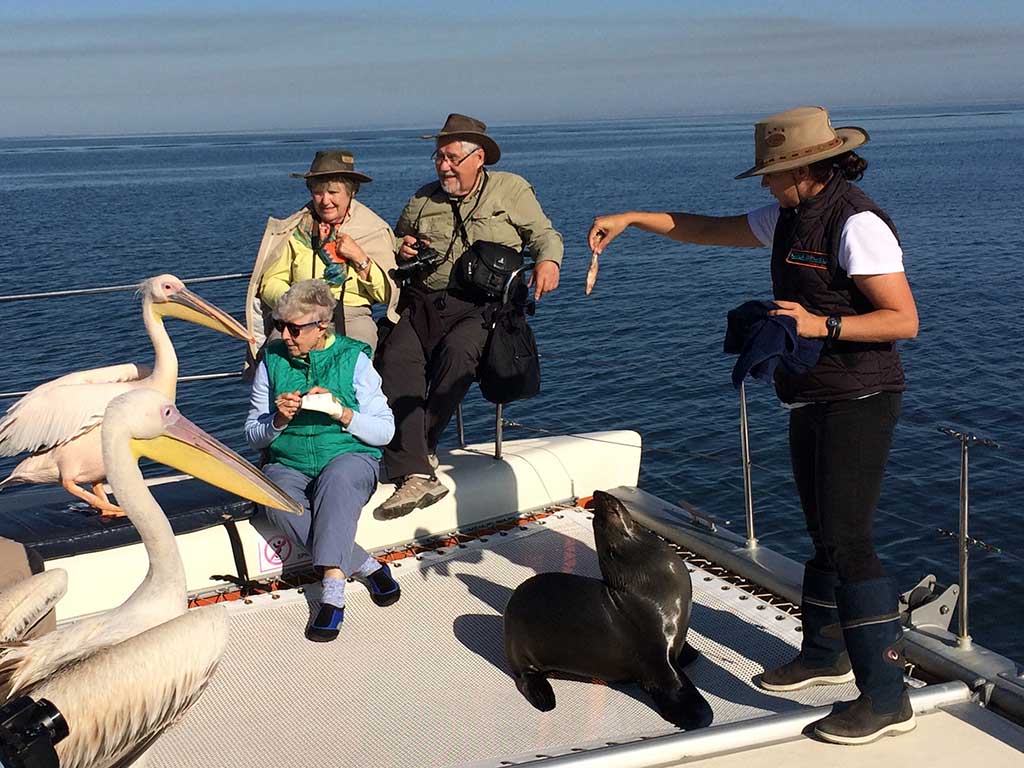 Exploring Etosha National Park and on to Botswana.
Our next few days were spent exploring Etosha National Park. Here we caught glimpses of a pride of female lions stalking zebra and two huge male lions roaring and running – no doubt to ward off a rival. We lingered much of the afternoon at the watering hole watching zebra, elephants, and other animals come and go. Then we all enjoyed the most amazing dinner at our Taleni Lodge in Etosha Village.
The next day, as the road stretched far into the horizon we drove through the vast tracks of land and national parks and encountered more wild animals roaming freely. We entered Botswana and began to cross the Kalahari Desert to reach Ghanzi Trail Blazers Lodge.
Here we had the opportunity meet and interact with the well-known but rare Koi San people and learned about their traditional life. That evening we were treated to a performance of their traditional dances around the campfire. Then we spent two nights primitive camping in the Kalahari Bush.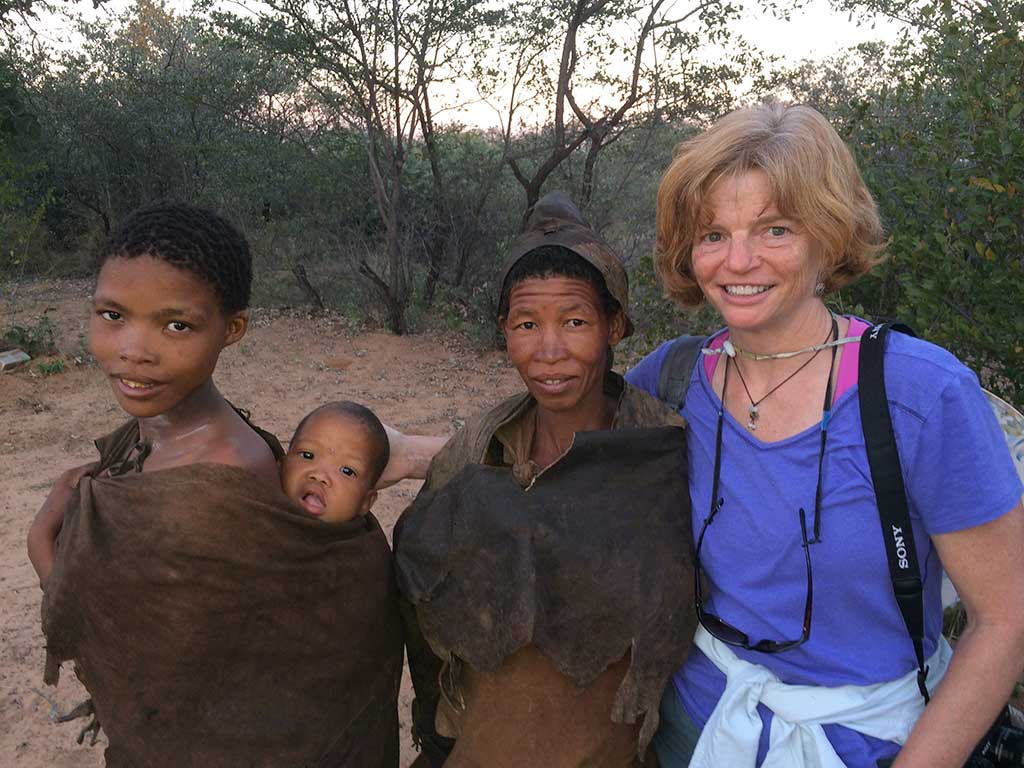 Arriving in the town of Kasane we enjoyed a scenic flight over the vast and lush Okavango Delta and a sunset cruise on the magnificent Chobe River which left us longing for more.
Where Elephants Rule
We could have ended our adventure here, but our flights were out of Johannesburg. So, after our farewell to the Delta, Rudolf pointed the vehicle in a southerly direction towards South Africa. We stayed one night at Elephant Sands bush camp in North Eastern Botswana, "Where Elephants Rule."
That afternoon, a huge herd of elephants came to the waterhole in the middle of the Camp and in front of our raised canvas tent cabins.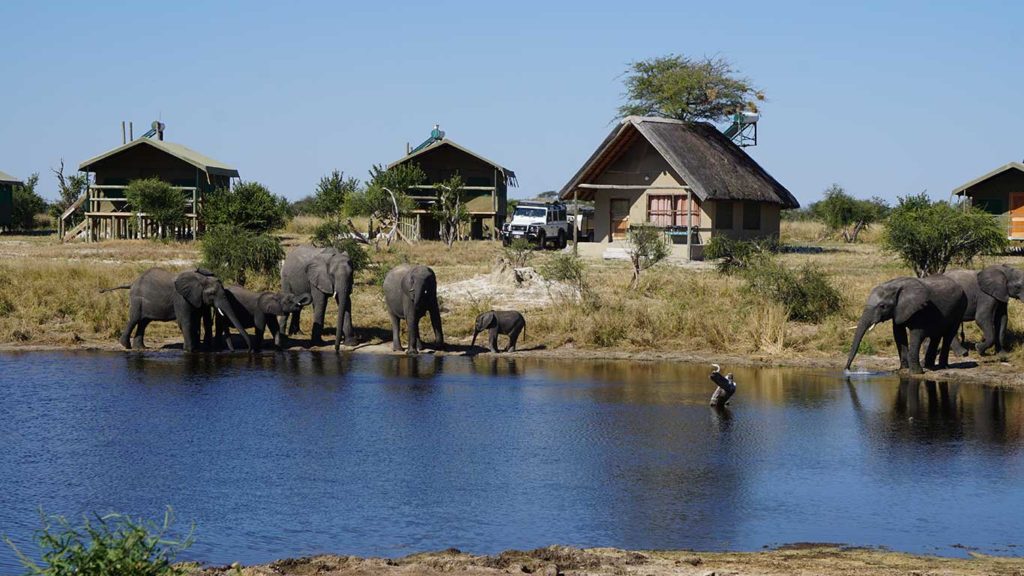 It was here we learned about the Water for Elephants Trust. They provide water for one of the continents biggest free roaming herds of elephants.
I long for the colorful landscapes of Namibia and Botswana with their herds of elephants, other wild animals, so many birds, delicious food, and the friendly, welcoming, beautiful people.
Sigh… One day or DAY ONE we will travel to Africa again.
---
Nancy is currently working as a Dedicated (in school) Substitute Teacher at Deering High School. She figured she could do something meaningful while we wait for travel to be safe again.