Incumbent Dave Marshall steps down from City Council. A young progressive, who after almost a decade in office is still only in his thirties, Dave is moving on to practice his art and to make a living — not an easy thing to do when working for peanuts as a part-time Councilor putting in full-time hours.
This leaves a leadership vacuum in Portland's second district. District 2 covers the West End, Parkside, St. John Valley and USM and Oakdale neighborhoods. It is one of the most diverse districts in the state, both culturally and economically. It is also one of the most progressive, and some might argue, weirdest districts in the state.
There is no presumptive candidate. District 2 Board of Public Education member Holly Seeliger, another young progressive, and like Dave Marshall a Green Independent party member, has chosen to stay put on the School Board. Holly is running unopposed for reelection this year.
The seat is open and waiting for a fresh face.
The race has drawn attention from three young progressives: two Democrats and a Green. True to District 2, a Republican dare not even enter the race. This leaves a difficult choice for the liberal-minded voters of Portland's weirdest district.
Luckily, or perhaps annoyingly to the less engaged, the three candidates are working hard to make the choice a little easier. Some of them are claiming that they have already knocked on over 2500 doors. Each claims to have done at least one complete canvassing pass through the district, even as early as mid-September.
I am spending one evening with each of the candidates as they knock on voters' doors. It is an excellent opportunity to hear their messages… over and over and over again.
More importantly, it is a chance to see how they react to their potential constituents' concerns — and there are plenty of concerns.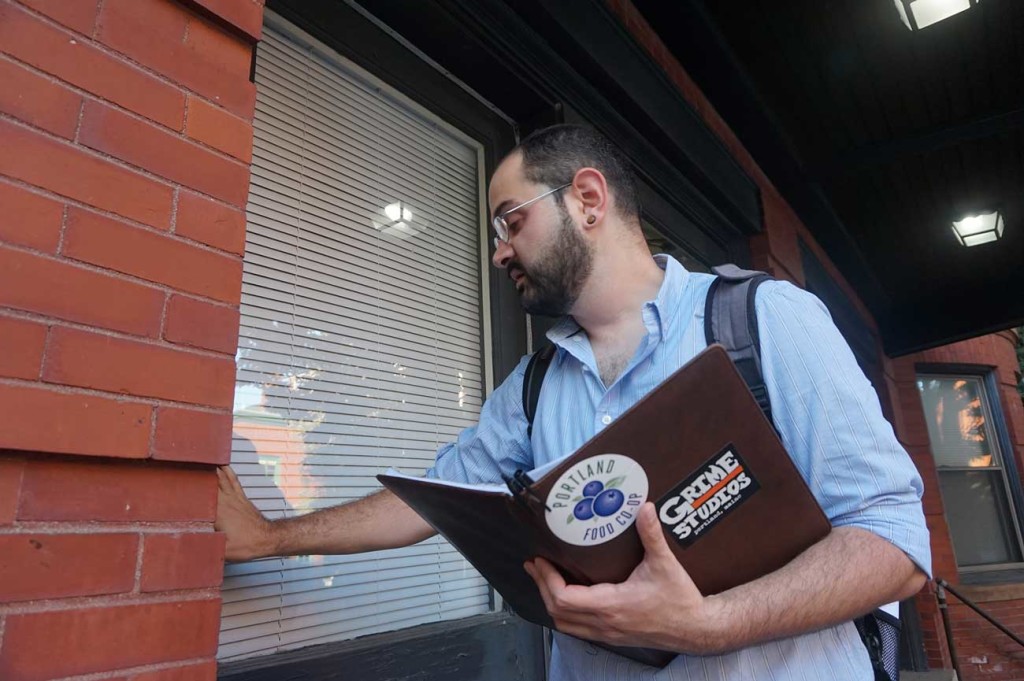 ROB KOROBKIN
"A Portland for Everybody." Rob Korobkin takes his slogan to heart.
He is a community organizer and activist. He knows what it is like to sit for long hours in Council Chambers during public hearings. It dismays him to see Councilors not paying attention — playing with their smart devices or even appearing to nod off.
This is part of the "disconnect" he sees between City Hall and the people of Portland. According to Rob, too many City Councilors are making decisions for the people on top rather than for the good of the general community.
"The people who run our City aren't community organizers," Rob claims.
Rob says he is "plugged-in" to the community. Along with his career as a web programmer and software engineer, Rob is a musician, a social justice activist, and a member of the Green Independent Party. He wants to "keep Portland cool."
I follow Rob as he knocks on a densely populated stretch of Spring Street. He stops everyone he meets to introduce himself and hand them a piece of his campaign literature.
"If I'm elected, and you come to me, whoever you are– homeless, a sex offender, broke– you will be listened to. I want you to know that you have my undivided attention."
Rob gives a dollar to a man on the street, who asks for spare change.
"At least he knows there's a friendly face he can go to," says Rob.
We are invited in to a condo to chat with an active retired couple. Rob goes through his spiel about using technology to increase civic participation.
"I think people aren't generally civically engaged, but Portland has a lot more civically engaged people," he says.

Perhaps these civically-engaged folks just need the right technology. Rob knows first hand that the monotonous super-hearings at Council Chambers that go on to the wee hours of the night are not conducive to community decision-making. With technology, he believes more people will have greater opportunity to participate.
He covers a lot of ground, as the savvy retired couple ask him for details. Yes, he supports affordable housing, but how would he make it happen?

Rob goes into his platform. He would enforce the current housing replacement ordinance. Developers who tear down affordable housing to build fewer, pricier units, are supposed to pay a fee to the City to go towards affordable housing grants. This fee is often, if not usually, waived.
Rob also supports inclusionary zoning, an issue that will soon be on the Council's agenda. Inclusionary zoning requires that every development include affordable units.
Rob also wants to support community-led measures. He is on the board of Greater Portland Community Land Trust, a nonprofit that wants to purchase property and maintain it as affordable housing stock forever. He touts it as a model to support.
And then the topic that comes up for all the candidates: drug addiction. For Rob, the answer is personal. He has not had a drink in over four years.
"Getting sober has turned my life around. It's really humbled me, and I feel like it's instilled a genuine respect in me for other people's struggles." 
Rob remains active in Portland's recovery community and he supports diversion programs — placing drug offenders in recovery programs rather than into jail.
Rob wins this couple over, but they have one last question, "Are you a troublemaker?"
"I am a troublemaker… within reason," he finishes, as the couple hand over their donation.
Learn more about Rob at his website: robkforcouncil.com.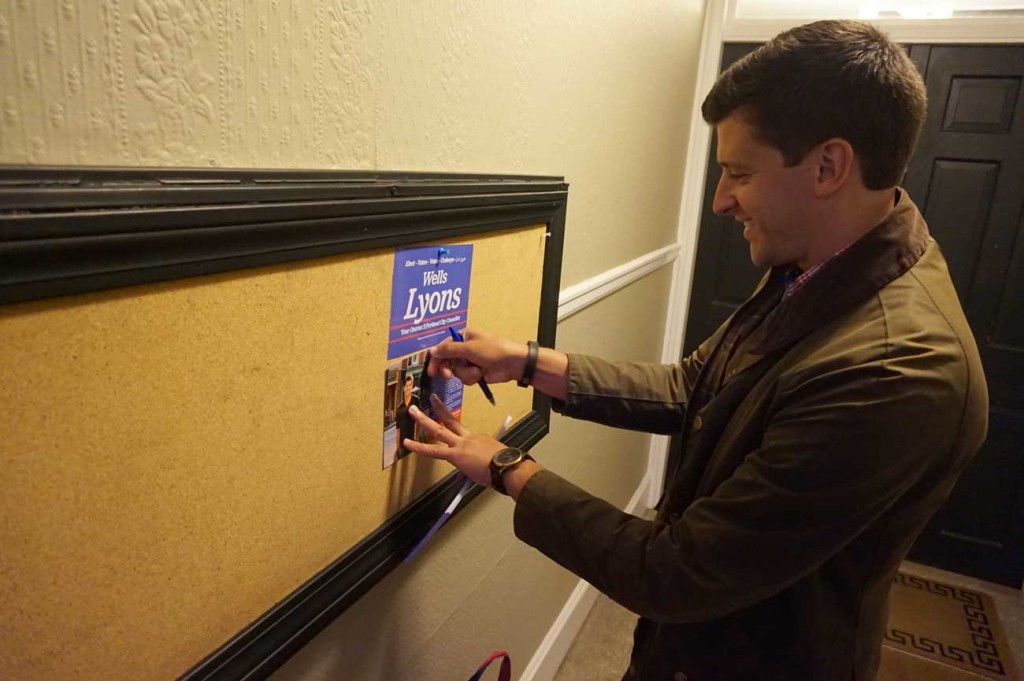 WELLS LYONS
Wells Lyons is an attorney for a Maine-made leather wallet company, Rogue Industries. He co-owns the business with his dad. One might think he would build his platform on small business pocket-book concerns, but instead he focuses on social justice issues. Drug addiction is the cornerstone of his platform.
"I've met very few people who didn't think heroin is the number one issue facing the city right now."
I follow Wells down State Street, and sure enough the first voter he talks with agrees. Her daughter is a nurse who sees far too many cases of drug overdose.
Wells goes into the platform routine. The City needs more treatment options for heroin addiction. The City also needs a "good samaritan" law that would allow anyone to call the authorities to report a drug overdose without the fear of arrest.
"That could save a lot of lives, right away," he says.
He hands over his campaign lit, and the lady actually comments, "Look at this handsome man– very young."
"I'm the oldest one in the race, if you can believe that," Wells responds a bit bashfully.
Wells moves on to introduce himself to another neighbor who is waiting for a bus. He is an immigrant from Iraq and speaks very little English.
Wells works with asylum seekers as a volunteer lawyer for the Immigrant Legal Advocacy Project (ILAP). He has picked up some Arabic, and he at least tries. It is a brief but pleasant exchange.
Then comes a bigger challenge than the language barrier. Wells faces the worldview barrier. The next potential voter is self-described as very conservative. He wears a University of Miami hat and a sweater that says, "Florida."
"We might have some values in common," Wells says.
It turns out they don't, but Wells moves on undeterred. This is not his first campaign, and a "no" vote will not slow him down. He has lost twice in citywide bouts with well-known opponents, Councilors Jon Hinck and Nick Mavodones.
Despite defeat, Wells is popular downtown (he won the West End vote when he ran against Nick Mavodones). As a former volunteer with the League of Young Voters and someone who is active in the community, Wells has networks– especially among young progressives and in downtown. He hopes that running in a progressive district will make the difference.
Wells is the only West End resident of the three candidates– Rob and Spencer both live near USM in the Oakdale neighborhood. His daily life in downtown shapes his issues, and his second hot campaign topic is something every downtowner has an opinion on.
Wells wants to have a "heart-to-heart" about panhandling. He realizes that what forces someone onto the streets to panhandle is all too often the problem of addiction. The two are related to each other. Addiction and panhandling are both symptoms of broader causes such as poverty and homelessness. These are the social justice issues Wells wants to address.
Wells advice to the people of Portland is to give to the organizations that fight these root causes, rather than giving directly to panhandlers. He believes text-to-donate signs would raise awareness and divert some of those charitable dollars.
It is a small, but achievable policy idea to fight a glaring symptom of poverty that many neighbors are upset about. This is the stuff district Councilors have to come up with to satisfy constituents. They may want to be the Councilor who fights for social justice, but they are going to be the Councilor that fights addiction and panhandling.
Learn more about Wells at his website: wellslyons.com.
SPENCER THIBODEAU
Spencer gets what being a district Councilor is all about. Small, achievable policies for big, long-term impacts. With voters he discusses the larger problems, but he focuses on the everyday infrastructure.
"If we can't take care of the stuff we have now, how will people expect us to do the big things?"
I join Spencer and a young Democrat volunteer, Eamonn Dundon. We walk down Neal Street and pass one of his signs in a window, then another in a small flower bed.
"When people start to know your name, that's when you know your organization is doing well," says Spencer.
Spencer was the first candidate to announce, and he is running a well-organized campaign. His kickoff event at the Little Tap House was filled with known Democrats and Verrill Dana lawyers– Spencer works in the Verrill Dana real estate practice group. He definitely enjoys some party support, as his slew of endorsements highlights.
Spencer needed an early start and a lot of hard work. Up to a few months ago, few in the neighborhood knew him. Sure, Spencer grew up in Portland, but he only recently returned to the city after graduating from law school. He is young and new, and according to him, new blood is just what the people are looking for.
"What's your pitch?" one voter asks.
"The pitch is infrastructure," Spencer retorts. He tells the voter that he will be the Councilor that fixes the aging brick sidewalks out front of his house.
"I've got a 24-hour rule in my practice… That is the kind of attitude I'm going to take to City Council," Spencer says.
That is a good attitude for a district Councilor. Be attentive to your constituents. But for Spencer, fixing sidewalks and potholes is about more than just being responsive to complaints. It is about getting ready for what is to come.
"We're a city of 66,000. In the next ten years we will be a city of 75,000 to 80,000," he tells a voter.
Spencer thinks Portland is primed to grow, and it better be ready with the right infrastructure, both real infrastructure and social infrastructure.
Social infrastructure is the support network that a community needs to support those in need. Spencer specifically mentions being prepared to help asylum seekers and those dealing with addiction.
On the subject of drug addiction, which both he and voters brought up during the evening's canvas, Spencer takes the long, infrastructural view. He advocates for increased education in the schools to reduce the problem over the longterm.
Spencer wants to grow Portland out of its problems, but he does realize that growth will be bad if the City does not first fix what its already got. That means filling the potholes and responding to constituent needs.
"City Council can create an atmosphere that is good for growth, but you need good infrastructure first… and people want tangible results."
Spencer plans to bring those results, one sidewalk and one pothole at a time, as Portland grows into a larger and better maintained city.
Learn more about Spencer at his website: spencerforcouncil.com.
LEARN MORE
There is still a lot to learn about these candidates before Election Day. Check out the West End Neighborhood Association candidate forum at the Reiche Community Room (up the ramp) on Tuesday, October 20th, 6:30 to 8 p.m. Look for coverage of that event and Election 2015 updates on thewestendnews.com.
Polls open Tuesday, November 3rd, from 7 a.m. to 8 p.m. District 2 voters will vote either at the Expo on Park Avenue or at Reiche School and Community Center between Brackett and Clark Streets. Visit the City website, portlandmaine.gov/1117/polling-places to find your polling place.