Three women have recently reported being the victims of attempted robberies while walking in the West End.
On September 16th at 12:43 a.m. two women were walking on Neal Street near Congress Street. One of them was knocked to the ground and dragged by a man attempting to steal her purse. The man approached her from behind. The 24-year-old Portland woman suffered minor injuries, but did not require hospitalization.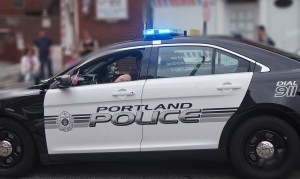 On September 20th at 8:30 p.m. a 21-year-old Portland woman was walking on Congress Street near Weymouth Street when a man ran toward her from behind and attempted to steal a cell phone. She had just placed the phone in her pocket. She resisted, and the man eventually fled on foot without taking anything.
Later on September 20th at 10:45 p.m. a 24-year-old woman walking on Vaughan Street near Brackett Street was assaulted by a man who jumped in front of her and tried to steal her purse. The woman resisted and the man fled on foot without taking anything.
In all of these incidents the suspect is similarly described. He is thought to be white, in his early 20's and about 5'08" tall. He has a thin build and no facial hair. He has worn dark clothing, possibly jeans and a grey hooded sweatshirt. In one incident he also wore a red baseball cap.
Robbery appears to be the motivation for these attacks. All of the victims resisted and were able to prevent the theft of their purses and phone.
Because these crimes occurred in the same area and the suspect description is similar, Police believe they may be connected. Residents are urged to be aware of their surroundings and cautious of a man approaching from behind. Walking in well-traveled, lighted areas and in groups is safest.
Please report any suspicious activity immediately by calling 911. Anyone with information about these crimes is asked to call police at 207-874-8539.
Submit Your Tip
To provide information anonymously, contact Portland Police at 874-8575, text the keyword "GOTCHA" plus the tip message to 274637 (CRIMES), or go to the Portland Police Department website and click "Submit an Anonymous Crime Tip."