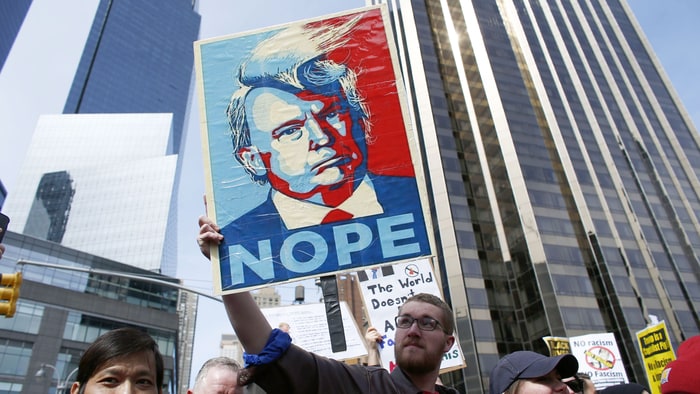 By Adam Marletta
The entry for Friday, December 29 in my Grumpy Cat 2017 office calendar reads, "This year is almost over? Finally."
It is, no doubt, a widely shared sentiment for a profoundly depressing and demoralizing year that was defined by the walking disaster presidency of Donald Trump. Though Trump's list of actual legislative accomplishments in his first year is pathetically short, the Cheetos-skinned orangutan nonetheless managed to wreak havoc upon the working class, marginalized communities, international relations, and the ecosystem.
Trump's "shock-and-awe" tactics, delivered one after another in an unrelenting blitzkrieg of attacks on immigrants, LGBT folks, women, African Americans and everyone else have left activists running from one protest to the next. This deliberate effort to confuse, overwhelm, and scatter our forces has led Socialist Worker's Alan Mass to dub this the era of "political whiplash."
Mass, in a Sept. 13 editorial, compares Trump's disorienting brand of "shock and awe" tactics to the 2003 military invasion of Iraq of the same name. "… [O]nly instead of a terrorizing military bombardment," he writes, "it's a political barrage of right-wing atrocities and social suffering."
But the goal is always the same: to "stun opponents into inaction."
"The right-wing agenda is unpopular on almost every issue," writes Mass, "so its champions need a blitzkrieg approach to pushing ahead, as fast and as far as they can go on every front, before resistance comes together."
All of this is enough to leave leftists feeling overwhelmed, exhausted, and defeated. In fact, most people I talk to are downright depressed about the current state of the world. Given the ignorant, sexist, megalomaniac currently occupying the White House, it is hard to blame them.
Yet, as horrific as Trump's first year has been, it was also a year of mass resistance.
It seems like years ago now, but Americans marked Trump's first official day in the White House with the single largest day of mass protest in U.S. history: The Women's March on Washington. Over three million people descended upon Washington, D.C. to demonstrate their disgust with the newly-inaugurated groper-in-chief. Attendance at sister demonstrations in Portland, Bangor, Brunswick, and Augusta far outpaced expectations. The Portland march alone drew over 10,000 protesters.
My comrade, Caitrin Smith-Monahan, who led the Portland branch of the International Socialist Organization (ISO) at the march, called the demonstration a "transformative experience."
"Once we arrived," said Smith-Monahan in a post-march debriefing, "we were met by comrades [from] far and wide who embraced us in tears, in love, in chants of solidarity, and who marched with us against our oppressors."
Among the notable speakers at the Women's March, was former Black Panther and radical feminist, Angela Davis.
"The next fourteen hundred and fifty-nine days of the Trump administration," Davis addressed the crowd, "will be fourteen hundred and fifty-nine days of resistance. Resistance on the ground. Resistance in the classrooms. Resistance on the job. Resistance in our art and in our music. This is just the beginning."
The left continued its resistance with the so-called "Airport Protests," in which hundreds of activists clogged airport terminals to voice their opposition to Trump's bigoted, xenophobic Muslim travel ban. Protesters virtually shut down business as usual in major airports from JFK, O'Hare, Los Angeles, and Logan International, to Portland International Jetport, and Bangor International.
These were followed by the sit-ins to oppose Republicans' efforts to dismantle Obamacare; immigrant rights demonstrations to save the Deferred Action for Childhood Arrivals bill (DACA); anti-Nazi demonstrations in Boston, Charlottesville, Berkeley and elsewhere; and consecutive environmental marches for combating climate change and in favor of scientific fact and inquiry during one of the most calamitous years of climate change fueled weather events on record.
And the #MeToo movement has single-handedly brought down powerful sexual predators in Hollywood (Harvey Weinstein, Kevin Spacey, Louis C.K., and Jeffrey Tambour among others), corporate newsrooms (Matt Lauer, Charlie Rose, NPR's Tom Ashbrook, and Bill O'Reilly), and Congress (Sen. Al Franken, Rep. John Conyers).
The explosion of accusations toward misogynist men in powerful positions has given confidence to hundreds of women to go public with their own stories of sexual harassment, abuse, bullying, and rape. The #MeToo movement has also brought renewed attention to Trump's own repulsive history of objectifying and assaulting women. Twenty women, including Trump's ex-wife, Ivana Trump, have accused the president of sexual misconduct.
And, though they were ultimately unsuccessful, there were loosely organized efforts to halt Congress' tax cut heist, the epitome of corporate welfare.
All of this resistance has taken place during an era of renewed interest in socialism. Young Americans, in particular, are more open to socialism and socialist ideas than at any other point since the early 20th century. A YouGov poll from November found 44 percent of millennials would prefer living in a socialist country over a capitalist one.   Since Trump's election, socialist organizations like the ISO and the Democratic Socialists of America (DSA) have seen a significant increase in enrollment and meeting attendance.
As Paul D'Amato writes in the introduction to his socialist primer, The Meaning of Marxism,
[N]eoliberalism has lost its luster. Nobody believes anymore that a rising tide of corporate profits lifts all boats. More and more people are acutely aware of the fact that the wealth at the top comes at the expense of the labor and health of the vast majority. In spite of decades of media pundits and politicians telling us that we are to blame for our poverty, low wages, and lack of social opportunities, more and more people understand that the system is set up deliberately to benefit a tiny minority.
All of these trends are encouraging signs that should give us hope in the coming new year and the looming battles ahead.
Looking ahead, we can be certain the 2018 midterm elections will dominate most of the political atmosphere. The Democrats are poised to make significant gains in the House and Senate — especially if the plutocratic Republican Party continues pushing through highly unpopular legislation aimed at enriching their bourgeois friends, including the president himself.
Already, the know-nothing pundits are urging the left to stop marching and "get serious" about resisting Trump via the "proper channels" of civic engagement — the electoral system. As the title of one recent liberal book puts it, Don't Just March: Run for Something.
But the Democrats cannot save us. Just days before leaving for Christmas break, House Democrats voted alongside Republicans to quash a bill to impeach Trump. (Yes, you read that correctly: A majority of Democrats — the self-styled "Resistance" — voted against impeaching the president.)
The left must resist the pressure (and I suspect it will be intense) to funnel our activism into the dead-end that is the Democratic Party. Only the self-organized activity of the working class can liberate humanity from capitalist rule.
So rest up, comrades. Because 2018 is likely to be just as trying, turbulent, and tumultuous as 2017. We still have a world to win — and, as Marx and Engels famously wrote, nothing to lose but our chains.
Workers of the world, unite!