With properly designed cities we can greatly lower our impact on the planet while living healthy, meaningful lives. This is, in part, the promise of the twin cities' One Climate Future (OCF) plan's "Six Big Moves." For everyone to participate in meeting OCF's goals, we need a shared understanding of the terms we use. The current Bright Ideas series hopes to elaborate on some of the important concepts we'll need to do our part.
Build Better Buildings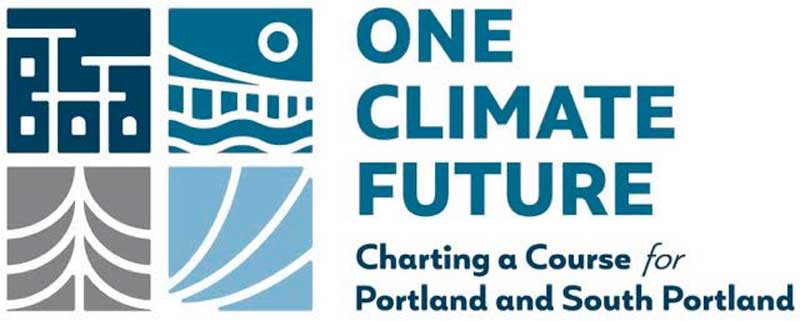 The first big move, "Build Better Buildings," proposes new policies to "improve the way we design, build, and retrofit our buildings" to create more energy efficient spaces resilient to extreme weather and powered by renewable energy. Climate-ready homes would be an option for everyone. New buildings would be net-zero energy starting 2032. So what do these climate-related terms mean?
Resilient: To recover quickly from difficult conditions – to "spring back" into shape.
Net-zero Energy: For a building to produce as much energy as it uses. This means well-insulated houses, often with triple paned windows, energy efficient appliances, LED lighting, and smart thermostats.
Energy Efficiency
With new advances in energy efficiency, it's possible to keep buildings warm in winter and cool in summer while reducing emissions and saving energy. The big challenge is retrofitting our old building stock. Did you know? In Portland, 40% of housing units are pre-1940, and so are 32% in South Portland. Cold climate heat pumps will make a major contribution with 100,000 units installed within five years.
Energy Efficiency: Using less energy to perform the same task(s) (i.e., eliminating energy waste).
Heat Pumps: Energy efficient alternatives to furnaces and air conditioners that move heat from cool to warm spaces and vice versa.
Solar Power
With Grid solar studies showing that solar rooftop could generate 29% of all electricity in both cities, it's understandable that this is a major OCF component. Adopting and enforcing new energy codes is critical. In fact, stretch codes are recommended for both cities together with LEED certification of new buildings. Also, benchmarking will ensure compliance.
Stretch Code: Locally mandated code or alternative compliance path that is more aggressive than the base code, resulting in buildings with higher energy savings.
LEED: Leadership in Energy & Environmental Design, a globally recognized green building rating system.
Benchmarking: Measuring energy performance of a building against a similar one thought to be "best in class."
BRIGHT IDEA: Conduct an energy appraisal of your home and/or place of work to prepare for 100% clean energy.
The OCF plan is ambitious but possible. Implementing such a plan would generate thousands of good-paying jobs. The building strategies alone could reduce Green House Gas emissions between now and 2050 by as much as 71%.
Author's Note: Access the full draft of the OCF plan at www.oneclimatefuture.org under "Reports."
---
Bright Ideas is brought to you by Portland Climate Action Team which, during the pandemic, meets online on the fourth Thursday of the month, 6 to 7:30 p.m. All are welcome to join in.