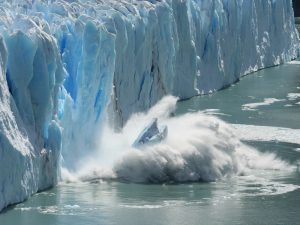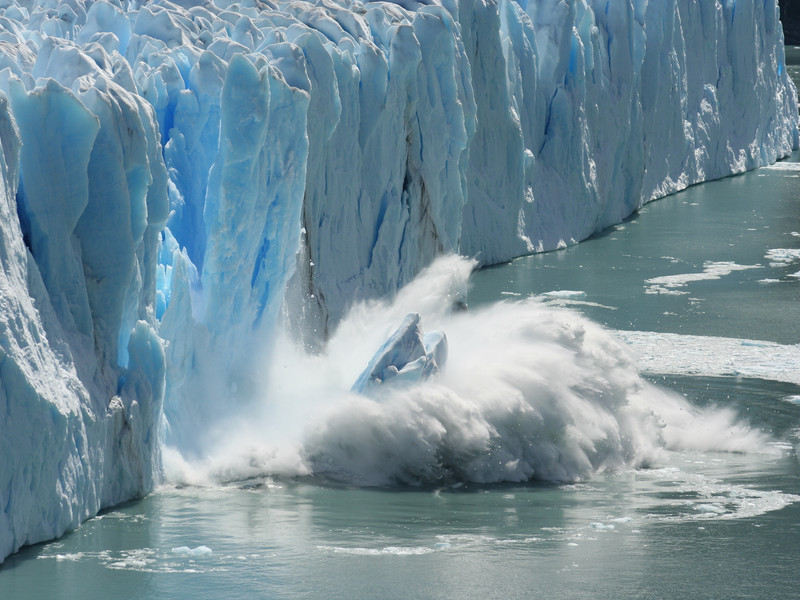 by Adam Marletta
Capitalism is, at its heart, a form of psychosis. In its relentless pursuit of ever greater amounts of profit, capitalism turns everything, including human lives and the ecosystem that supports all life on the planet, into a commodity.
Like Moby-Dick's vengeance-obsessed, Captain Ahab, fossil fuel corporations like Exxon Mobil, Chevron, and BP maniacally scour the planet for every last drop of oil to forcefully extract and burn into the atmosphere. As Ahab tells the doomed crew of the Pequod in Herman Melville's classic novel, "All my means are sane, my motive and object are mad."
For definitive evidence of this claim, one need look no further than the recent three-day summit of the Senior Arctic Officials (SAO) of the Arctic Council at the University of Southern Maine, in Portland. "Independent" U.S. Sen. Angus King of Maine convened the summit of the leading intergovernmental group to explore ways Maine can strategically position itself to benefit from potential business and economic opportunities that develop from the rapidly melting polar ice-caps in the Arctic.
In other words, where scientists and environmentalists view the melting of the Arctic as a foreboding sign of a planet literally in its death throes, the corporate elite see another business opportunity.
As filmmaker, Michael Moore remarks in the 2003 documentary film, The Corporation, the capitalist, in his relentless zeal to make a profit, would gladly sell you "the rope to hang himself with if he thinks he can make a buck off it."
Yet we are constantly assured this deranged, psychotic economic system is the "best we can do,"—the only "logical" way mankind can organize society. No wonder increasing majorities of young people are telling pollsters they prefer socialism to capitalism.
Readers may well be asking themselves why the SAO chose to meet in Maine of all places. Indeed, a simple Google search shows Maine is a whopping 2,314 miles from the Arctic Circle—not exactly what most of us would consider a "day trip."
Nonetheless, lawmakers like Sen. King are hoping to use Maine's status as a coastal state, with access to international shipping ports, to strategically position the state as a prime beneficiary of the emerging "Arctic Passage," which will develop as a result of the rapidly melting sea-ice.
King, who spearheaded the effort to bring the Arctic Council summit to Portland, boasted to MPBN's Jennifer Rooks on a recent installment of Maine Calling, that an ice-free Arctic will "put Maine on the map."
"…We're talking about trade going through the Arctic Ocean, which has been closed for all of human history, and is now opening up," King said on the broadcast. "…And that's going to create opportunities for Maine."
And, King went on, we do not even need to wait for the Arctic to melt to take advantage of these commercial "opportunities."
"…There's a tremendous opportunity for selling Maine products [right now]," he said.
The senator certainly expresses concern for the ecological aspects of the melting Arctic, including potentially dramatic rises in sea-level. But he always couches those environmental warnings in the equivocating businessman-style of a "pro-vs.-con" scenario. "The bad news," King seems to suggest, "is most of you will drown under 20 feet of water. But the good news is the few of us with the wealth and resources to escape drowning will have all sorts of new investment opportunities! So, it all evens out, in the end!"
King's understanding and acceptance of the science of climate change certainly makes him a more intellectually credible congressional representative than climate-change deniers like Rep. Bruce Poliquin. But just because King acknowledges that climate change is real, does not mean he intends to do anything about it.
This is why I take issue with the environmental-left's knee-jerk strategy of voting only for candidates who "believe in climate change." Indeed, by all accounts, Hillary Clinton "believes" in climate change. Yet, any sort of alternative-energy platform has been completely absent from her campaign.
And it is not just the environment that is at stake here.
Another reason Maine and Alaska are vying for control over the emerging Arctic Passage is to ensure it remains under U.S. dominance—and not that of, say, Russia.
(Perhaps you missed the memo, but while the rest of us were frantically gouging our eyes out over the Worst Presidential Election Ever, our ruling elites quietly relaunched the Cold War.)
King, whose "moderate" political leanings belie his hawkish record on foreign policy, including enthusiastic support for predator drones, insists that Russia is the primary aggressor toward U.S. interests when it is, in reality, the other way around.
Ironically, the U.S. military is perhaps the greatest contributor of CO2 emissions on the planet—and most of its wars are fought to secure even more sources of oil to burn, thus exacerbating the climate crisis. Many scientists are now claiming we have passed the "point of no return," and rampant global warming is "locked-in" for at least a century.
The fact is, our entire way of life is completely at odds with the sustained functioning of the natural world.
As author, Paul D'Amato observes in his socialism primer, The Meaning of Marxism:
The very advances made in human productive powers under capitalism that have brought us the possibility of a world without want are also altering our environment in ways that threaten the future viability of life on planet earth. As the renowned environmentalist and activist Bill McKibben notes, "We're moving quickly from a world where we push nature around to a world where nature pushes back—and with far more power."
But, contrary to popular belief, we already have the technology and resources to shift to a carbon-free society. As anti-war activist, Bruce Gagnon frequently points out, we could start by transitioning WMD-manufacturer Bath Iron Works into a green-jobs program, developing solar, wind, and tidal power rather than costly (and largely unnecessary) warships for the Pentagon. This would double the number of jobs at BIW at a time when the General Dynamics-owned shipyard is facing massive layoffs due to the recent loss of a Coast Guard contract.
Rather than viewing the ever-worsening climate crisis as a lucrative business opportunity, we should be doing everything we can to prevent the complete melting of the Arctic. Indeed, Sen. King's entire Arctic Passage scenario is based on the implicit premise that he and the rest of the power elite will sit back and do nothing to prevent an ice-free Arctic. This is madness.
At the end of Moby-Dick, Ahab is destroyed by his mad quest for vengeance against the White Whale–a figure some literary scholars view as a metaphor for nature. Let this not be our own collective fate.