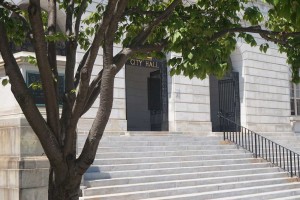 TECHY AND HOMELESS ACTIVIST CHALLENGE LONG-TIME INCUMBENT FOR AT-LARGE SEAT
Newcomer David Foster of Deane Street is running for a citywide at-large Council seat against long-time incumbent and former mayor Nicholas Mavodones. Also in the race is homeless activist Matthew Coffey.
Dave Foster is a Maine native, veteran of the Air Force and works in marketing at the Great Lost Bear restaurant. Dave supports municipal broadband and free public wifi to create economic growth for the city. His other issues include support for a living wage, such as the $15 minimum wage referendum, and support for affordable rent.
Matt Coffey is a homeless resident and publisher of the Hobo News. Matt can been seen regularly in Monument Square handing out issues of the Hobo News for a $1 donation. Matt's goal is to be an advocate for the marginalized and working class people of Portland.
Dave Foster and Matt Coffey are challenging incumbent Nicholas Mavadones of Chenery Street.
Nick Mavadones is the Operations Manager at Casco Bay Lines. He has served as mayor four times — back before it was an elected position, he held the ceremonial position of Mayor, having been chosen internally by his fellow City Councilors.
Nick has publicly attacked Mayor Michael Brennan for creating difficult dynamics on the Council, and many wondered if he would run again. Nick announced his reelection bid in time to endorse Ethan Strimling's candidacy for Mayor.
OPEN EAST END SEAT DRAWS 5 CANDIDATES
Three-term incumbent Kevin Donoghue is stepping down in District One (representing Munjoy Hill, East Bayside, Bayside, Old Port, India Street and the islands). The open seat has drawn attention from five potential candidates.
Paula Guillemette Agopian of Monument Street on Munjoy Hill wants to keep property taxes from rising by investigating a local progressive tax system. She supports more affordable housing, directed development that puts current residents first, and strong historic preservation.
Paula also supports residential parking stickers to help with parking on Munjoy Hill.
Sean Kerwin is a residential builder and homeowner on Parris Street in the Bayside neighborhood. He and his wife Laura Cannon are active in the Bayside Neighborhood Association. Sean is running to support market rate housing development. He believes Portland has a generous amount of affordable housing for a city of its size.
Sean wants to be a strong advocate for the Portland Metro bus system, and promises to push for bicycle and pedestrian concerns in the design of all street projects.He also supports better funding for drug awareness education in the schools to help combat the problem of addiction.
Brandon Mazer is a Munjoy Hill homeowner and lawyer at Shipyard Brewing Company. His priorities include maintaining the jobs Portland has, encouraging existing businesses to create new jobs, building more housing, and attracting new companies and investment to Portland. 
Brandon Mazer serves on the India Street Neighborhood Advisory Committee, the Board of Directors of Special Olympics Maine, and the Maine Brewers' Guild's legislative affairs committee. 
Belinda Ray of East Oxford Street in East Bayside is a freelance writer. She helped to found the East Bayside Neighborhood Organization and helped to establish a neighborhood watch program.
Belinda is running to promote responsible development that maintains public open space, waterfront access, historic buildings, wooded areas, and trails. She also supports clear rules and fair processes for developers. She wants to work towards increased accessibility in public infrastructure for those in wheelchairs, with walkers, or pushing strollers.
Also running is Patrick Flynn, who represents Peaks Island as an elected member of the Casco Bay Lines Board of Directors.