Adam Baske Talks Socially Responsible Tuna
PelotonPosts is a monthly dispatch from PelotonLabs, a co-working community on Bramhall Square in Portland's West End.
PelotonLabs member Adam Baske is the Director of Policy and Outreach for the International Pole and Line Foundation. The foundation develops, supports and promotes socially responsible tuna from pole-and-line and handline tuna fisheries around the world.
Adam moved to the Portland area two years ago and lives with his family in South Portland's Ferry Village.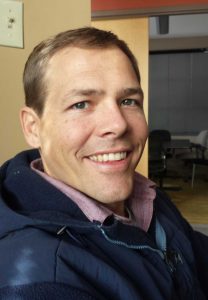 What brought you here?
The lifestyle that Maine offers. We were living and working in Baltimore and basically tired of it. So we quit the jobs we had and moved. I started my own consultancy, which has now morphed into working full-time for an international charity based out of London (IPNLF).
Tell me a little about IPNLF.
It's a small charity started in 2012 by a number of people involved in the seafood supply chain, who recognized that a lot of small scale, sustainable fisheries were getting left out of important conversations and squeezed out of international markets. We're talking about fisherman who catch fish one at a time – one hook, one dude holding a pole, throwing it over his shoulder. That's the way tuna fisheries were developed historically and carried out throughout the world, but with the advent of technology and bigger boats and refrigeration, the world has gone to a high volume, cheaper model which doesn't necessarily value the environment or value the people who are catching those fish.
Our organization is all about supporting the communities that still fish like that. Getting them recognized as premium products and trying to build demand in the marketplace for those products so those communities get a better price.
On the consumer side, if someone's just getting aware of these issues and want to make sustainable choices, what advice would you offer?
In the tuna world, you're going to want to look for something on the can that says pole and line or troll caught, or if it's sushi or tuna steak look for handline caught. These are the methods where they are being caught one at a time, where there's a big community benefit, lots of employment and good working conditions. You're seeing more and more socially responsible tuna products in the market. Generally, they're a little more expensive and there's a reason for that. You're supporting a product that's environmentally friendly and socially responsible, versus the mystery meat that's often found in other tins of tuna.
Describe the Peloton experience in a sentence or two.
If you're here to go and do your own work, which often times I have to do, you can do that. You're totally respected in your space. And as soon as you're ready for conversation and some company, that's there too. [The Peloton community] is great to either brainstorm work ideas or… just to meet cool people I might not have met otherwise.