Romantic Plans… It "is" the thought that counts!
by Nancy Dorrans
Many years ago I was a ski instructor at Boston Mills; a small and bustling ski area tucked in Ohio's Cuyahoga Valley nestled between Akron and Cleveland.
Boston Mills operates both day and night. They offer affordable learn to ski packages, and when I was there they had more certified ski instructors than Vail. Every season hundreds of people learn how to ski in their large school groups, church groups, and adult groups, racing clinics, private and semi-private lessons.
First time ski students usually come to the sport cautious but also eager and excited to learn. But, I recall one student on a cold February evening that clearly had a much different attitude.
It was Valentine's Day and I was assigned a two hour private lesson with a woman about my age.
Her boyfriend had given her a ski lesson and rental package for Valentine's Day! He dropped her off at the ski school desk with her equipment and then went free skiing.
Let me say she was neither eager nor excited about her gift. I imagine her boyfriend thought this was a great gift for her, but in actuality it was a gift for him.
I'm sure he was thinking that if she would learn to ski then they would be able to share in the sport that he loved and they could do it together. For her his gift was more of a shock than a welcomed surprise, and far from the romantic evening she had hoped for.
After the initial introductions to her equipment she begrudgingly put on her boots, picked up the skis and followed me out for the lesson. Ten minutes into it she asked me if I would get paid for the entire two hours even if she didn't stay that long. I told her I would. She asked if there was a bar in the lodge. I told her there was. She then took off her skis and asked me if I wanted to go with her to the bar and have a drink.
Happy Valentine's Day to us! Bad for him.
The moral of the story is, if you're fortunate enough to be in a healthy loving relationship and plan on giving a Valentine, think selflessly about what that person would like, not about what you want them to want. And try to think outside the chocolate box and the traditional roses or trendy heart-shaped pizzas.
If you're in need of a unique and romantic idea to celebrate and show you care with your valentine, or on the other hand if you're looking to meet someone who shares your passion for skiing, chocolate, outdoor activities, oysters and travel adventures, here are my suggestions.
Mount Washington Valley hosts their Annual Chocolate Festival on Sunday, February 28th, for lovers of chocolate, fresh air and skiing. You can cross country ski, snowshoe or drive from inn-to-inn along the trails of their extensive trail network and enjoy chocolate treats at stops throughout.

In the same neighborhood, Black Mountain in Jackson celebrates the holiday with an annual chairlift dating event on Saturday, February 13th, where single skiers are paired up to take a seven-minute lift ride up the mountain.
Lincoln, NH is home for the third year in a row to one of only four unique and amazing "Ice Castles" that are built by hand with some 5,000 icicles each day that are harvested and sculpted together. I'll attest to the beauty, magic and awe of this most enchanting and romantic experience. Visit icecastles.com/lincoln for more details.
Closer to home, J's Oyster in the Old Port is offering free oysters, two to three at a time, delivered to your table from 4 – 6 p.m. or until they run out the entire month of February.
If you're itching to get further away, consider a "Gift of Travel" for your Valentine. What could be more romantic than a European River and Wine Cruise along the acclaimed wine regions of Europe's Danube, Rhine, Rhone and Seine Rivers?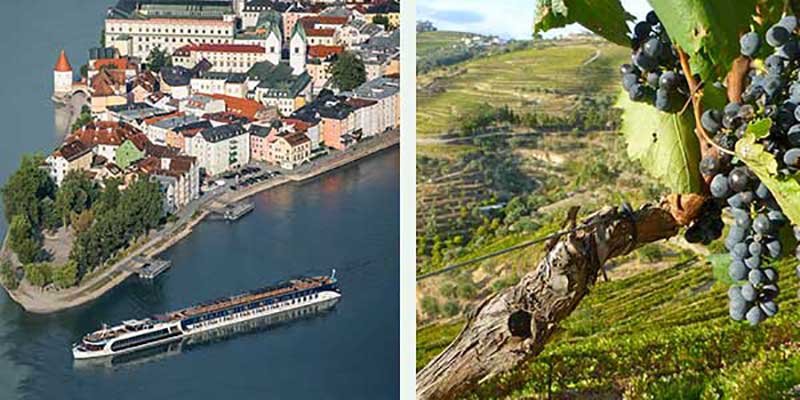 And when you're planning your next romantic adventure, let me help you. With over 25 years in the travel agency business, my experience and travel industry relationships are vast and will offer you exclusive rates, amenities and travel specials that you won't find on the internet. You will get the most value for your travel budget and save yourself precious time, and then you'll have more time to spend with your Valentine. It really is the thought that counts!
Nancy Dorrans is a West Ender and an independent travel agent at Adventure Marketplace.