ROBBERY, ASSAULT AND ATTEMPTED SEXUAL ASSAULT IN WEST END
On Sunday, May 31st at 12:30 a.m., a 23-year-old Portland woman was alone walking down Clark Street near Pine Street. A man approached her from behind and dragged her into an alley.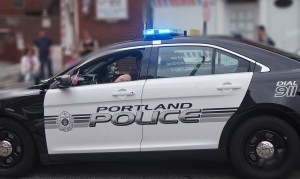 The man ordered her to remove her clothing, and after a few moments the perpetrator fled on foot, stealing the woman's purse. It is not clear why he fled.
The victim was then able to reach safety and call police. She suffered injuries to her face, neck and arms, but the injuries did not require hospitalization.
The suspect is described as a Hispanic or light-skinned black man. He is about six feet tall and medium build with very short dark hair. He was wearing a baseball cap. Neighborhood residents report other recent crimes in the area with a similar description of the man.
Following this incident police have increased patrols in the area.
Remember to always be aware of your surroundings, travel in well-lighted areas, and if you believe you are being followed call 911 and seek protection in open businesses or with other people.
STABBING AND ROBBERY IN BAYSIDE
At midday in Bayside, a 43-year-old Portland resident was stabbed and robbed.
At 12:28 p.m. officers responded to the area of Lancaster and Chestnut Streets for a report of robbery and possible stabbing.
The victim stated he was approached by a black male, 6' tall, thin build, short dreadlocks, about 30 years old, wearing a black hoodie with white lettering and black pants. The assailant struck the victim with an unknown weapon in the torso, ripped money from his hands, and fled.
The victim looked down and saw blood seeping through his clothing. He sustained a laceration, and was transported to a local hospital where he received treatment and was released.
SUBMIT YOUR TIPS
Anyone that may have seen suspicious activity at the time of the robbery is encouraged to contact the detective division at 874.8533 or emergency communications at 874.8575.
To provide information anonymously, text the keyword "GOTCHA" plus the tip message to 274637 (CRIMES), or go to the Portland Police Department website and click "Submit an Anonymous Crime Tip."