State St. Sewer Work and Maine Med Expansion Likely to Overlap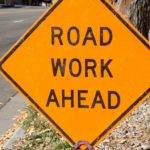 Portland Public Works alerts residents that the State Street combined sewer separation project resumes in early April. The current schedule provided by the contractor shows the project being completed by the end of May 2018. But the City is working with the contractor to have it completed before Maine Medical Center begins their construction work and closes Congress Street. The City warns there might be an overlap.
In January, the City's contractor, Sargent Corporation, finished installing underground utilities along State Street, separating the sewer into separate sanitary sewer and storm water drains. They are now completing curbing, sidewalk ramp installations, signal improvements, and final paving.
Drivers and residents should expect lane closures and traffic delays during construction hours of 7:00 a.m. and 7:00 p.m. According to City spokesperson Jessica Grondin, State Street will always have at least one lane open, and sometimes both open.
MAINE MED CLOSES CONGRESS ST
Meanwhile, the first of several phases of the Maine Medical Center expansion closes Congress Street between Weymouth to Forest streets from May 7th to June 28th. The road must be closed to make room for a massive crane that will be working to expand the parking garage. Also, during this phase Maine Med will add two floors of patient rooms to the east tower. The first phase gained approval from the Planning Board in March.