By Layne V. Witherell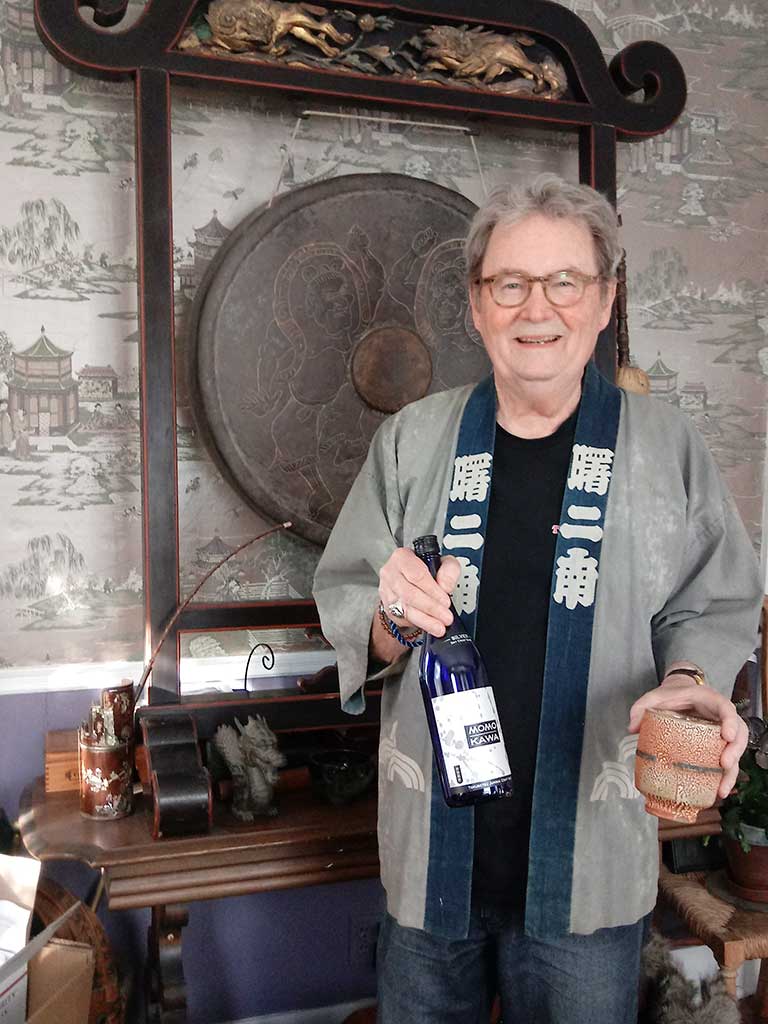 It is time to move away from the mundane and take two steps into the miraculous.
The photo is your author in our study in front of an ancient gong purchased serendipitously at the Fairfield Maine Antiques Market some years ago. Our operative thought is a peek at our eclectic West End lifestyle and an adventure into new ideas on food and wine. The Sake cup is by Matthew Hyleck via the Susan Maasch Gallery, Portland, Maine. Men's Kimono – origin unknown. Sake and brilliant new pairing ideas are by Momokawa/Sake-One, Oregon and Japan.
Sake and sushi are a traditional and still exciting pairing. I have been thinking for several years about the possibility of a wide variety of alternatives (think pizza and Sake). This month we will look at some of those alternatives.
Keep in mind, I am proposing that we become more creative with food, wine, and life. Let's begin a 30-day moratorium on all things dull like Pinot Grigio, Rose, Vinho Verde, Malbec and Marlborough, and New Zealand Sauvignon Blancs. And, perhaps, include that increasingly expensive and equally boring non-adventuresome wine Sancerre. Our celebration will be drinking, thinking, and combining exciting pairings of alternative dishes accompanied by Sake.
Sake has been quaffed and savored for over two thousand years, and with a little imagination we can make our modern food and wine pairings considerably more fascinating as well.
WHAT IS SAKE? WINE, BEER, OR AN EXPERIENCE?
Sake is three things:
Rice: Specific strains and terroir. Remember terroir? Flavor of place, an exact site. The rice strains should be grown and chosen to contain larger grains for higher starch content. The degree of polish to remove the bran husk is a key to flavor quality. The higher removal, the better. Junmai is pure rice Sake containing no added distilled alcohol. Junmai/Gingo is pure rice Sake where at least 40% of the rice's outer layer has been polished away. Polishing away parts of the outer hull of rice is vital to quality.
Water: Soft, free of minerals.
Yeast: Mostly proprietary. None of your business. Some things must remain secrets. The biggest secret is pairing up the yeast with the exact rice strain and water. No mean trick.
There is a book that plunges you into the whole mysterious Sake world: "SAKE-PEDIA" by Jeff Cioletti. At a mere two hundred pages, it will either scare you to death or entice you to hop on a plane to Los Angeles and enroll in the Sake School of America, and then move to Portland, Oregon, the Sake capital of America. There is a lot of Kanji language (Japanese script), but the glossary alone makes this book worth owning.
There are some major Sake ideas that you'll need to master.
Umami: In the taste sensation world there is sweet, sour, salty, bitter… and umami. "A savory deliciousness that deepens flavor." This is life beyond cheesy Rose and Pinot Grigio! Get over it. If you pair it right, this flavor characteristic ads something irreplaceable as a remarkable pairing.
There is another thing called SMV: SMV refers to Sake Meter Value and measures dryness versus sweetness in your Sake. For instance, -22 is very sweet, while +5 is very dry, with everything in between. The number can be found on the back label. This is a key in your food pairing. If it isn't there, just pull up the brand name on the website of the label (especially all Kanji script Japanese bottlings) and it should be listed.
SAKE PAIRING 1-3
1. MOMOKAKA DIAMOND JUNMAI GINJO, SAKE-ONE, OREGON, $15.99, 720 ml.
Serve chilled. MEDIUM DRY, crisp with balance of soft water.
Sake-One is a Pacific Northwest craft winery and importer that excels in high quality Sake. Their brand is Momokaka, together with a slew of imported Sakes. They have become the benchmark for American produced Sake.
The unusual Sake pairing is a charcuterie platter containing duck liver with pistachio, chicken liver pate, and Jasper Hill Highlander cheese. The medium dry, crisp Sake marries with both pates and creates a combined flavor and spirit, releasing umami as a flavor dance. A great, memorable pairing, smooth, soothing, and luscious. For color contrast and fun include a Cabernet Franc red alongside, place and price, a wine of your choice.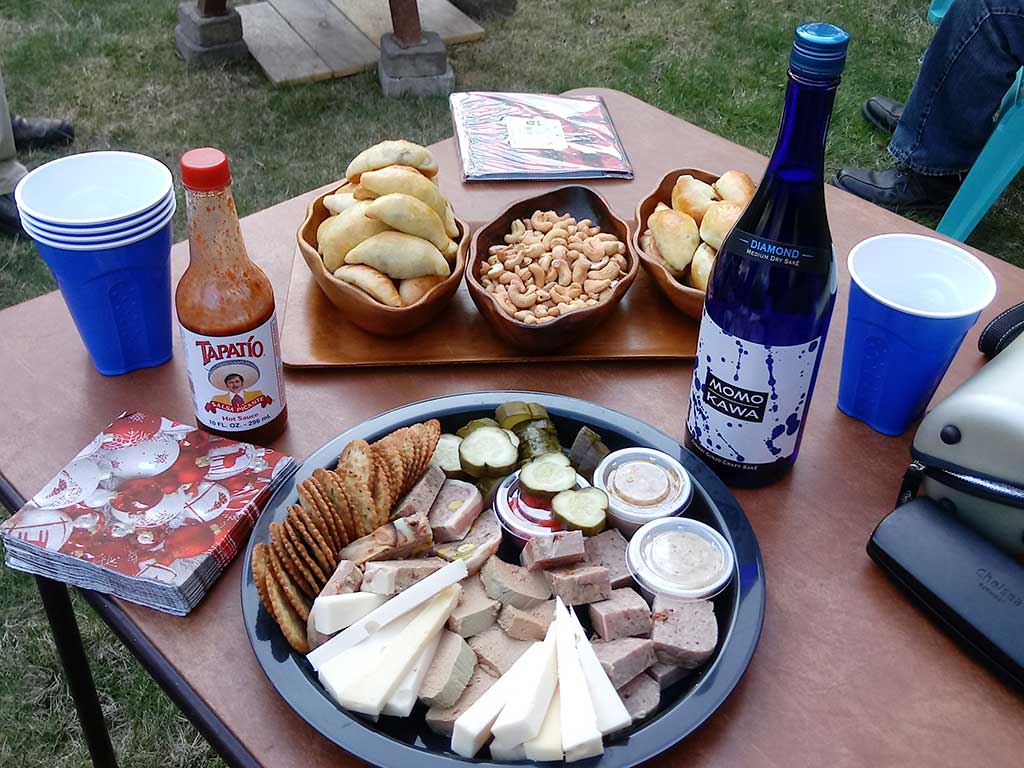 2. MOMOKAWA PEARL JUNMAI GINGO NIGORI, SAKE-ONE, OREGON, $15.99 720 ml.
Nigori is slightly filtered, milky white cloudy and SLIGHTLY SWEET. Shake and serve chilled. Rich and creamy.
Paired with a Creole Shrimp dish, recipe courtesy of The New York Times. Large Argentine shrimp that has the sweetness of lobster combined with Creole seasoning, bay leaves, garlic, cloves, hot sauce, and tomato sauce. The spiciness is a perfect foil to the slight sweetness of the Creole seasoning. The Nigori and the sweetness of the Creole shrimp are unique as a pairing. Sweet always works with sweet. You will never drink cheesy overpriced Rose as a food pairing again (save it for the beach). The milky color of the Nigori Sake in a clear wine glass is a pleasant shocker.
3. MOMOKAWA SILVER TOKUBETSU JUNMAI CRAFT SAKE, OREGON, $15.99 720 ml.  
The DRIEST of their Sakes. All are vegan friendly, gluten-free, and Kosher.
This is the drink that replaces Pinot Grigio for the summer.
The dish is chicken Caesar salad, a perfect warm weather set of flavors. The chicken breast, greens, and dressing all work effortlessly as a Sake pairing. A great pairing encourages you to linger over another bite and think about the next sip while you are lingering… a show stopping revelation.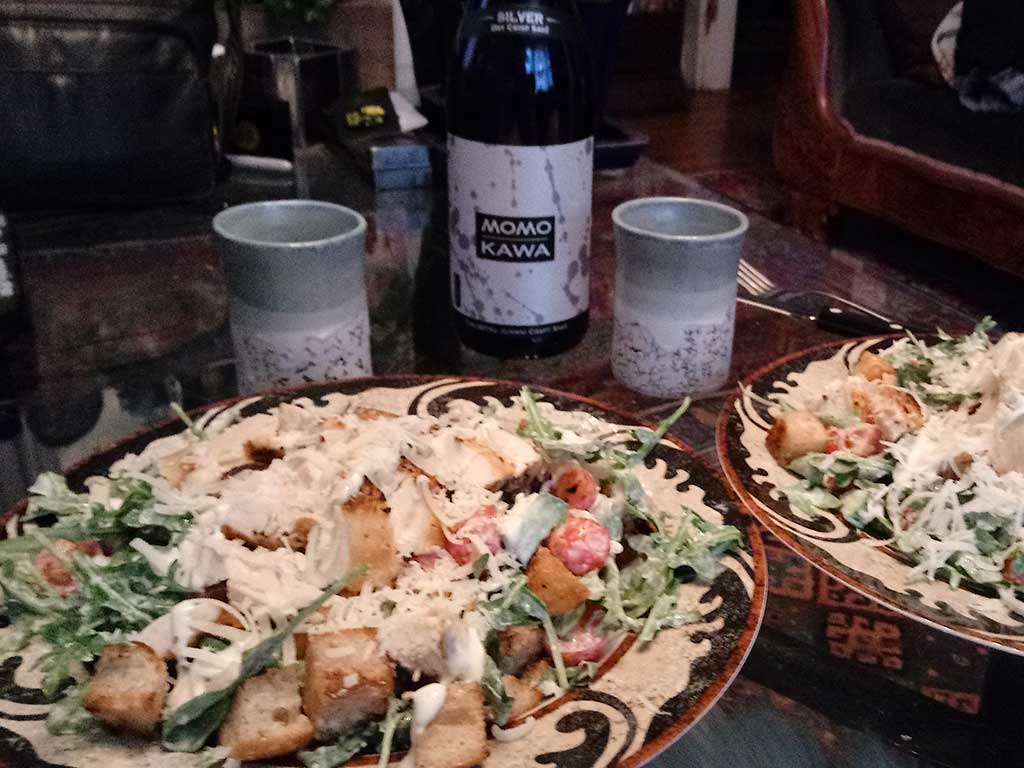 SAKE HOT OR COLD? Play with it. Pick your favorite temp.
Ah, the eternal question. Try one each of KIBO JUNMAI SAKE 180 ml can, $6.79 per can. One cold, one poured in a glass bowl and microwaved for 30 seconds. Have next to grilled salmon. Warm, it is elegant and sophisticated but lacking any flavor drive. Cold, has power, and brings forward our old friend umami.
MINI-GLOSSARY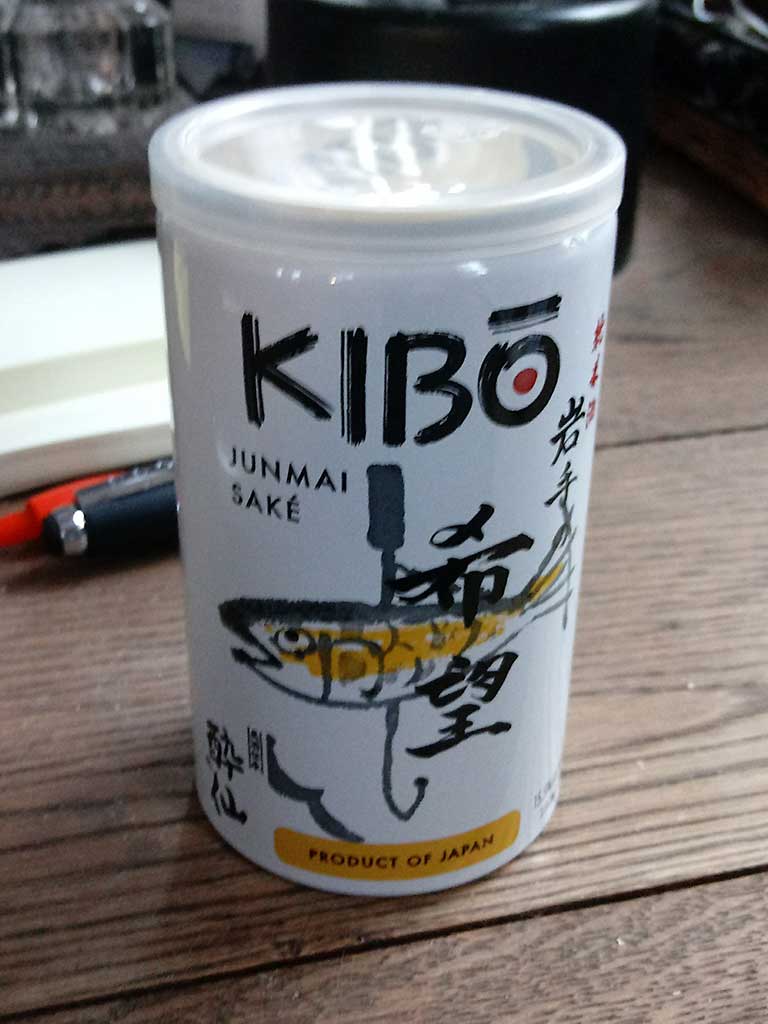 ETIQUITTE: Pour for your guest and sip Sake. Do not throw it down.
GUINOMI: Midsize Sake cup.
CHOKO: Small earthenware Sake cup.
MULTIPLE PARALLEL FERMENTATION: Hey, look that up.
IZAKAWA: Small sized eating and drinking place.
KOJI: Mold used to convert starch to fermentable sugar.
TOJI: Sake brew master.
KANPAI: "Dry cup," or cheers! Time to pour another cup for your guest.
Special thanks to Steve Vuylsteke, President of Sake-One in Oregon for walking me through the mysteries of Sake.
Full disclosure: Steve and I go back – way back. His family were among the first wineries in Oregon in the 1970's. Together with running wineries, he was a founding member of the OREGON PINOT NOIR CELEBRATION, now a global event.
Kanpai, to you Steve! Yours, "The Cat."
Layne V. Witherell has been a professional in the wine business for many decades as a teacher, importer, writer, competition judge, and winery CEO. He was awarded the Master Knight of the Vine for his pioneering work in the Oregon wine industry. Read more from Layne at http://winemaniacs.wordpress.com/blog.