Every Month PelotonLabs founder Liz Trice catches up with a Peloton member. This month Liz talks with Mark Cheever and his dog Benton. Mark is a Development & Programs Consultant for the Maine Appalachian Trail Land Trust, and Benton is named after Benton McCay, the visionary for the Appalachian Trail.
How did you get into this?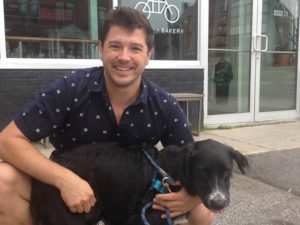 Well it was really a case of "right place, right time." I did development and community engagement work for a park in New York City for 5 years before leaving to pursue a lifelong dream of thru-hiking the Appalachian Trail last summer. My parents have lived in Maine for the last 10 years, and once I saw the mountains in Maine I was sold. After I finished my thru-hike I started volunteering with the Land Trust and after discussing it internally they decided to bring me on board.
I'm thrilled to be here. The Maine mountains are a special place and I'm excited about doing my part to ensure they are protected for future generations. I would love for my future kids to be able to experience them one day.
What does your organization do?
Our mission is to preserve and protect the land surrounding the Appalachian Trail in Maine for public benefit. The Land Trust has already conserved over 40,000 acres including miles of multi-use trails.
The thing I really respect about the organization is its commitment to mountain communities. Conservation of wilderness for intrinsic and ecological purposes is important, but by establishing working forests that support local jobs in timber and tourism industries, land conservation is even more sustainable in the long term. Right now, we're working to conserve land at Bald Mountain Pond near Bingham, and Reddington Forest near Carabassett Valley.
Is the Appalachian Trail in danger?
The original vision was a continuous wilderness that people would be able to escape it. Development threatens that sense of wilderness. People may not realize that Maine is the most wild part of the entire AT. It's green hills and mountains for as far as you can see and it's spectacular. We want to make sure that future generations can enjoy our woods, mountains, and trails.
What's exciting or coming up?
We're launching a Corporate Membership Program to engage companies and their employees. Once a company decides they want to support us, we organize fun, safe, team building and service elements in the Maine Woods with their employees. Frequently in areas we've conserved like Mount Abraham and Saddleback.
We also have our Community Partners Program for smaller businesses. They can give a combination of in-kind or donation – a deli or coffee shop could donate food or products we could use on our public hikes. We just got a new partner called Tick-Me-Off. They donate their insect repellent for people who go on hikes with us. Other small businesses could help with donating space, or help spreading the word about our events and programs.
We're also looking to recruit a new network of individuals who share our passion for land conservation and partnering with them to host hikes, talks, and other events.
How has your experience at Peloton been?
It's been great! I worked from home for a few months and I didn't realize how much I'd miss interaction with others. The Peloton community has been incredibly welcoming, and I've enjoyed getting to know everyone and what they're up to professionally. This is my first-time in a coworking space but I'm a believer. The benefits of community are real!
Tell me about upcoming hikes you're organizing.
Every weekend we're doing at least one hike led by staff, board members, and volunteers. It's been great for engaging new people who might not be comfortable hiking on their own, and we've seen people graduating from that and starting to lead their own hikes.
August Hikes
Sat. Aug. 3 | Bigelows West Peak
Sun. Aug. 19 | Old Blue
Sun. Sep. 9 | Crockers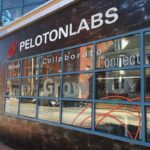 RSVP on the website www.matlt.org.
Peloton Posts
PelotonLabs is a coworking space in Bramhall Square in the West End of Portland, with a mission to connect and encourage people to improve their lives and contribute to the world around them.