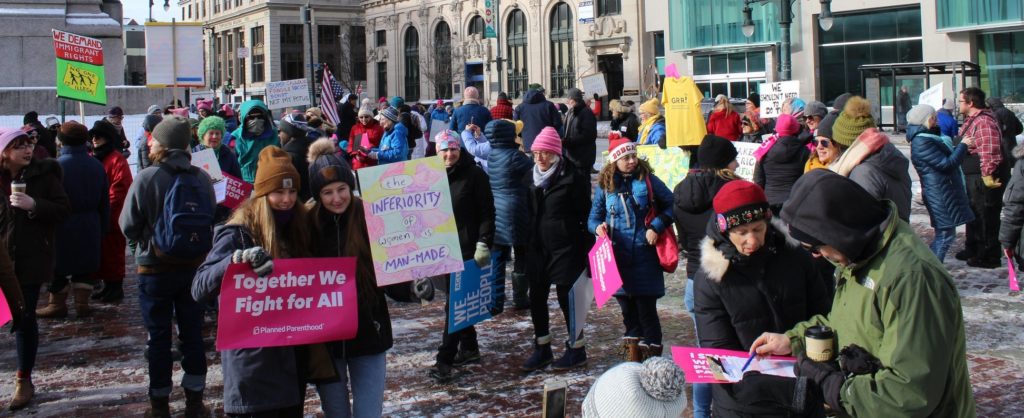 Last weekend Portland held its annual women's march. Over one hundred people congregated in Monument Square and marched downtown to the high school where several people spoke on the steps. Video footage of the speakers is available in its entirety at the end of this article.

Powerful words were spoken from local women's rights activists, LGBTQ organizers, student activists, civil rights groups, and representatives of the Poor Peoples Campaign. In the past year, I've been lucky to have interviewed people involved with several international social uprisings. A common thread that is often echoed in places like Sudan, France, and the U.K. is the importance of the female members of their movements. In France, the Marienne symbolizes liberty to their citizens and many remarked how women are the backbone of their movements efforts. When they dress as the Marienne, it inspires strength and hope in everyone around them. Similarly, in Sudan, the 'women in white' often became beacons of hope that empowered the peaceful protesters to stand up to their dictator. Regardless of how people identify politically, it is at least in my opinion very important to have days like this to show gratitude for our female and LGBTQ community members and all that they do.

Capturing photos of all the banners and signs before the march was truly awe-inspiring. People of all ages could be observed advocating for not just equality, but structural change regarding so many current issues. At the conclusion of the march, dozens of local organizations tabled inside the high school where the community was able to learn more about all the work currently being done. All in all the March was a great show of solidarity and recognition for the value of many of our community members in Portland.
To see all the photos I took, readers can check out my post on Progressive Independent News Maine:
https://m.facebook.com/story.php?story_fbid=3373653262650921&id=1911812585501670