Police Beat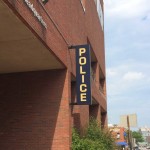 Portland Police arrested a 17 year-old Portland youth for Criminal Threatening with a Dangerous Weapon, Aggravated Trafficking in Scheduled Drug (Crack Cocaine), Carrying a Concealed Weapon and Failure to Submit to Arrest. The arrest followed an altercation that occurred in the area of 184 Congress Street in the Munjoy Hill neighborhood.
Shortly after 4:00 a.m. on Thursday, May 18th, Portland Police received a 911 call reporting a fight and the sound of a gunshot.
A responding officer attempted to stop a vehicle leaving the area when the teen, a passenger in the car, fled on foot. A short time later, a second officer spotted the teen running down Cumberland Avenue and pursued him. That officer was within a few feet of the subject when he saw him drawing a semi-automatic handgun from his waistband, and heard him say, "I have a gun."
The officer tackled the teen and was able to take him into custody. Both the officer and teen received minor injuries from striking the ground.
There were no injuries as a result of the gunshot that was fired.
The 17-year-old is being held at Long Creek Youth Development Center pending his appearance in court. Police did not release his name to media because of his age.
Police want to thank the Maine Warden Service for assisting in the investigation with a specially trained canine that is helping Portland Police look for evidence.
The incident remains under investigation. Police ask for the public's assistance. If anyone witnessed anything they are being asked to call 874-8575.
Submit Your Tip
Contact Portland Police at 874-8575 to anonymously report your tip. Or text the keyword "GOTCHA" plus the tip message to 274637 (CRIMES). Readers may also go to www.portland-police.com and click "Submit an Anonymous Crime Tip."