By Nancy Dorrans
Cycling and educational adventure to Portugal…
Invited on a travel industry cycling and educational adventure to Portugal, I was offered more than just a familiarization of the destination last month. This Portuguese cycling adventure touched my soul, challenged me physically, opened my heart and senses to a passionate place, steeped in history and rich in Port, wild poppies, miles of empty praias (beaches), Pasteis de natas (Portuguese egg tart pastries), and the most amazing coastal panoramas.
Arriving in Porto I met up with our small group of adventurous travel agents hosted by Exodus Travels. We kicked off the week-long adventure with a short orientation and walking tour. I was in complete awe as we entered the São Bento Railway Station with its elaborate blue and white tile murals telling the story of Portugal's past. Strolling along the Douro River I enjoyed my first (of many) Pasteis de nata. We visited Offley Cellars for a tour and Port tasting and capped off the day with the most divine dinner at Chez Lapin. Their specialties are octopus, codfish in the oven, rabbit, and veal in Port wine. I had the rabbit.
Outfitted on our hybrid bicycles…
The following morning, outfitted on our hybrid bicycles, we followed behind our young guide João. Leaving the hustle and bustle of Porto we cycled south along a gentle coastline to the seaside town of Furadouro. We rode mostly on bike paths and quiet country roads, many lined with wild poppies, ferns, and other blooms in purple, pink, orange, and yellows, at times blanketing the fields in color.
As the only American amidst a dozen Canadians, my metric knowledge improved. On our first day of cycling, we completed 62K of the approximately 300K journey.      
From Furadouro in the early morning fog, through nature reserves and marshlands, listening to a symphony of songbirds we rode into the sunshine once again. After a short transfer by ferry, we pedaled towards Costa Nova, a quaint seaside picturesque village lined with multi-colored striped houses.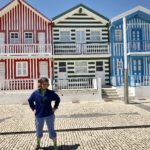 Another 60K and we had arrived in Praia De Mira and our beachfront hotel with its rooftop infinity pool. The town of Mira is known for its infinitely long and wide beach, one of Portugal's finest.
The month of May is a great time to visit Portugal which is so convenient from New England. The flights were quick and easy, the people are friendly, and the variety of seafood is astounding and so very fresh. And the wine, especially Vino Verde white and rose is tasty and less expensive than water. 
We rode past so many beaches and so few people. The temperatures were practically perfect, averaging between 14-24c. Kilometers and Celsius… I was catching on. 
Along the Portuguese silver coast…
Along the Portuguese silver coast, we road past lengthy pine forests now recovering after horrific forest fires raged last year. Stunning and dramatic, the tall black pine trunks were silhouetted against the fresh bright green forest floor, wildflowers and Eucalyptus bushes sprouting. We enjoyed epic picnic lunches of grilled chorizo and barbecue chicken, fresh bread, cheeses, fruit, and ribs served by our amazing support vehicle driver and guide, also named João.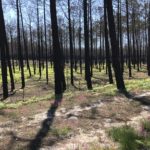 Throughout the rest of the week we averaged 60K heading south towards Lisbon, soaking in the sights and sounds, high cliff panoramas, dramatic steep and narrow paths, crashing waves and wide sandy beaches. Beaches sprinkled with colorful fishing boats and piles of nets, clam diggers and fishers drying their daily catch in the sun.  With numerous opportunities to stop for coffee and snacks in traditional Portuguese cafes… there were always the delicious Pasteis de natas. 
After riding past the famous town of Nazare', where some of the highest waves in the world are recorded, our five days of cycling (approximately 300K) ended with a climb to the stunning fortified mediaeval village of Obidos and a well-deserved happy hour and celebratory farewell dinner!
Named one of the most charming capital cities of Europe, I spent the next two days strolling around Lisbon, gawking at landmark monuments, admiring the elaborate tiled sidewalks, museums, shops, and the Tower of Belém. I spent my last night high above the city near to Castelo de São Jorge. Of course, I had to try one last Pasteis de nata at the airport and it did not disappoint with its flaky crust and warm egg custard.
Obrigada Portugal. You have my heart. I'll come back for it.
Nancy Dorrans