Letter from PNA Requests Housing Forum
UPDATE: Councilor Spencer Thibodeau has responded to the letter and agreed to attend the forum. WEN will report details when available.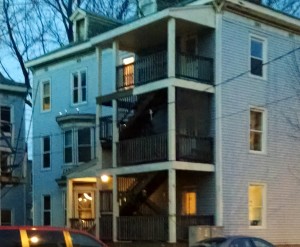 In a letter to District 2 City Councilor Spencer Thibodeau (West End, Parkside), the Parkside Neighborhood Association board requested a public forum with the City Council's Housing Committee. According to Councilor Thibodau the meeting will happen and details are to be announced.
The letter was drafted by board member Herb Adams. It states that the intent of the forum would be for Committee members "to see and hear firsthand from those most affected by every angle of the Portland's housing dilemma."
The request comes after the eviction of residents from a 24-unit apartment complex at 61 – 69 Grant Street. The tenants were told on December 23rd that they had to be out by March 1st. The reason for eviction was that the new owner wants to renovate the buildings.
A couple weeks before the eviction deadline there were still 14 low-income residents that had not found suitable living situations. This prompted the City to intervene.
Mayor Ethan Strimling met with landlord John Le on February 24th. John Le agreed to not pursue legal action to evict the tenants, providing them with more time to find housing.
The eviction has been widely regarded as a prime example of the housing crisis in Portland, as rents rapidly rise and waiting lists for affordable housing grow.