La Vida Local
Irregular Notes on West End Life
By Rosanne Graef
I've been spending a lot of time at home lately (no surprise). I'm lucky to live on a corner on the side of a hill. This affords me both near and distant views from the various windows of our apartment. This being The West End News's annual garden issue, I'll start with some botanical observations from this perch.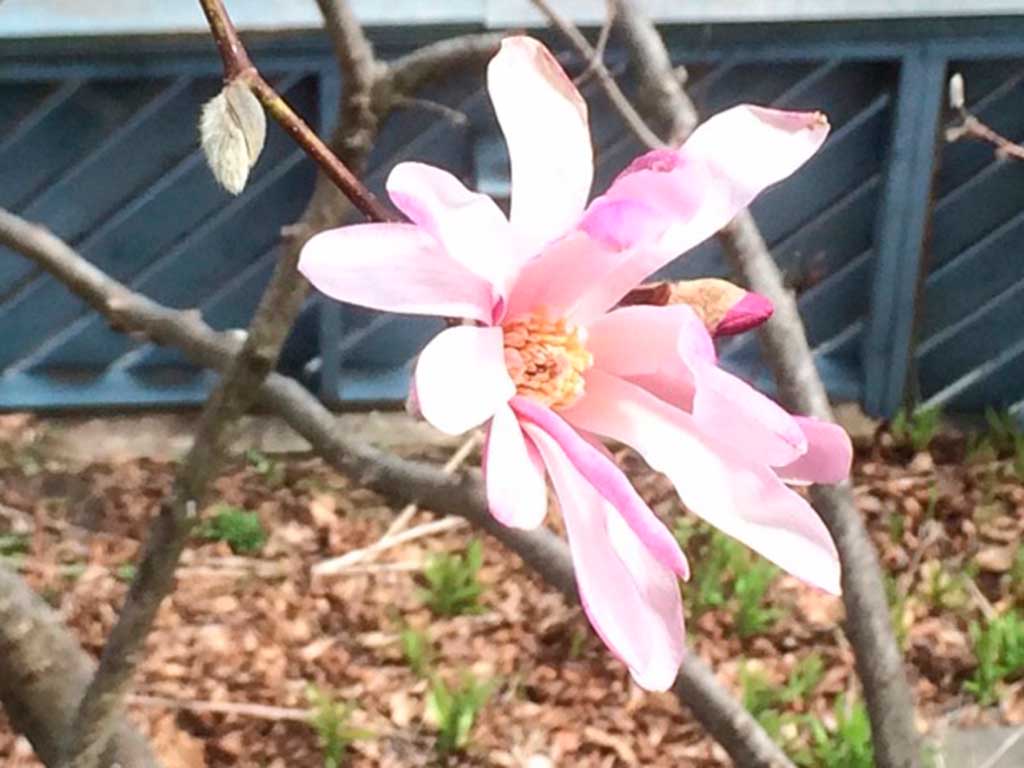 Star Magnolia and other blossoms…
Fortunately, the stay-at-home order came in spring rather than the darkening days of November. Looking out in all four directions at the brightening parade of plants of an awakening spring is always uplifting. Especially so during times like these.
First to unfurl its buds is the pink star magnolia in our backyard. Along come the brilliant blues of glory-of-the-snow and scilla, royal purple and golden yellow of crocus, and next the splashy hyacinths, tulips, and daffodils. Then buds of forsythias and flowering crabs expand into clouds and fountains of pink, white, and yellow blossoms.
For the Birds…
Several windows face south toward bird feeders still hanging in the star magnolia tree. Surprisingly, we've been visited lately by the first tufted titmouse since winter 2019. Maybe it's that tuft, but they always seem to be such chipper and perky little birds.
Pigeons have newly appeared in our yard, perhaps because a roof top is accessible next door since the removal of a large tree last fall. On fine afternoons, a dozen or so pigeons congregate along the ridge pole and down the slope of the roof to sunbathe out of the wind off the Fore River.
Meanwhile, the seagulls just circle, climb, soar and glide effortlessly, no wing flapping necessary. What fun to sail through the air, go bob along the waves in the river with your pals, and cap it off with a spell of squawking from a chimney top!
People, too…
This is the city and there are people to watch as well, especially in the community garden across the street. Every gardener has their preferred methods, plants, and sense of style.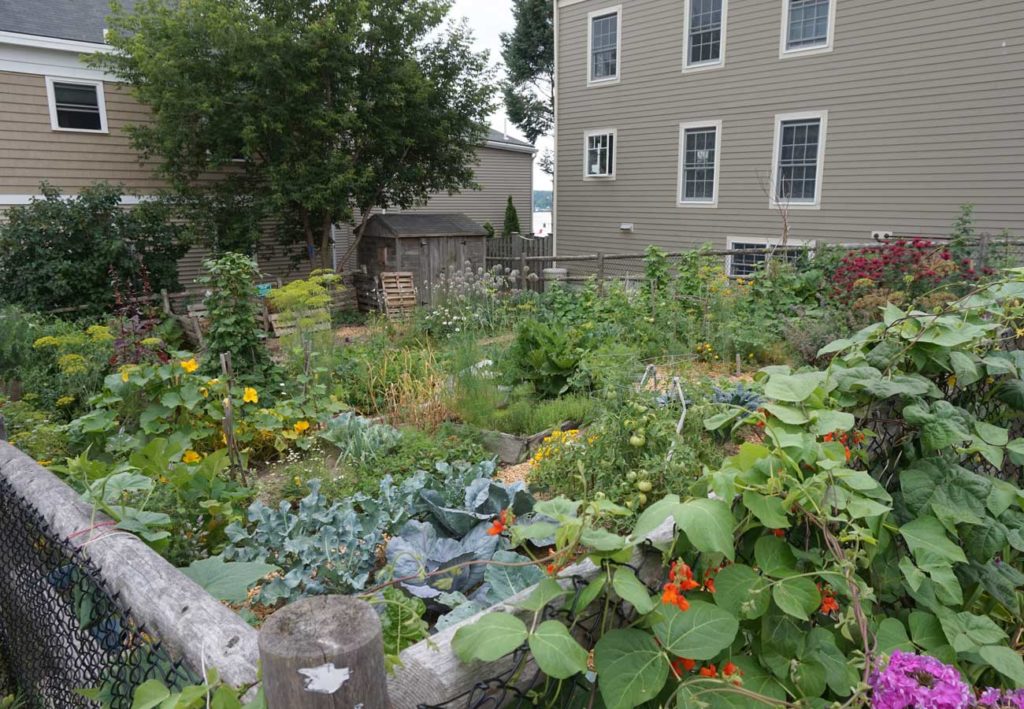 There are permaculture plots, some plots feature intricate and impressive sculptural supports for beans and other climbers, and others with assortments of flowers, vegetables, and artfully placed decorative items and edgings.
The installation and maintenance of gardens and their accoutrements results in what I call The Gardener's Stare (TGS). TGS is not limited to denizens of this community garden. Rather it is shared by gardeners everywhere, and it is a particularly endearing behavior to observe.
Exhibited often in the early gardening season, TGS is characterized by the arrangement and rearrangement throughout the garden plot of plants still in pots or removed from their containers, but not yet planted. Each short flurry of activity is followed by an extended period of time spent standing and staring at what has just been accomplished. After a suitable contemplative assessment, plants may be installed in the soil. Or, if found unsatisfactory, the whole exercise may be repeated several times.
TGS continues throughout the gardening season for some practitioners, however, consisting primarily of making minor adjustments to the placement of a rock or garden gnome.
Be on the lookout for TGS in your neck of the woods!
---
Rosanne Graef is a West End resident. Reach her at lavidalocalwen@gmail.com.