Stop Moving Your Cars
No Enforcement of Street Maintenance Parking Rules June – September
No more moving your car every other week. At least, not during the summer.
Last fall, the Council voted to suspend the enforcement of the street maintenance parking restrictions on the peninsula from June 1 through September 3o (excluding those in the Old Port/Downtown District). In May, City staff installed decals on the signs indicating that the restrictions are only in effect from October 1 through May 31.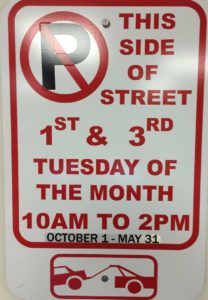 Here is the official language from the Council action:
Peninsula parking (including section around Nathan Clifford School): Only enforce the street maintenance signs (12:01-7:00 AM or 10:00 AM-2:00 PM) from October 1 to May 31 each year.
City staff need the street maintenance parking restrictions to sweep the streets to remove leaves in the fall, snow during the winter, and sand and salt during the spring. But from now on, residents will not have to move their vehicles between June 1 and September 30.
However, the City warns that if you leave vehicles in the same spot for more than 10 days, they may be ticketed as being abandoned.