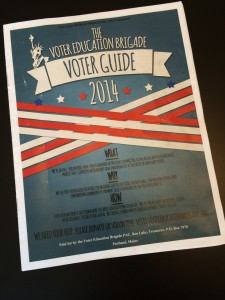 A new volunteer group is hoping to influence elections in Portland. The Voter Education Brigade released its first voter guide on October 9th. The guide features endorsements for almost every race in the election from Governor to School Board, and also contains write-ups about every candidate that chose to fill out the group's candidate questionnaire.
The Brigade is heir to the League of Young Voters, an influential organization that published a popular voter guide in Portland until it folded in 2013. A core group of "Leaguers" wanted to ensure that the popular voter guide would still hit the streets every election cycle, and formed the Voter Education Brigade to produce the guide.
"We think it's important for people in Portland to know who all their candidates are and where they stand on issues ranging from campaign finance reform to improved bus service to Medicaid expansion," said Brigade volunteer Patrick Banks.
The voter guide is very similar to the popular League voter guide, and the endorsements were chosen using the League's process. The first step was a lengthy candidate questionnaire. The completed questionnaires were reviewed by a volunteer committee that made endorsement recommendations. The committee's recommendations were presented at a general membership event, Project Vote, held in late September. At this event, members voted for who they wanted to endorse, and the winners received endorsement in the voter guide. Any candidates who did not fill out the questionnaire were ineligible for endorsement.
The voter guide will be distributed at various coffee shops and other locations where free newspapers can be found. The Voter Education Brigade will also leave copies door-to-door in downtown neighborhoods, and volunteers will hand out copies of the guide at polling places on Election Day.
The voter guide also includes a "Yes" endorsement of the referendum question on banning the use of bait and dogs in bear hunting, as well as "Yes" endorsements on the six bond questions that will be on the ballot on November 4th.
This is a complete list of the Voter Education Brigade's candidate endorsements:
FEDERAL RACES
U.S. Senate: Shenna Bellows
U.S. House: Chellie Pingree
STATE RACES
Governor: Mike Michaud
State Senate District 27: Justin Alfond
State Senate District 28: Anne Haskell
State House District 36: Samuel Chandler
State House District 37: Richard Farnsworth
State House District 38: Matt Moonen
State House District 39: Diane Russell
State House District 40: Benjamin M. Chipman
State House District 41: Erik Clark Jorgensen
State House District 42: Peter C. Stuckey
MUNICIPAL RACES
City Council, District 4: Justin Costa 
City Council, District 5: No Endorsement 
School Board, At-Large: John Eder 
School Board, District 4: Stephanie B. Hatzenbuehler
School Board, District 5: Marnie Morrione
COUNTY RACES
District Attorney: No endorsement
Sheriff: Kevin Jay Joyce 
Judge of Probate: Joseph R. Mazzioti
County Commissioner District 5: No endorsement