The City Council approved to extend constable powers to library security staff at their last meeting. This gives the library's guards the ability to issue criminal trespass orders.
This is the first time the City has granted constable powers to private employees–the library is a nonprofit corporation. The City Council also gave taxi administrators at the airport constable powers at the same meeting. The taxi administrators are public employees.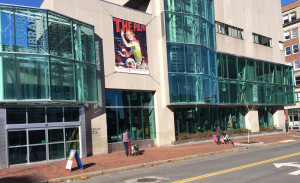 The library administration asked for the powers. They did not want security guards to have to wait for the police to deal with problem individuals. A criminal trespass citation can bar a person from entering the library for six months, but can be appealed.
Advocates for homeless persons were concerned about the new powers.
"This move will make our members… feel even more uncomfortable and unwelcome," said Jim Devine of Homeless Voices for Justice. He and others noted that the library is a warm, safe and vital environment for homeless people.
"Homeless, low-income people, people of color and refugees, will be most effected by this policy," said Sarah Lazare, a resident of Portland. Lazare was also generally concerned about the consequences of expanding what she called "para-policing powers" to private security personnel.
Cait Vaughan, a former Preble Street worker and organizer with the Southern Maine Workers' Center, echoed those concerns.
"Instead of para-policing," said Vaughan, "We could choose a different solution." Vaughan wondered if hiring a social worker with a different skill set than a security guard, would be a better solution to dealing with disorderly individuals at the library.
Councilors Jill Duson and Kevin Donoghue were also concerned about the new powers, and voted against the measure.
"I just don't like it," said Duson, about private citizens being given public authority.
In an unusual situation, the Council took two votes on the order. The Council agenda incorrectly stated that there would be public comment. Comment was taken at the last Council meeting, and therefore was not taken before the vote, which was six in favor and two opposed (Mayor Brennan was absent from the meeting).
Because of the error in the agenda, when members of the public complained, the Council allowed the public to testify after the vote.
After public testimony, Councilors Dave Marshall and Jon Hinck moved to reconsider the vote. Only Councilor Marshall change his vote. The Council approved the constable powers with the second vote, five to three.