In an increasingly rare act Governor LePage singed a bill into law. The new Maine law defines bicyclists, pedestrians, wheelchair users, and those driving tractors as "Vulnerable Users."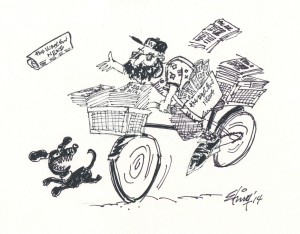 Vulnerable Users are people on the public way (the official word for the roads and sidewalks) who are more vulnerable to injury than drivers. Studies presented to the legislature demonstrate what most know to be true, that anyone not surrounded by almost a ton of metal and airbags is far more likely to be injured or killed in a collision with a motor vehicle.
The new law requires that drivers yield to pedestrians who are attempting to cross the street at a marked crosswalk. Before this change, drivers only had to yield when pedestrians at a marked crosswalk stepped out into the road.
The law also requires that Drivers Ed programs include increased instruction on protecting the rights and safety of vulnerable users.
In addition to the added protections, the new law clarifies the responsibilities of bicyclists. Bikes must obey the same rules as cars. Yield signs, stop signs, one-way streets, and traffic lights are not just suggestions because one is on a bike. All vehicles, even people powered ones, must follow the same rules.
Kriss Evans is a supporter of the new law. His father, David Grant, was killed while crossing the street in a marked crosswalk in Brewer in December 2014.
"My family is still grieving the loss of our dad, who did everything right and was still hit and killed by a car while crossing the street right in front of his barber shop. Anything we can do to make people safer when walking across the street is a step in the right direction. I hope this law will prevent more avoidable deaths like my father's."