LA VIDA LOCAL – IRREGULAR NOTES ON WEST END LIFE
Make Your Own Music
by Rosanne Graef
"Music produces a kind of pleasure which human nature cannot do without." ― Confucius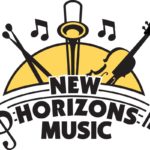 This summer, the West End News ran a notice about a New Horizons Adult Concert Band being formed at the Portland Conservatory of Music. The brainchild of Dr. Roy Ernst of the Eastman School of Music, New Horizons gives adults who never played an instrument, or who played as youth and then abandoned it, a chance to start anew. He envisioned an inclusive experience with no auditions, where people could start from scratch or polish whatever rusty skills they possess and make music in a relaxed and congenial group setting.
For director Nina Andersen of PCM, this is a natural fit with her lifelong philosophy and mission to make music accessible to anyone. Although this is her first experience directing an adult band, she's up to the task with her friendly and patient teaching style. In addition to having fun herself, she's inspiring band members to take challenges they might have thought beyond their reach.
In high school I played glockenspiel in a marching band. After some recent lackluster attempts at ukulele, I figured my musical career was at a standstill. Until I saw the fateful announcement in the WEN. I went to an informational meeting, signed up and the rest, as they say, is history. I'm now a member of the Portland New Horizons Band and we'll have our first recital on December 17!
Other band members have this to say:
Liz (flute) – I always wanted to play an instrument, but that was not something available to me when I was growing up. I was thrilled to see that Portland was going to have a New Horizons group. It's been fun, and I am learning a lot. I appreciate how Nina actually teaches and guides us, as well as her positive attitude! I would highly recommend it to people who are thinking about it, not only for the joy of making music, but to learn to play in a relaxed learning environment with others who are fun to be with.
Ron (tenor sax, trumpet) – I wanted to start playing my tenor sax again, and when I found out about the Portland Conservatory of Music's band, I thought this would be a good place to start. I have aspirations to join the Cumberland Center Summer Band next summer, if my playing improves. Also, I like to be around other people that like music and always thought it would be nice to find friends that like to play and get them together occasionally. I'm impressed with Nina's knowledge and patience. I'm hoping my playing will improve, and that band attendance will grow – the more the merrier!
John (clarinet – brand new player) – Of course I'm glad I joined, it's starting to make sense. I joined for the personal challenge of seeing if I could accomplish it. Thus far the experience has been very good. The instructor is excellent, patient. I would definitely recommend it. If I can do it, almost anyone can. I was also attracted by having the opportunity of being in a group.
Aside from the fun, playing an instrument can have lots of beneficial effects: improved posture, mental performance, memory, concentration and coordination, as well as a sense of self-expression and achievement.
So there you have it. The second session of the Portland New Horizons Adult Concert Band will begin in January. What better New Year's resolution could you make for yourself?
Check it out at portlandconservatoryofmusic.org/new-horizons-adult-concert-band.
Rosanne Graef
Rosanne is a West End resident and regular contributor to the West End News.