By Cameron Autry
Greater Portland METRO GM Greg Jordan discussed upcoming changes to public transit at a West End Neighborhood Association meeting on June 13th. In response to an increase in bus ridership, METRO plans to introduce new buses, routes, and payment options. Additionally, METRO will seek to improve access for passengers with disabilities. The meeting was held at Reiche Elementary School.
Over the past four years METRO has experienced a 30% ridership gain. Jordan pointed out that this increase in ridership places Portland ahead of many large American cities—such as Dallas, Cincinnati, Detroit and Kansas City—in terms of what percentage of the population uses public transportation. METRO predicts that overall boardings will exceed 1.9 million in 2018.
NEW BUSES, NEW TECH
In July, METRO will introduce a new fleet of eleven modern 40-foot buses. They will be equipped with in-seat USB ports, Wi-Fi, and three position bike racks. In addition, the buses will feature a new, refreshed METRO logo and exterior paint scheme. Also, signs at bus stops will be redesigned with the new branding. If all goes as planned, METRO will rollout more new buses in 2019.
Funding from federal grants covered 85% of the costs of the new buses. Fare revenue and assistance from the local and state governments covered the remaining 15%.
METRO is also working to secure funding for four electric buses. These would replace four diesel buses that have been in service since 2004. The electric buses would be part of a "restructured and rebranded Portland Peninsula Circulator." This proposed circular route around the peninsula would extend bus service to lower Commercial Street. Frequency of service would be every 20 minutes and the route would run in both directions.
THE HUSKY LINE
A new bus route, dubbed the Husky Line, was also discussed at the meeting. The bus will enter service in August. It will connect USM's Gorham and Portland campuses, passing through Westbrook and ending at Monument Square.
The Husky Line will replace the current USM shuttle bus. It will be shared by students and other passengers. Additionally, the route will provide connections for passengers traveling from Gorham to the Maine Mall area.
NEW PAYMENT OPTIONS
Jordan also spoke about METRO's plan to expand payment options. New options will include electronic passes, smart cards, and a smartphone app by 2019. Under the proposed plan, riders without smartphones would potentially be able to purchase a prepaid fare pass from local supermarkets and convenient stores. Currently, fare payments can only be made at the PULSE station on Elm Street or in exact change to bus drivers.
COVERED STOPS
Other changes to bus service include building more covered bus stops with increased accessibility for riders with disabilities. Also, METRO has resolved a union issue that will allow for temporary workers to plow bus stops during the winter.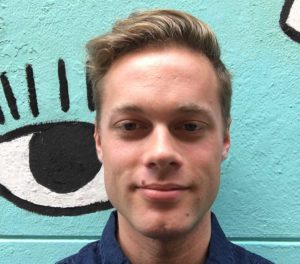 One resident expressed a concern that building more covered bus stops will encourage people to smoke under the shelters. But Jordan says that bus stops have recently come under a new designation that allows for the City to enforce a no-smoking ordinance. Up until recently, this had not been the case.
Cameron Autry
Cameron holds a degree in English from UNC Wilmington. He enjoys traveling, writing, and speaking Spanish.